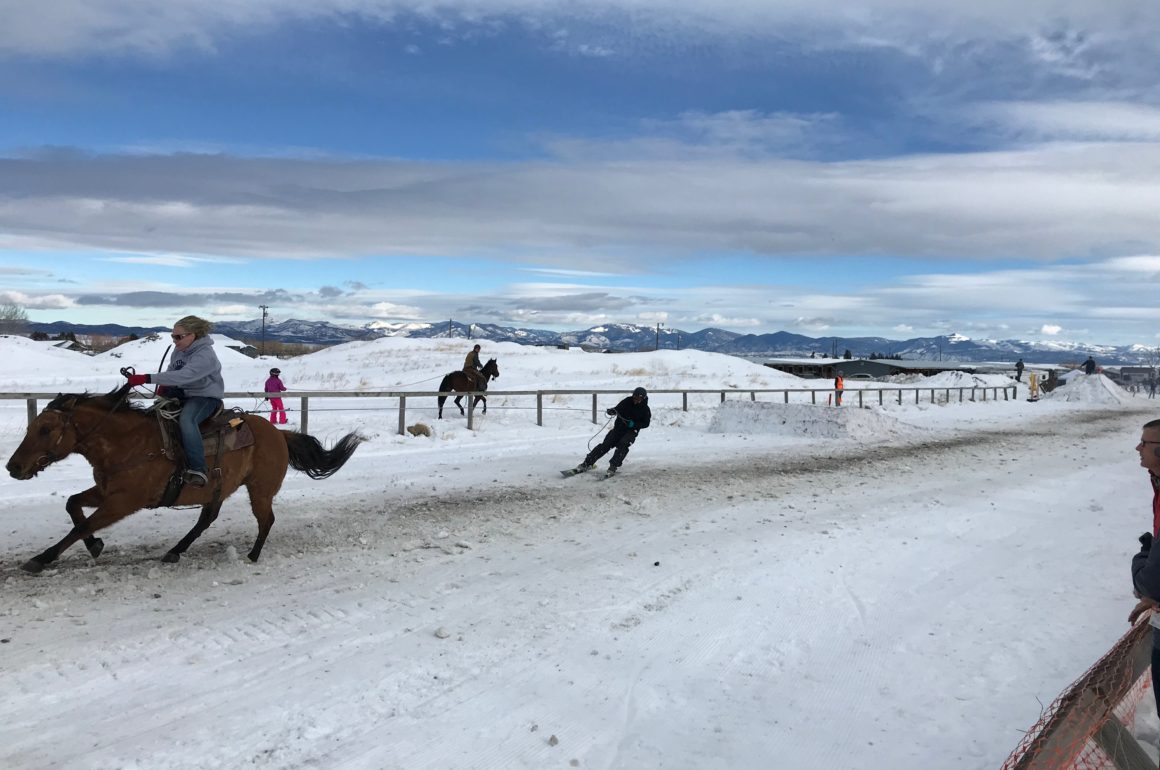 Cowboy Hats and Ski Boots, Together
Downhill skis and fast-galloping horses: It's amazing that skijoring — this marriage of Montana transports — didn't happen sooner.
"Watching a skijoring race is like watching a tornado," said Ebbie Hansen, a rider and reigning national pro champion on the skijoring circuit.
Ebbie, from Helena, had the fast horses to get a team going, and entered a few competitions a few years ago, with mild success.
"I made my mind up that come the next season my horses would be in shape and in great condition and we'd be ready," she said. "And we were."
Ebbie, her horse Zeek the Streak and skier Aaron Griffin of Bozeman, were ready enough to win the national open title last year. Her son, C.R. Kunesh, joined in.
"I said, all I gotta do is ride a horse down there and pull a skier? Shoot, I can do that," he said.
Pulling his skier  — Colin Cook of Gallatin Gateway — Kunsesh won the national title in the "sport" division, sending him this year up to the open division. So, mother and son will compete against each other this winter for the top honors.
Kunesh has done plenty of rodeo, but that doesn't occupy the horses in the winter. So skijoring is perfect.
Hansen and Kunesh came to the sport from the horse side of things, ranching and competing in rodeo. Cook was a longtime ski racer. Once teams get together, they can go faster and faster as they figure it all out.
"They're pretty rad skiers," Kunesh said of the folks getting pulled. "They know what's ahead of them. They know we're going to do nothing but just tap put and go down there about as fast as we can."
Two experienced hands in the sport ease the entry a little for the novices. The Friday before the Last Chance Skijoring event in Helena Jan. 6 and 7, organizers held a clinic on a practice course at the Lewis and Clark County Fairgrounds, explaining the technique to skiers who had never done such a thing.
Horse riders and skiers met. Several local skiers showed up without equine partners at all, making up their teams with riders who volunteered. They took some practice runs with some little jumps to get the feel before hitting the hitting the jumps on the 900-foot course on Saturday and Sunday.
More than 100 teams competed over the weekend.
It was first such event in Helena, but the skijoring circuit stretches from New Mexico to Calgary to Wisconsin.
For Montana, skijoring might brighten business in what's normally a slow season in a lot of Montana towns, with teams and crews and fans filling up hotels, restaurants and tack shops.
Here are some highlights of the weekend in Helena:
And here's where you can catch the mixture of tornados and skiing.
Jan. 13-15: Ridgway, Colo.
Jan. 20-21, Lincoln. Mont,
Jan. 27-28, Whitefish, Mont.
Fen. 2-3, Ski Utah
Feb 2-3, Neosho, Wisc.
Feb. 17-18, Haley, Idaho.
Feb. 24-25, Wisdom. Mont.
March 10-11. Red Lodge, Mont.
-Sanjay Talwani
Got something to say to Prairie Populist? Send news tips, story ideas and comments to editor@prairiepopulist.org. If you have something to submit, or an idea for a story you'd like to write for us, check out our Submission Guidelines here.