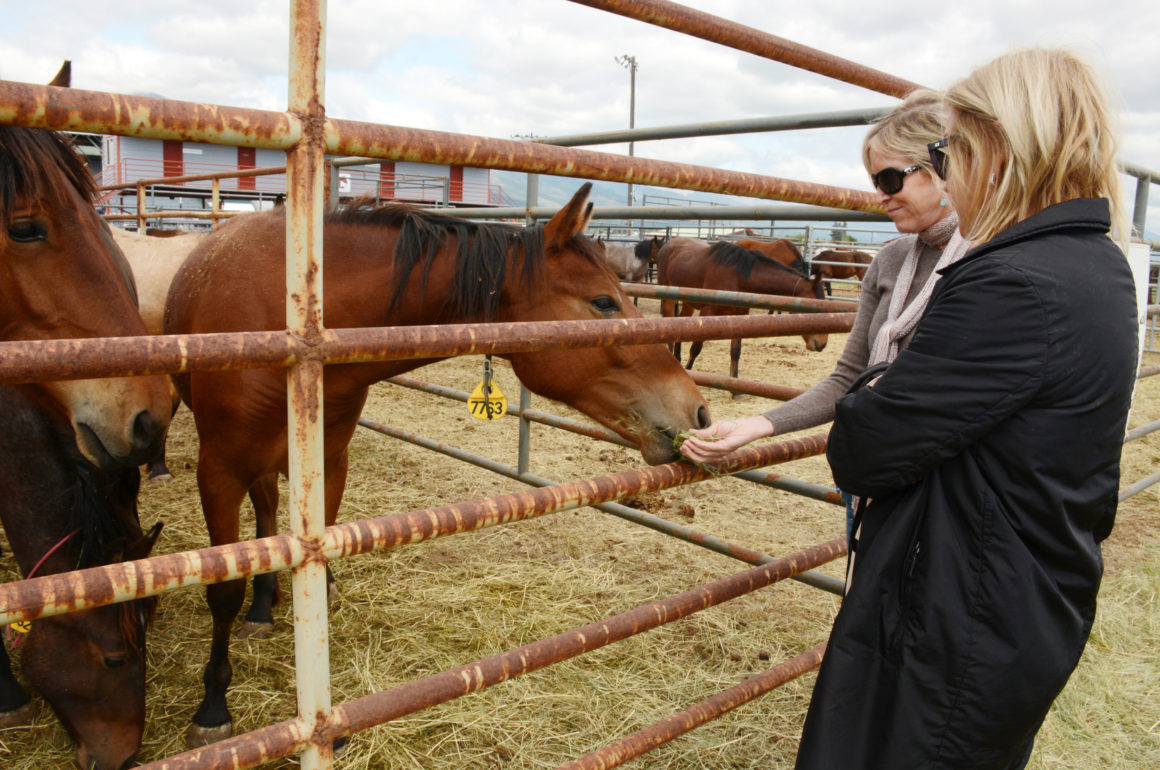 Feature photo: Sue Pluzynski (rear) and her friend Linda feed a young mare on June 22 at the BLM Wild Horse and Burro Program adoption event in Hamilton.
Only Serious Adoptive Owners Need Apply to Program
By Laura Lundquist
Sue Pluzynski gazed through the fence at the dozen horses wandering in a pen at the Ravalli County Fairgrounds. Her eyes kept returning to a 1-year-old bay with an oval scratch around her eye, probably the result of a pen-mate's kick. The little mare returned her gaze, ears forward, while chewing the small bundle of grass Pluzynski had given her.
"She's the sweetest little girl," Pluzynski said to her friend Linda. "I wish I could take her home."
The two women had seen a newspaper story about the U.S. Bureau of Land Management bringing 100 wild horses and burros to Hamilton on June 20 for possible adoption. They decided to see for themselves while Linda was visiting from New Hampshire.
Linda read the number on the tag around the mare's neck as the horse accepted her offering of grass. Then she looked for the number among the sheets of paper tacked to the fence.
One paper showed the horse came from California. She had been among 1,000 removed from the Modoc National Forest's Devil's Garden Wild Horse Territory in October. Forest Service employees have determined that the Territory would ideally support only about 400 horses, but at the time, it had 4,000.
"I had no idea there were so many wild horses. It's a good thing I don't have land because I'd bring six of them home," Linda said. "I used to ride. Now I have no need to ride, but I like caring for them. I think it would be fun to develop the trust in that horse. To win them over would be so much fun."
The BLM's Wild Horse and Burro Program hopes to find a lot of people like Linda, because the agency has about 50,000 horses and burros that need a home because they can't be released back onto the range.
As of March 1, 2018, almost 82,000 wild horses and burros roamed special areas of federal land, three times more than area resources can support.
One complication is that the mustangs' range is dwindling. Drought has damaged some areas with grassland fires in Idaho and Nevada during the last decade, requiring the BLM to conduct emergency roundups, after which the horses are stuck in pens for two or three years while the range recovers or until they are adopted.
The main reason for too many horses is that without predators, the herds keep growing, sometimes by 20 percent a year. Last year, that led to the BLM trying to remove 17 horses from the Pryor Mountain Wild Horse Range south of Billings after the herd had grown to 160.
Horse advocates successfully opposed the random removal of young horses without proper DNA analysis to make sure the herd wouldn't lose important genetic diversity. But horses will have to go at some point because the range can support only about 120, according to the BLM management plan.
Efforts have been made to sterilize the mares, but the fertility drugs currently available are expensive and have limited effectiveness, lasting only about 18 months to two years. And it requires that the horses repeatedly be trapped, which is stressful on the animals.
The BLM's struggle with overpopulation led to a 2013 National Research Council report that found the agency wasn't doing enough to check population growth.
So this year, for the first time, the BLM is offering a $1,000 incentive to encourage more people to adopt wild horses and burros. Since 1971, the Wild Horse and Burro Program has adopted out more than 240,000 animals, but people had to pay a small fee of $125, which is not a bad price for a trained horse. Blair Street of the BLM said the new offering of $1,000 could help feed an additional horse or maybe help with the cost of training.
While looking for a few burros to adopt, Debora Lay of Corvallis was a little concerned that the money might encourage people who maybe didn't realize what it takes to own a wild horse. She wondered if some might end up at her horse sanctuary.
But the way the BLM set up the payments may minimize that. People have to pay the $125 adoption fee to get the horse or burro, but then they'll get their first check for $500 after 60 days. Then after a year, and after a vet gives the horse a clean bill of health, the owner can title the horse and receive the final $500.
"Of course, you've got people doing it for the wrong reason. But for those of you who are doing it the right way and want to get another horse, it's an awesome deal," a BLM employee told a crowd near the horse pens. "I say capitalize on it because who knows, with the government, how long it will go on? They're just trying to make it easier for people to put the horse in training."
Terry Curtis, a member of the American Mustang Horse Association, wandered among the pens, trying to do her part to make sure potential horse owners knew what to expect.
Mustangs are good and tough, Curtis said, and their sure-footedness makes them good trail horses, which Montanans like. If you earn their trust, they can save your life. Curtis' mustang saved her from two dangerous situations.
"That's why the BLM brought the horses from California to Montana, because people here love their horses, they have the room and they use them," Curtis said. "Down in California, it's so expensive to keep them. I was born and raised down there. It got to be where the cost of hay and everything was just terrible. And there's no grass. You can't turn them out unless you're up north."
But horses weren't the only draw in Hamilton. More than 40 fuzzy burros caused people to smile as they shook their floppy ears and snorted through whiskered muzzles. For some, they offered just the right alternative.
Mimi Morris of Florence had intended to adopt one burro but soon learned from another woman that she really needed two, because they're herd animals, even more than horses.
"I had a mare when I was in Las Vegas, and when I lost the other mare, she was so lonesome," the woman said. "I had a lady come out who had a donkey rescue. She said, 'Yup, you can adopt one, but then if something happens to your mare, you gotta get another one. They don't do well alone.'"
Morris said she couldn't ride much anymore due to riding-related injuries suffered over the years. After recently finding a home for a thoroughbred she'd rescued, the timing was right and she had space for two burros. Since burros are intelligent, she hoped they could provide some entertainment "simply by being who they are." She didn't really care about the $1,000.
"Ever since I read 'Brighty of the Grand Canyon,' I've always had an affection for burros, but it's nothing I've ever sought out. I saw this was here in my own backyard, and I would really like the opportunity to give these animals a permanent loving home," Morris said. "I can't ride a mustang – I've been hurt too many times – so I want something I can enjoy on a different level."
The BLM had a pretty good weekend in Hamilton, in spite of the unfortunate deaths of two animals. People signed papers to adopt between 85 and 90 animals, but all have to be verified healthy before being released to their owners, said Montana wild horse program lead Jerrie Bertola. The remaining animals will stay in Hamilton until veterinarians check them out. So they will miss the Kalispell adoption event this weekend but will may make it to the one the following weekend in Coeur d'Alene, Idaho.
Other adoption events in Montana will occur July 19-21 in Livingston and Sept. 9-11 in Glendive.
-By Laura Lundquist. After stints as an Air Force and airline pilot, Laura Lundquist yearned to return to her home state of Montana. With her engineering and biology background, she landed in Missoula in 2001 and got a job with an environmental consulting company but was laid off during the economic downturn in 2008. A friend recommended the University of Montana environmental journalism master's program. Since graduating in 2010, Laura has covered environmental and outdoors beats in Twin Falls, Idaho, and Bozeman, in addition to a year of a court reporting in Hamilton. Laura now freelances for several publications and spends her free time playing music and exploring Montana's mountains and rivers.
Got something to say to Prairie Populist? Send news tips, story ideas and comments to [email protected]. If you have something to submit, or an idea for a story you'd like to write for us, check out our Submission Guidelines here.