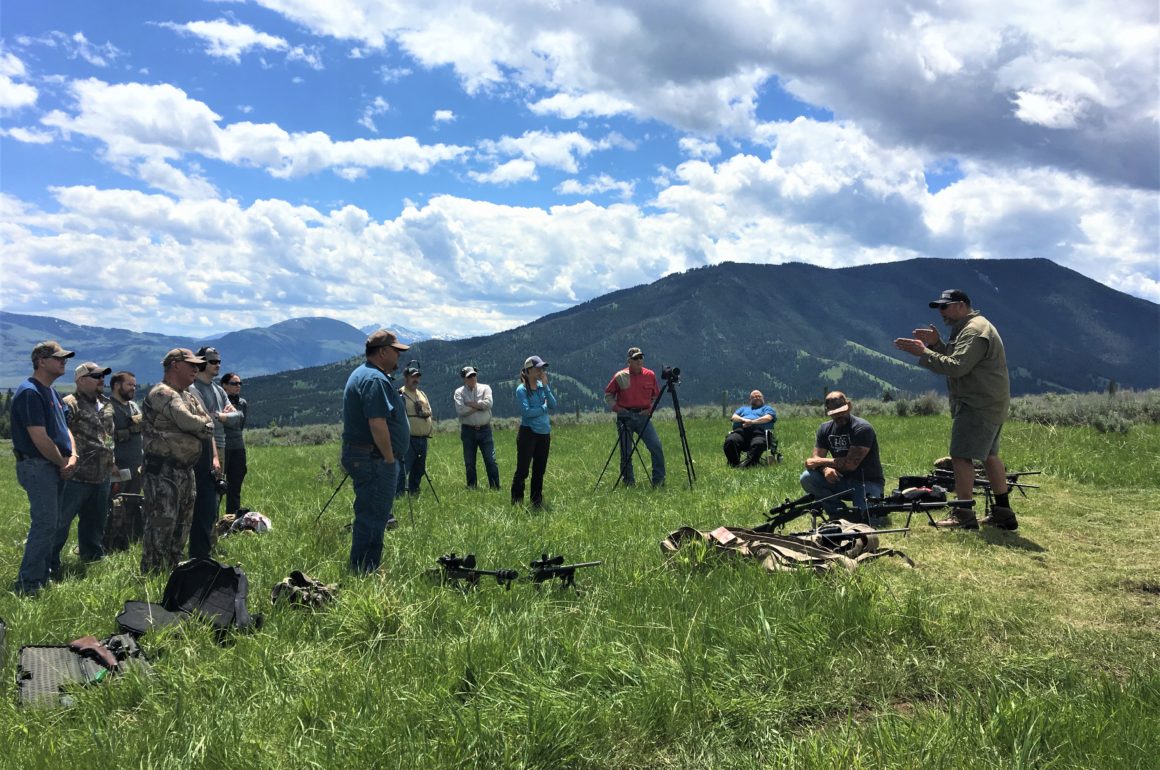 Feature Photo: The Bozeman-based nonprofit, One Montana, teaches serious hunters ages 17 to 84 the ethics of hunting for sport and principles of hunting on private land. Here a recent class listens to an instructor at Mountain Sky Guest Ranch, a privately owned site. Photo courtesy of One Montana.
ONE MONTANA: MONTANA MASTER HUNTER EDUCATION CLASS CELEBRATES GRADUATES
By Jessianne Castle
Kara Lekse of Billings spends an average of 150 days every year hunting with her family in Montana.
"We eat, breath and live it," she laughed, adding that her husband's family builds custom precision rifles through the Missoula company Snowy Mountain Rifles. Lekse grew up north of Billings in Musselshell County, where she spent a great deal of time hunting with her dad.
A passionate sportswoman — and a woman in a male-dominated sport — Lekse jumped at the opportunity to participate in One Montana's Montana Master Hunter Advancement Program. An intensive certification course, the program focuses on conservation and stewardship education, marksmanship skills and connecting hunters with Montana landowners.
The program, launched last year in Bozeman, graduated 25 students. This year, enrollment more than doubled, as 61 students completed courses in Billings, Missoula and Bozeman.
Amid the rumbling stream known as Big Creek near Yankee Jim Canyon north of Gardiner, graduates of the 2018 and 2019 classes were honored in a ceremony on June 29 held at Mountain Sky Guest Ranch.
Mountain Sky owners and managers have been partners with the Master Hunter program since its inception. The ranch's philanthropic arm, the Arthur M. Blank Family Foundation, is among more than a dozen donors that provide funding to cover all but $200 of an individual's course tuition — a value of more than $2,000, says Sarah Davies Tilt, executive director of Bozeman-based nonprofit One Montana, which facilitates the program.
As an advanced education course, the Master Program builds upon the basic hunter education certification most state agencies require in order to obtain a hunting license. Courses are capped at 25 students, who must apply for the spot and exhibit a level of hunting proficiency. They must have a minimum of five years hunting experience as a state resident with no hunting violations.
"Hunters Safety is like high school while the master class is like a university degree," said program coordinator Dani Clark. Graduates have ranged in age from 17 to 84 — though she noted the 17-year-old "was a stand-out application." The course is geared for adults.
The course is the result of nearly 10 years of conversations among a coalition of landowners, hunters and wildlife managers concerned about improving hunter ethics and providing hunter access on private lands.
One Montana contracted with Scott Hibbard, a Helena-area rancher and landowner, to assess landowner concerns and identify key elements of a course curriculum.
"Not always, but in more cases than landowners would like to see, was behavior that was disrespectful to land, animals and sometimes even the landowners," Hibbard said. He experienced first hand hunters driving in the middle of a hay field to retrieve an animal, or making poor decisions about when and where to shoot.
"A lot of hunters, frankly, just didn't know how to behave and have the skills so landowners could be comfortable letting them on their property," he said. "Some (hunters) haven't met a rancher. They just don't understand the impact they can have on a ranch land because they haven't had the opportunity. They aren't bad people; they just don't know any better."
The course is comprised of 50 hours of in-person instruction and a two-day shooting event packed into a six-week period. The curriculum covers topics like the North American Model of Wildlife Conservation, which holds wildlife in the public trust and embraces prescribed hunting as a tool for population management, as well as ballistics, marksmanship, land navigation and the history of hunting in the U.S.
"There's a lot of history they teach that I didn't even know about," Lekse said. "I think it's important to know those things. We don't know where we're going until we know where we've been."
She said beyond advancing her own skill as a hunter, the course curriculum is something she can pass down to her children. It has become particularly relevant as Lekse's 10-year-old daughter began hunting last fall with help from the Montana Fish, Wildlife and Parks apprentice hunter program.
"I really do believe in what they're trying to do," Lekse added. "I think we need more of this. Getting involved early and having the opportunity to be a part of a pilot program is really a great opportunity."
After completing a rigorous final — and having tested out of each course subject — students are certified as a Master Hunter for five years. They can then take continuing education courses, as well as recertifications down the road.
In addition to developing personal hunting skills, the Master Hunter program connects hunters with landowners, opening up private hunting opportunities that might otherwise be closed.
"There are a number of landowners willing to host graduates because they're given assurance that these people are likely to treat the land well," Hibbard said. "These hunters have met a minimum standard to be certified and have a level of experience."
-Jessianne Castle
For more information on the Montana Master Hunter Advancement Program: mtmasterhunter.com
Jessianne Castle is a freelance writer and contributor to several Montana magazines and publications. Born and raised in the Gallatin Valley, she graduated from Montana State University with an honors degree in environmental history, plus a writing minor. She lives in Shields Valley near Clyde Park, where she and her husband are members of the Gallatin Valley Back Country Horsemen of Montana.
Got something to say to Prairie Populist? Send news tips, story ideas and comments to [email protected]. If you have something to submit, or an idea for a story you'd like to write for us, check out our Submission Guidelines here.