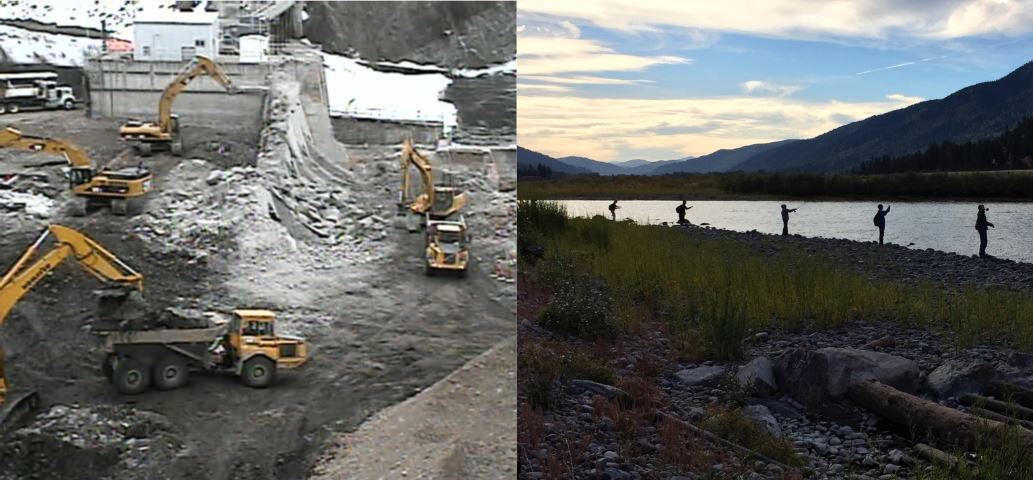 Decades of cooperation turn Milltown from Toxic Hazard to restoration showpiece
Summer means exploring our state, and at Prairie Populist we're joining the thousands of Montanans visiting the amazing lands, lakes, and historical sites that make up Montana's state parks. We hope you'll check back all summer and join us as we explore what these parks mean for the people of our state and how they help make Montana a place unlike any other.
As Montana readies its newest state park for its grand opening, one word comes to mind to Doug Martin after a couple of decades of heavy lifting that transformed the Milltown Dam area from a dangerous Superfund site to a recreational hotspot that people will likely enjoy for generations:
"We."
It wasn't the work of one particular person or group, Martin says. Everyone — state and federal agencies, and the contractors responsible for the big cleanup, dam removal and river repair — accepted everyone else's goals, and shared the common goal of success.
So the place just a few miles from Missoula, once filled with tons of toxic sediment from a long history of mining upstream is now a 535-acre haven for hikers, boaters, bikers, picnickers, anglers and other animals.
To get there, contractors had to excavate and remove sediment, create a new channel for the Clark Fork, remove the dam and the historic powerhouse, rehabilitate and revegetate the area at the confluence of the Clark Fork and the Blackfoot… all in an environment where rules and regulations are thick and not always clear.
The effort goes back a couple of decades, and from the beginning, the process was wide-open, Martin says. The partners working on the project were clear with the public what they were going to do, sharing documents and plans. They led tour after tour of the site.
When some of the original goals were thrown out and replaced early in the process, the public was involved. And there were constant adaptations in the plan to match the situation on the ground.
"Being straightforward with people from the beginning was the right approach," Martin said. 
That's especially so on a project doing what had really never been done before.
"The public outreach on a project like this or any project of this size is so critical," said Matt Daniels, project manager for River Design Group, a consultant on the restoration design team.  "Keeping local groups in the loop went a long way to make sure there was continued support for the projects."
That included letting fishermen know what was going to happen downstream, for a time, after the dam was breached in 2008.
Take a look at that moment here:
The dam was completed 100 years earlier, in 1908. The same year, a massive flood left toxic waste along a 120-mile stretch of the Clark Fork above the dam, leading to decades of local water contamination. Work removing the dam and sediments — about 3 million cubic yards — began in 2006, with much of the material taken by train to a site near Anaconda.  The floodplain and river channel were constructed and restocked with plants native to the area.
Montana State Parks has a great rundown of the history of the site,  and this project — called A Confluence of Stories.
But restoring land and creating a place for family fun is just a bonus on top of the biggest reason to fix the area: All that sediment was contaminating water supplies and was a steady threat to the waters and life downstream.
"If it didn't get cleaned up, it was going to be something that would be really detrimental to the community," said Daniels.
That might have been part of the reason so many people managed to work together so well.
And it may turn out to have been just in time: The old dam — designed for power, not flood control — might have failed in this spring's massive flooding had it still been in place.
Nowadays, Martin is in charge of the Natural Resource Damage Program for the state and leads tours of the site for engineers from around the country who want to learn from the project.
As the tours have changed — what was formerly a work in progress is now complete — Martin is especially pleased that many people who see the site can't tell what all went on there, or that it looked very different just a decade ago.
"They didn't know that it used to be a reservoir," he said of one recent reaction. "They didn't know that it used to be a  Superfund site."
"That's a nice compliment."
—Sanjay Talwani
Feature photo collage: Destruction of the powerhouse, 2008 (Courtesy River Design Group); and people fishing along the reconstructed bank, 2018 (Courtesy Montana State Parks).
Got something to say to Prairie Populist? Send news tips, story ideas and comments to editor@prairiepopulist.org. If you have something to submit, or an idea for a story you'd like to write for us, check out our Submission Guidelines here.