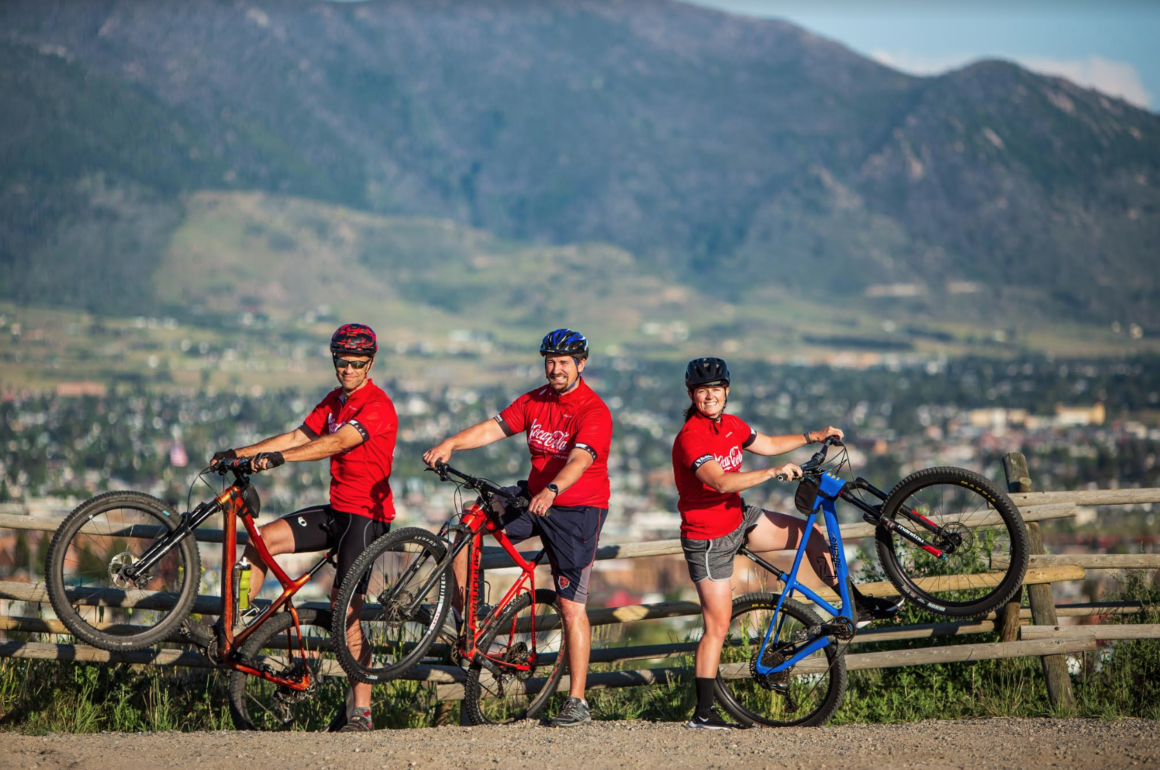 Feature photo: Mike Borduin, Craig Tippett and Mandy Tippett train for the 2019 Butte 100 with a jaw-dropping view of Butte in the background. All three participated in the annual races, held on the East Ridge of the Continental Divide at Homestake Pass in the far distance. The races draw more competitors, support crew and visitors each year, providing a short-term burst to the Butte economy.
Cyclists of all stripes hit town, hang out, spend money
Lindsey Gordon photos.
Every year in late July, boom-or-bust Butte enjoys an economic boost when about 1,000 visitors roll into town for the increasingly popular annual Butte 100 mountain bike race.
Such an influx is significant to the city of 34,500 where patterns of job losses and job gains fluctuate – and where big box stores and some Mom and Pop businesses — come and go.
Well regarded among elite and recreational cyclists, the Butte 100 attracted 350 competitors to town last weekend. Most riders – from the serious 100-and-50-milers to the recreational 25-milers – bring with them teammates, family and friends to cheer and support them when the going gets rough on the 6,329-foot high Continental Divide at Homestake Pass.
"Perhaps unlike the festivals, the Butte 100 is attracting people to live and work here," said elite cyclist Michael Borduin. "Mountain biking is a way of life for many, and for those people, it is essential to be living near good recreational opportunities. The Butte 100 is good for Butte."
The race-happy visitors spend money on race essentials and accessories at local bike shops. But they primarily spend money on food, motels, clothing, Butte souvenirs and entertainment.
Economist John Kasperick estimates that each of the 350 riders brings along a team of two – a spouse, say, and a child. The "spin-off effect of spending," he said, becomes income for business owners and employees. "It multiplies throughout the economy," he added.
The 1,000 visitors during the week building up to the race and the weekend of the race each spend about $450 per person for lodging, meals, gas and entertainment, tallying $157,500 in direct spending impact.
Add spin-off spending and the community garners about $300,000 from the event, according to Kasperick, who works for Northwestern Energy and who regularly monitors the Butte economy.
Butte 100 race owner Stephanie Sorini ups the average visitor estimate to about four per rider, judging by the bigger crowds at the start/finish line at Homestake Pass and the cacophony from the cheering sideline galleries.
The race draws spectators from throughout Montana and the nation to watch the racers, said Sorini, Butte Chamber of Commerce director who wears many hats before, during and after race day. The 25-mile race – tailored for more casual, recreational riders – is nicknamed the "Sorini 25" after her late husband, legendary Butte physician/cyclist Dr. Peter Sorini.
Having wrapped up year 13 of the race, organizers capped out registration for all three races every year. Riders stay an average of five days in Butte.
"We have racers from 16 states and Canada," said Sorini. "Riders come days in advance to get acclimated to our trails."
The race crowd increases with the 200-to-300 volunteers who run course aid stations, marshall riders, set up signage, organize competitors, maintain the trails and myriad other crucial jobs. In typical Butte fashion, the event runs on dedicated, fervent volunteers who believe in the town, despite the city's recurring hardships. Butte's well-known penchant for creative reinvention thrives on the Butte 100 and other festivals.
Borduin, who competed in his eighth Butte 100 race last weekend, regales the spirit of race week. He compares it to the ultra-successful St. Paddy's Day parade, the Montana Folk Festival, the Irish An Ri Ra Festival, the Butte-toberfest and other annual galas that run mostly on rigorous local volunteer power:
"As with the festivals, the Butte 100 is a short-term influx of tourism dollars to the economy in the form of lodging, food, supplies," said Borduin, tall, lean and athletic at age 47. "The bike shops are absolutely jammed all week with people flying in and getting their bikes set up."
President of the Highlands Cycling Club, Borduin noticed many first-time riders on the rosters this year.
The underlying hope for all — including Butte 100 workers, cyclists and local business owners — is that the race will attract new permanent residents to the Mining City, where the median house price ranges between $150,000 and $180,000, music and arts scenes thrive and the cost of living is more affordable than Montana's other college towns.
Like many locals, Borduin wears many hats: he led six volunteer groups that flagged trails, served as parking attendants, set up the slick competitive electronic timer, controlled traffic on Highway 2 on a south loop, filled water bottles, packed bags of goodies for participants, acted as sweepers for the last riders in each race and cleaned up, post-race.
For some, like Butte-based recreational riders Craig and Mandy Tippett, riding in the 25-mile helps keep them in shape in the midst of a busy lifestyle while raising a family. They, too, volunteer their time.
"Most of our family is here in Butte," said Craig, we have probably 10 of our family who ride it. For me, it keeps me in shape and gives you a goal to look forward to. It's nowhere near the top, but we'll get her done."
Mandy, now a registered nurse, worked in Dr. Pete Sorini's office when she was a Montana Tech nursing student. The Sorini 25 remains special to her and countless others in the community.
"The Sorinis helped me the whole time and here we are 13 years later," said Mandy. "The race means so much to everyone."
As visitors spend money around town, cyclists of all ages and abilities flock to the two bike shops in town – Derailed Bikes and Bad Beaver Bikes in Uptown Butte.
"We are slammed during the week before the race," said Sara Dennehy, cyclist and Derailed Bikes co-owner with husband Brandt. Cyclists from around the nation stop by for tune-ups, bike components, nutrition packets, last-minute items and camaraderie during the shop's busiest week of the year.
"The energy is insane," added Dennehy. "It gives you goosebumps. And the spectators at the race ring those little cowbells."
The Dennehys and staff provide free mechanical help and tools pre-race at Homestake, too. As volunteers and riders who have been with the Butte 100 since its inception in 2006, they are impressed with the turnout.
"People who don't even cycle come out and volunteer," said Dennehy. "The Butte 100 is amazing for the economy."
Even the race's short-term economic benefits lift the town, added Kasperick:
"These events create and support jobs and spending in Silver Bow County. They are short-term impacts, but (they) continue to enhance our area and provide benefits for our retail and service industries."
Second-year race Director Len Jansen became a Butte 100 devotee even after crashing and injuring himself in the 100-miler in 2017 – a departure from his previous road cycling across the United States.
"I was absolutely hooked on the event," said Jansen, 63. "I absolutely love the Butte 100. I love the idea of bringing people into this community to ride because Butte is such a neat place."
Added Borduin: "The effort to put on this race is immense, but it has put Butte on the map in yet another positive way."
2019 Butte 100 Winners follow. For more results, see www.butte100.com:
Elite 100-Mile Overall Winner for the second consecutive year: Josh Tostado of sponsors Santa Cruz, Shimano, and Infinit Nutrition in 9 hours, 8 minutes.
Elite 100-Mile Female Winner: Julie Kelly of Specialized Canada in 11:56.
Elite 50-Mile Overall Winner: Kory Burgess of Missoula Bike Source in 5:06.
Elite 50-Mile Female Winner: Lizzy English in 6:03. Sponsor unknown.
Sorini 25-Mile Overall Winner: David Stillwagon of Stillwagon Racing/Butte Coca-Cola in 2:45.
Sorini 25-Mile Female Winner: Kim Magro of Rockford Owenhouse in 2:54.
Lindsey Gordon, a professional photographer for nine years, specializes in capturing events, families and landscapes. She enjoys being a Mom to her four children and adventuring near her home in Butte.
-Renata Birkenbuel
Got something to say to Prairie Populist? Send news tips, story ideas and comments to [email protected]. If you have something to submit, or an idea for a story you'd like to write for us, check out our Submission Guidelines here.