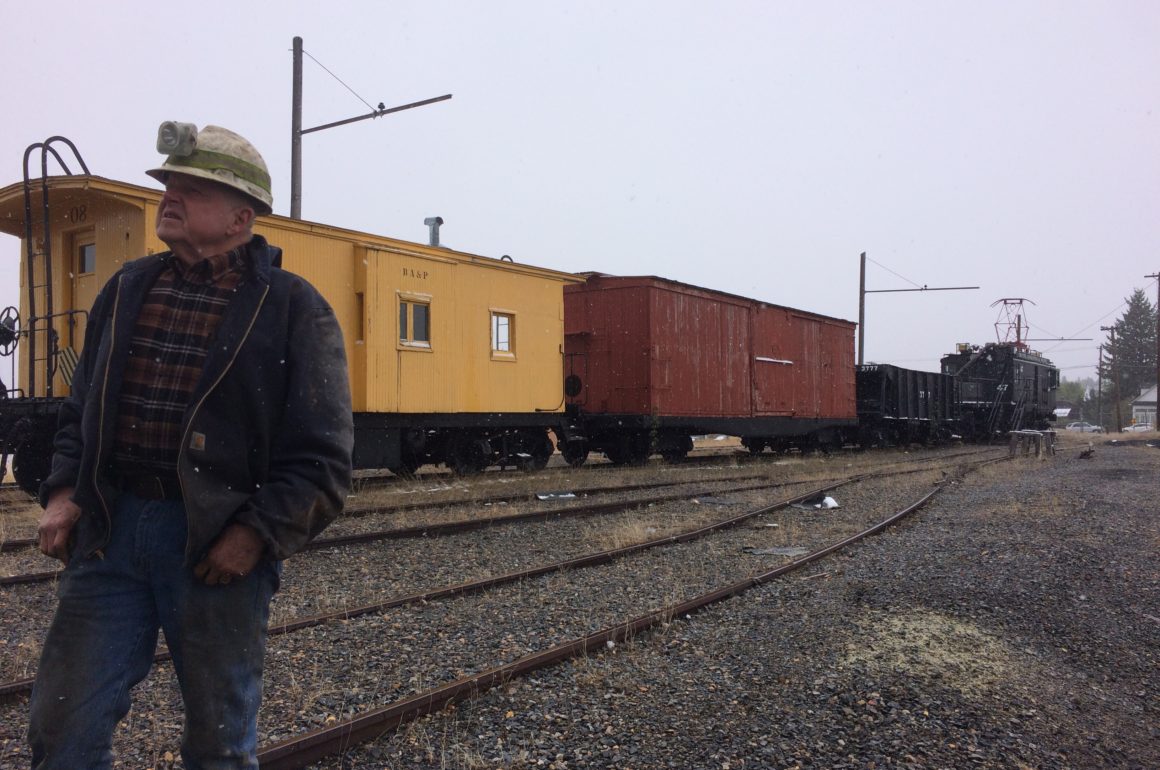 Rather than leaving their heritage in the dust, they're dusting it off
"We've got some stuff going on."
That's how J.P. Gallagher described his recent projects as Butte-Silver Bow's Park and Recreation director, but with more colorful language.
After I wrote a piece this summer about Butte and my personal growth surrounding it, J.P. reached out and invited me out to dig even deeper into Butte's history during a tour. Of what, I wasn't entirely sure.  
But, when Butte's Parks and Rec director invites you out on a personal tour, you always go.
We met J.P. and Bob Lazzari, Special Event Coordinator for Butte-Silver Bow Parks and Recreation. Once it was confirmed everyone had warm clothes for the mid-September snowstorm, we were off.
We quickly found ourselves at the Steward mine, located just above uptown Butte. There, we met Larry Hoffman, who seemed to be known by everyone. While getting acquainted, we casually bumped into state Rep. Jim Keane of Butte.
Well, at least we thought it was a casual, chance encounter. But, as we soon found out, something more exciting than J.P had let on was happening.
The "chippy" hoisting engine at the Steward mine hadn't moved in almost 40 years. But, luckily for us, Larry and some other volunteers had gotten it in running shape the day before we came out. All it took was one week of bird poop removal, and four weeks of maintenance.
The day before we visited, Louie Loushin, 92 years old and the last of Butte's hoisting engineers, had pulled the throttle on the 1,500-horsepower engine for the first time in decades. And it worked.
To the jealousy of most anyone, J.P. and Larry let us give her a pull as well. The only thing we had to compare it to was the throttle on a snowmobile. And boy, could this engine be more different. In contrast to the smelly, loud engines we've previously been around, the hoist engine was smooth and near silent. It was closer to a heartbeat than to whizzing gears.
We moved on to the Pilot of Butte, one of the oldest mines in the area. Now surrounded by tailings from the Berkeley Pit, we were not expecting to see many signs of flourishing life. But when we peaked over a hill and began descending down towards the old mine, we drove through a thriving aspen grove. J.P. also told us about how, at that same site, he saw one of the biggest bucks he's ever seen.
The presence of this seemingly out-of-place natural life spoke to the perseverance of the area.
We checked out a small section of Butte's 30 miles of urban trails, which is increased yearly, and then headed down to Stodden Park, the future home of the Spirit of the Columbia Gardens, now under construction.
There, the Parks and Rec department are reviving the spirit of the only amusement park Montana's ever had. There are plans for a waterpark (that will have a lazy river), an ice skating ribbon in the winter, tennis courts, softball fields, golf course and much more. The new park will be a destination for locals as well as anyone traveling along I-90. And of course, a beautiful carousel, with hand-carved horses, will be located there as well.
J.P. told me initially he would be taking us on a historic tour. But we ended the day looking into Butte's future.
"We're embracing our heritage while bringing stuff in," he explained.
That engine at the Steward mine isn't the only thing moving again in Butte. J.P., Larry, Bob, and so many others have put in countless creative hours to Butte, as to preserve its heritage, but also stimulate growth. And while some of the ideas seem a little crazy, they're working.
Like J.P. said, they've got some stuff going on.
To check out some of the ongoings:

*On October 28th, from noon to 4 pm the Steward mine will have the steam/compresses air mine hoists running. Louie Loushin (92), the last hoisting engineer, and Tom Holter (82) one of the last ropemen will be there offering more in-depth history, as well as Larry Hoffman. The public is welcome to come check them out! (And we highly recommend it!)

*The Spirit of Columbia Gardens Carousel is driven by volunteers. If you would like to donate your time or resources, call Larry Hoffman at (406) 491-4660
-Andie Creel 
Special thanks to J.P. Gallagher, Bob Lazzari, Larry Hoffman and Jim Keane for spending the day with Kelly Balfanz and myself. 
Got something to say to Prairie Populist? Send news tips, story ideas and comments to [email protected]. If you have something to submit, or an idea for a story you'd like to write for us, check out our Submission Guidelines here.