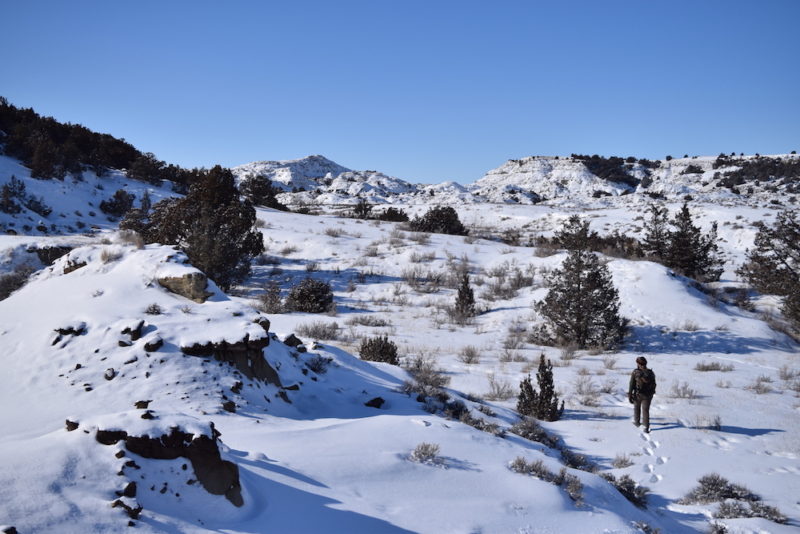 15,000 ACRES SLATED FOR CONSERVATION EASEMENT
By Justin Schaaf
Take a hike with me if you will.
It is springtime in Eastern Montana, we are within eyesight of one of Montana's greatest hidden treasures, Makoshika State Park.
Kip Stenson, the landowner, points us to an area across the Horse Creek bottom to begin our hike. We begin hiking from a homestead that looks as though it has sat vacant for the last fifty years. The house and outbuildings that sit on land now managed by the Bureau of Land Management tell a stark tale. A tale about a family that had invested everything and was unable to make the finances work and ultimately decided it was better to walk away from it all.
It isn't long until we begin to climb in elevation as we walk through badlands from the Hell Creek Formation, riddled with sandstone hoodoos, dinosaur fossils, and other formations that could only be described by seeing with your own eyes. Our sights are set on a juniper- and cedar-crested butte on the horizon where we plan on taking a break and eating lunch.
On top of the butte we sit down under the shade of a mature cedar tree. To the north of the butte you notice the landscape transition from the rough badlands to rolling ash-timbered draws. On closer inspection you see mule deer, whitetail deer, sharptail grouse and even turkeys. As we turn our attention to the south we stop for a moment and notice a Mule Deer buck stand up out of his bed on the adjacent butte. After 10 seconds of studying, the old buck takes four bounds and disappears over the butte never to be seen again.
With our attention on the southern end of the parcel we see the landscape transition once again from the badlands down to a plateau of vast sagebrush fields. We notice a large herd of antelope in the middle of the largest field ready to stretch their legs if anything were to disturb their grazing. There has been one commonality across all the different landscapes that is impossible to overlook, this is first and foremost a cattle ranch. This is a ranch that has figured out how to make all these moving parts coincide with each other.
A GIFT TO THE FUTURE
Kip and Adele Stenson first approached Montana Fish Wildlife & Parks about the possibility of an easement on their land several years ago.
"We sat down and talked about what it might look like in the end," Kip recalled.
The department immediately noted the value that these thriving landscapes provided both the wildlife and people in Dawson and Wibaux Counties.
"An easement of this size can stand on its own and provide habitat and security for generations to come," says Melissa Foster, an FWP wildlife biologist based out of Baker.
The Stensons view the easement as a guarantee into the future for local family ranching out of Eastern Montana, a departure from the trend of cattle ranching growing larger and larger while pushing local families out.
"I hope that someday my grandchildren are able to drive down the hill to our ranch and see that this land is still providing the same benefits now that it was when their grandparents were ranching it," says Adele.
The Horse Creek easement would be funded by Habitat Montana, a program that collects funding from hunting and fishing license purchases, earmarked specifically for conservation easements; and by the U.S.Department of Agriculture.
"Considering how much hunters and fishermen contribute to conservation, I am glad they will be able to enjoy the easement for years to come," Kip says, referring to the easement's public access guarantee.
When the easement is completed hunters will have access to over 15,000 acres that have previously been closed to public access.
"There is no doubt a void of public access in this area and in areas where public access is difficult it only increases the strain between landowners and the department when we aren't able to manage the wildlife within those borders," says Foster, of FWP.
The easement is arising from a local collaborative effort between landowners and FWP. No single party will be able to claim they won the easement, but every party involved will be able to walk away from the table pleased with the positive outcome.
For the Stensons, it provides the long-term commitment to a ranching lifestyle that Adele's parents instilled long ago during the family's years spent on the Rocky Mountain front. For Montana Fish Wildlife & Parks, the easement provides invaluable habitat and winter range for the wildlife in the area. For hunters, it provides hunting opportunities on almost 24 square miles of land.
"When the Montana land board meets to vote on the easement we have agreed to with the Department, I hope they keep our private property rights in the back of their mind and not what they believe we should be able to do with our property rights," Adele says.
Ranching in Eastern Montana is the foundation of our way of life. Montana has a golden opportunity to keep the status quo.
The Montana FWP Commission gave its unanimous approval to the Horse Creek Conservation Easement Feb. 15. Next, it needs a passing vote from Montana's Land Board, consisting of Gov. Steve Bullock, Attorney General Tim Fox, Secretary of State Corey Stapleton, Superintendent of Public Instruction Elsie Arntzen and Auditor Matt Rosendale. That vote is expected Feb. 20.
For more information on the Horse Creek Complex Conservation Easement, you can read the decision notice from the Department of Fish, Wildlife and Parks here: http://fwp.mt.gov/news/publicNotices/conservationEasements/pn_0033.html
To comment on the Horse Creek Complex Conservation Easement, you can send an email to [email protected]
Contributed by Justin Schaaf. Justin is a hunter and conservationist whose roots in Eastern Montana stretch back to the turn of the last century. After growing up in Glendive, he is now raising his young family in Fort Peck near the Charles M. Russell National Wildlife Refuge.
UPDATE: On Tues., Feb. 20, the Montana Land Board voted 3-2 to delay its decision on the Horse Creek Complex Easement. Proponents of the delay cited questions about how the easement would affect the property's mineral rights (held by other owners) and potential petroleum development. 
Got something to say to Prairie Populist? Send news tips, story ideas and comments to [email protected]. If you have something to submit, or an idea for a story you'd like to write for us, check out our Submission Guidelines here.