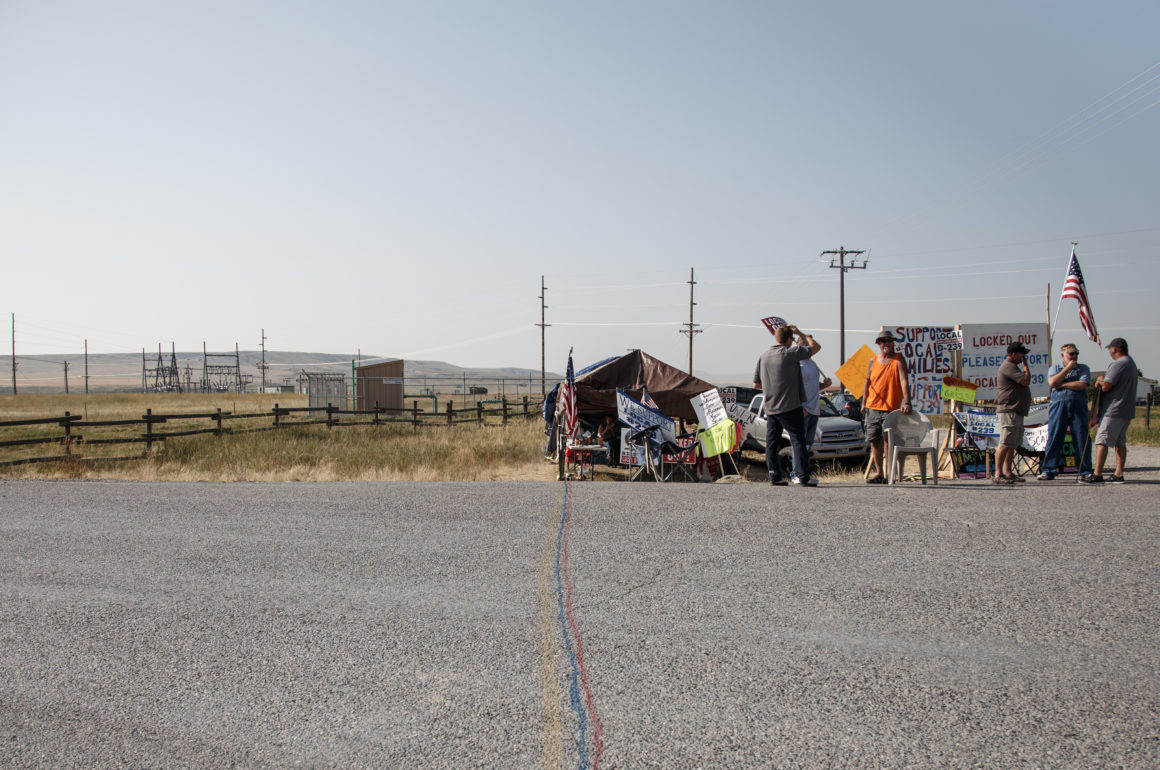 Reporting from Day 13 of the Three Forks talc mill lockout; there is no end in sight
Ferguson Gammon's wife, Carly, is going to have a baby in mid-September. Ferguson is going to lose the family's health insurance at the end of August because he is locked out of his job at Imerys America's talc-milling plant in Three Forks.
"This is not a big plant, so the plant managers know that," said Ferguson, referring to his wife's impending due date.
"We want to work," said Ferguson's father-in-law, Jeff Briggs, who has five kids, including Carly. Jeff is currently supporting one son through college.
Jeff and Ferguson, and the more than two dozen other workers assembled outside the mill, are not striking. They are working Montanans — and they want to work. But Imerys America locked them, and many other workers, out of their jobs.
After 38 years of working at the talc mill in Three Forks, Randy Tocci was at the negotiating table for the International Brotherhood of Boilermakers' Local D-239 when negotiations with Imerys broke down.
At issue is Imerys' plan to terminate health and life insurance coverage for retirees at the end of the year, eliminate seniority as a determining factor in layoffs and job assignments, and reduce overtime pay.
The retiree benefits have been a part of union workers' contracts for 27 years — a fact Imerys was well aware of when it bought the talc mill seven years ago.
"We're not asking for something, we're asking to keep things," said Nestor Hill, who has worked at the mill for 15 years.
"They'd been planning on this all along," said Randy. When union workers voted down the contract that stripped workers of their benefits for the third time, Imerys' security team escorted them off the property. Randy went on to explain that the next day, Imerys brought in two boilermen they had already trained off-site.
The way Randy and his co-workers see it, Imerys was not negotiating with good faith by locking out the union workers and immediately bringing in non-negotiating workers.
"This company's whole intent is to starve us out," said Randy, who told us that the mill was earning $1 million in profit a month before the lockout, making it unlikely Imerys' bottom line is driving the lockout.
Although Randy stresses the workers are not part of a political maneuver, he hopes policymakers can help. Governor Steve Bullock, Senator Jon Tester, Senator Steve Daines, Att General Tim Fox, congressional candidate Kathleen Williams and Montana Senator Jeff Welborn have all voiced support for the locked out workers.

"This isn't about Democrats or Republicans, this is about working Montanans," said Randy. "Hopefully, politically, we can put some pressure on them."
The workers also have the support of the surrounding Three Forks community.
Employees of Montana Rail Link, whose engineers are unionized, aren't crossing the picket line. Instead, they are stopping trains at the line and mill supervisors are taking the trains the rest of the way to the mill. UPS divers, who are also unionized, aren't crossing the picket line either.
And it doesn't stop at union support. Every day, community members bring food and water to the locked out workers. Marlin Kim, a local farmer, dropped off four boxes of potatoes.

With the start of a new school year just around the corner, community members in Belgrade have set up funds to support the workers' children.
But, in the end, what the locked out workers really want are jobs.
"We're hoping to come back and actually talk about this," said Jeff.
-Andie Creel
Got something to say to Prairie Populist? Send news tips, story ideas and comments to [email protected]. If you have something to submit, or an idea for a story you'd like to write for us, check out our Submission Guidelines here.