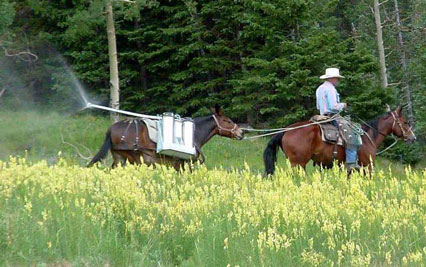 Here is a quick riddle: What can Republicans and Democrats, environmentalists and conservationists, hunters and vegans all agree on?
Give up?
Weeds!
That's right, us Montanans don't really like weeds. We can't stand all those invasive, noxious plants that are taking over our rangelands, forests, and rivers.
Weeds are obnoxious. They've already spread across 8 million acres throughout Montana. 8 million acres! That's three-and-a-half times the size of Yellowstone! That's 53 times the size of Ted Turner's Montana ranches! That's 287 times the size of Billings! That's a lot of weeds!
And here's the thing with weeds — you've got to put up one hell of a fight to slow them down. They don't care if we tell them to "get off our land." They don't pay much attention to property lines. And they spread all over the place.
Representative Kelly Flynn out of Townsend recognized these challenges. As a rancher and an outfitter, he has seen the damage done by weeds. Flynn also sits on the House Natural Resources Committee and chairs the Committee on Fish, Wildlife and Parks. So he was in a good spot to try to do something about it.
Flynn proposed the Montana Wildlife Habitat Improvement Act. With this bill, people fighting weeds — like landowner groups and local agencies — could use federal funding to fight weeds on both public and private lands.
This bill doesn't reinvent the wheel. It just expands a useful program that already works. And it takes advice from the folks who know their weeds — a council including ranchers, sportsmen and timber industry people. The funds would come from a federal program so it wouldn't hit the state's budget at all.
Everyone seemed to like this bill. It was spreading like knapweed — easily passing every vote in the Legislature.
But then our weed-eating bill met its noxious match — Senator Jedediah Hinkle.
Jedediah Hinkle represents parts of Gallatin County all the way down to West Yellowstone. His district covers a diverse landscape of public forests, important waterways, and critical farmland. Pretty ripe place for weeds. Here's what the County Weeds Department in Hinkle's district has to say:
But turns out, Sen. Hinkle doesn't find weeds to be a very big deal. As the vice-chair on the Senate Fish and Game Committee, he basically soiled Flynn's straightforward bill about weeds by planting a bad, noxious amendment in it.
Okay, the Prairie Populist is compelled to get in the weeds with what happened here. So bear with us as we muddy up the waters. Thistle only take a moment…
Earlier this session, there was this really bad bill that proposed a major overhaul on Habitat Montana, a popular program that protects wildlife lands and improves public access. This bill would have put the program's federal funding at risk and added bureaucracy.  Everyone — hunters, anglers, landowners — spoke out against that bad bill. And eventually, it died. Habitat Montana, working great, was safe.
But like with any weed, you shouldn't celebrate a victory too soon. And at the Legislature, no bill is ever really dead.
Hinkle and company really wanted to see this bad bill live. So they took the dead bill and planted it right smack in the middle of Flynn's anti-weed bill, the Montana Wildlife Habitat Improvement Act.
Those amendments choked the life out of it. Flynn's bill could've helped a lot of folks keep their lands healthy. It could've helped farmers, ranchers, and public land users in Hinkle's own district get the upper hand in the fight against houndstongue, leafy spurge and Canada thistle.
Weed 'em and reap, folks. Hinkle's true feelings have come out.
Ultimately, smarter heads prevailed. And after much debate and public outreach, the bad, invasive amendments were pulled from this bill, and its original weed-fighting mission was restored. And today, the house passed it 100-0!
You see, there really is one thing everyone can agree upon!
And now those weeds better run and hide… because we're coming for you.