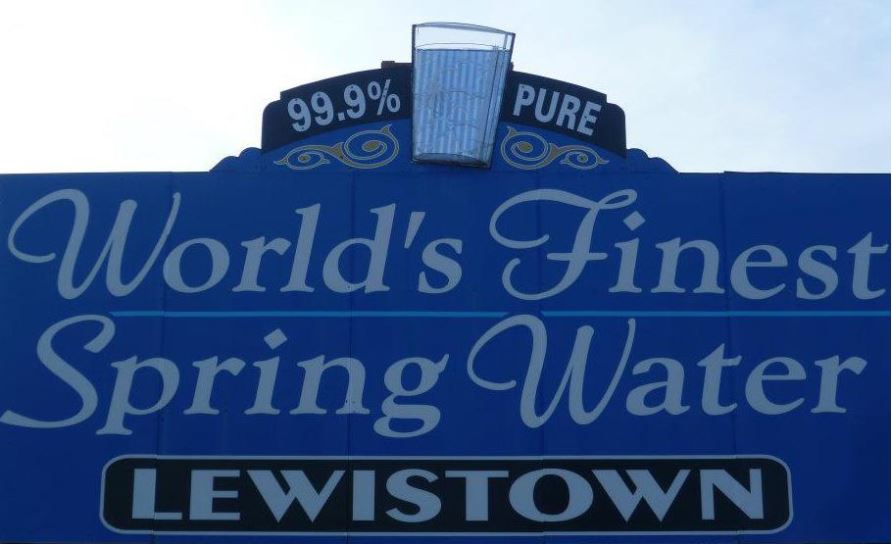 There's Many Fish in the Sea, But There's Only One Big Spring Creek
Lewistown, Montana has some of the most pristine water in the entire country. Big Spring Creek — the main source of their water supply — originates seven miles southeast of town where it bubbles out of a massive underground aquifer. This artesian spring lies in the foothills of the Big Snowy Mountains, a wild island range with rugged limestone canyons and dense forests. From there, Big Spring Creek meanders northwest, winding its way through Lewistown before eventually meeting the Judith River.
Whiskey is For Drinking…
Before most of us had sipped our first bourbon, we were taught that whiskey is for drinking and water's for fighting. But when you're in a place like Lewistown, the water actually brings folks together.
There are maybe five or six towns throughout the whole country that have drinking water as pure as Lewistown's. For the most part, when folks here turn on their tap, that water comes untreated, straight from the spring.
Clayton Dunlap is a Fergus County guy. He graduated from Lewistown back in the 50s, and worked in education and coached basketball until he retired five years ago. When Dunlap was in high school, he would travel around the state playing basketball, and he remembers how he and his teammates would poke fun at the other towns' water. The drinking fountains were coated in alkaline deposits and the water often tasted funny.
After graduation, Dunlap moved to teach in Scobey and then Winnett. But every time his basketball team would play a game in Lewistown, he would fill up his five or ten gallon jugs with Lewistown water and bring them back to his new town.
Big Spring's water was in his blood, and Dunlap eventually made his way back to his hometown where he is now the chair of the Big Spring Creek Watershed Group. For Dunlap, Lewistown is Montana's best kept secret and its water is the greatest resource in Central Montana.
Over the years, many businesses have capitalized on the quality of Lewistown's water. Started in 1966, Big Spring Water Company continues to bottle "pristine spring water from the base of Montana's Big Snowy Mountains." Today, Big Spring Water ships this natural mineral water to homes and offices across Montana.
Coming this spring, a new local business will be making a splash in Lewistown: Big Spring Brewing. 
"Without clean water, you can't make good beer," said Matt Leow, the director of the Montana Brewers Association.
Beer is 90 to 95 percent water, which means that Big Spring Brewing's key ingredient is starting them off on the right foot.
But it's not just the brewers and water-drinkers who benefit from Lewistown's precious resource; it's everyone — families, farmers, ranchers, anglers. Even the fish make a killing in these conditions.
"It's a local natural resource that a lot of people depend on. It really is a community pride," said Mike Getman. Getman is a retired biologist with the Department of the Interior. He recently moved back to Lewistown where he is the vice president of the Snowy Mountain Chapter of Trout Unlimited.
"It is one of, if not the, most important natural resource we have locally," said Getman. "It's the reason a lot of people live here and can live here."
Farmers irrigate their crops from Big Spring Creek, which is a reliable water source even in times of drought. Often, Getman explained, farmers and ranchers who are on well water will drive into Lewistown to fill up their big tanks with city water. In the summer months, the local public access sites along Big Spring are filled with families swimming and floating in the creek. As for Getman, one of the main reasons he moved back to the area was for the fishing.
Big Spring has premier trout fishing. Not only is the creek clean and untarnished, but its flow and temperature are stable. Clint Smith — a fisheries biologist with Montana Fish, Wildlife & Parks — explained that Big Spring is less impacted by runoff and snowpack because it is fed mostly by an aquifer. It consistently comes out of the ground at around 52 degrees, which means, "You can fish Spring Creek if the air temperature is negative-five," said Smith. And he has.
Big Spring Creek is more than capable of producing its own healthy fish population. The creek hasn't been stocked since 1982. On the stretch of Big Spring below Lewistown, there are an estimated 1,636 trout per mile that are eight inches or longer. That is a very productive fishery, especially when compared with other popular rivers like the Smith, which produces about 754 trout per mile that are eight inches or longer. 
Even if Spring Creek isn't your fishery of choice, your favorite fishing hole may very well rely on these waters. Big Springs Trout Hatchery is located at the head of Big Spring. It is the largest coldwater hatchery in the state, and it is capable of producing 130,000 pounds of fish each year. Those fish are then planted in 100 different waters across Montana.
Tracing it back to the source
It's hard to know with complete and total certainty where all of this spring water originates. Groundwater is always complicated and the Madison Aquifer, which feeds Big Spring, is a huge underground maze with many sources.
Smith explained that while there isn't 100 percent correlation, the data shows a very tight linkage between the snowpack in the Big Snowies and Big Spring's production. The spring is a mere 13 miles as the crow flies from the top of this island range. The Big Snowies receive more annual moisture than anywhere else in the area, and most of that precipitation makes its way underground through porous limestone before resurfacing at Big Spring. 
If the source is threatened or contaminated, then the resource that is Lewistown's lifeblood and identity could also be threatened or contaminated.
"Lewistown residents almost worship Spring Creek," Smith said. "It's so integral to their identity as a community."
"The general thought from our [Fish, Wildlife & Parks] conservationists is that proposed developments… from a fisheries perspective, probably isn't going to significantly impact the fishery," Smith continued. "The biggest concern comes not from one or two projects, but from the forty or fifty projects with accumulative effects over time. That's where people really need to watch and monitor."
Protecting Lewistown's Lifeblood.
Folks in the Lewistown area have come together before to protect their water against potential threats to the aquifer or the Big Snowies.
When high amounts of PCB's were found on the upper sections of Big Spring Creek in the early 2000's, people were rightfully panicked. Concentrated amounts of PCB's are suspected to cause cancer, and this chemical has been banned since the late 70s. What was it doing in Lewistown's water source? After much testing, it was discovered that the chemical was coming from the paint chipping off of the raceways at the Fish Hatchery. After years of expensive cleanup at the Hatchery and dredging on the creek, the cleanup ended in 2013 and the beloved creek was restored.
But the work wouldn't stop there. Groups like the Central Montana Resource Council have formed to protect their area's air and water. This group keeps an eye on drilling activity near streams and wells around the Madison Aquifer.
"We're not opposed to responsible drilling," said Laurie Lohrer, the chair of the Central Montana Resource Council. "In fact, we're in favor of having regulations where the energy company that's profiting bears the responsibility, not the city or county or taxpayers."
Lewistown's economy is based on farming, ranching, hunting and fishing. "Bottom line, you've got to have clean drinking water for livestock, for fishing, and for future generations," Lohrer said.
Dunlap, of Big Spring Creek Watershed Group, also expressed his concerns about any proposed development that could drain the aquifer. There's been talk of tapping into the Madison Aquifer and piping water down to Harlowton and Roundup. There's also a proposal for a slaughterhouse outside of Great Falls which could use millions of gallons of water. Dunlap wants to see more monitoring of the current conditions and more conversation around the potential impacts of draining the aquifer.
"We're not against development. We're not tree-huggers. But development has to be done in a very responsible way," Dunlap said.
After all, he and the Watershed Group have seen the catastrophic impacts of previous, unregulated development and they've done a lot of work to fix the negative impacts of past projects. In the Machler Project, the Watershed Group stabilized and naturalized a portion of Big Spring that had been straightened in the 1960s. They've also been working to rehabilitate Brewery Flats, an area along the creek where the now-defunct Milwaukee Railroad had its roundhouse in the 1980s.
"People kind of treat [the creek] like 'Oh it's here. It's always going to be here,''' Dunlap said. "Well, it's like so many great resources, where if we don't take care of it, we'll lose it. It's going to be here for my lifetime, but that's short-sighted."
There's no doubt that, come hell or high water, folks around Lewistown will do what it takes to protect this valuable resource. Luckily, the situation hasn't gotten so dire that fists have had to be thrown. For the most part, people have been able to address these proposals in their early stages and they've reached a compromise before any major problems arose.
…Water's for fighting?
For the most part in Lewistown, water hasn't had to be about fighting.
Dave Byerly was born in Lewistown, raised out East, and came back to the area forty years ago to raise his family. He's worn many hats during his tenure in Lewistown. He ran the newspaper for twenty years and he's served on the school board. Currently, he's the Vice Chair of the Fergus County Port Authority and he sits on the Lewistown City Commission. Byerly spoke to us not as a newspaperman or a local politician, but as an engaged citizen, Lewistown native, and a family man.
"In Lewistown, the thing that makes us special here are the public lands and the clean water," Byerly said. "Without those things, we're any place. With those things, we are special."
Byerly understands that Lewistown is growing, and he isn't opposed to the inevitable development that will bring jobs to the community and life to their downtown.
"One of our challenges as a community is that we are about to grow, and can we grow without destroying what's making it great?" said Byerly. "If there's one thing we have that's truly priceless, it's Big Spring and the water we get in this community… People in Lewistown would be incredibly alarmed with anything that happened up in Big Snowy."
Recently, Montana U.S. Senator Steve Daines proposed a bill that would change the way the Big Snowy Mountains are managed. Right now, the Big Snowy Mountains are a Wilderness Study Area where activities like mining, logging, and motorized use are prohibited. This designation prevented Shell Oil from purchasing 49,000 acres of oil and gas leases in the Big Snowies in 1986, and it prevented Cominco, a Canadian Mining Company, from exploring for copper and zinc in the Swimming Woman Canyon in 1996.
The three Fergus County Commissioners — Carl Seilstad, Sandra Youngbauer, and Ross Butcher — all supported Daines' bill to release the restrictions placed on the 98,000 acres that feed Big Spring.
"We believe this area has languished under this designation long enough," they wrote in a letter to the Senator. "We appreciate the consideration afforded local government when making decisions that impact our community and our way of life."
The Russell Country Sportsmen's Association, a group out of Great Falls that promotes access and protects wildlife habitat, also supported Senator Daines. "Removing these designations will restore public access to our public lands and multiple-use to our forest," they said.
In a press release, Senator Daines said that he's proposing this change in the Big Snowy Mountains because he has the support of the local community and because the area isn't currently recommended for wilderness designation by the Forest Service.
But do three county commissioners and a sportsmen group from Great Falls speak for the whole local community?
And is the Senator's proposal jumping the gun? The Big Snowies may not be recommended as wilderness right now, but that may soon change. After years of public input, The Helena Lewis and Clark National Forest is nearly done updating its Forest Plan, which will guide its management for the next generation. As of right now, the Big Snowy Mountains are still in the running to be recommended as wilderness upon the plan's completion.
And is it worth risking Lewistown's pristine water by changing the management of an area that, as of right now, has zero impaired watersheds? If it isn't broke, why fix it?
Byerly is a conservative Republican, a proponent of economic development, and a supporter of Senator Daines, but he was surprised by the bill.
"The thing about Daines' legislation is that it just came totally out of the blue," Byerly said. There were no public meetings and Byerly, as a local city commissioner, was never consulted.
"There is a conversation to be had in Montana about how best to handle these Wilderness Study Areas. Some of them should be wilderness and maybe some of them shouldn't be. That's a reasonable conversation to have…that's a conversation we can and should have in a careful and reasonable way."
And there are groups around the state having that very conversation.
"The way we do things in Montana is we talk about these things first," Byerly said. "We don't have the meetings after. We have the meetings first."
Talking about things before they happen, having the meetings first — that's the Montana way. And that's how folks in Lewistown have been able to protect their pristine water while avoiding any big confrontations.
"We truly have been blessed here and I'm not kidding. I'm a person of faith," Byerly said. "We are so fortunate to be able to live here and we have to be careful… The Good Lord isn't making more places like this."
Water doesn't have to be for fighting, but it certainly is worth fighting for. No doubt that folks in Lewistown would if and when the time calls for it.
-Amanda Garant
Featured Photo is by the Madison Aquifer Alliance. 
Got something to say to Prairie Populist? Send news tips, story ideas and comments to [email protected]. If you have something to submit, or an idea for a story you'd like to write for us, check out our Submission Guidelines here.
Updated on January 22, 2018.