Just outside of Great Falls is Montana's most visited State Park
Summer means exploring our state, and at Prairie Populist we're joining the thousands of Montanans visiting the amazing lands, lakes, and historical sites that make up Montana's state parks. We hope you'll check back all summer and join us as we explore what these parks mean for the people of our state and how they help make Montana a place unlike any other.
One small pond at Giant Springs State Park just alongside the Missouri River not only has big fish, but built-in stands on the shore so kids have a good place from which to cast.
"They're having a blast even though they're not catching anything," Jacob Pence of Banks, Oregon said of his nephews, Dylan and Hadley. "It's just good to have them out in nature a little bit."
The kids' fishing area had recently been stocked with large trout — more than a foot long — from the fish hatchery just a long cast away. It's the only fish hatchery located within a Montana State Park, and it's an attraction in itself, with chances even for feeding the energetic trout in their big round tank. There's a small museum-like building right next door explaining the science behind the critters.
The kids' pond at Giant Springs is just one attraction in a sprawling complex of things to do right at the edge of Great Falls.
"There are just so many things you can do," said Clark Carlson-Thompson, the park manager.
For many, the Lewis and Clark Interpretive Center is a great introduction to the area and the history of its European settlers. Back in the summer of 1805, Lewis and Clark and the Corps of Discovery spent a month lugging their giant dugout canoes across the hot, windy landscape, with its cacti and rattlesnakes. But today, modern visitors have dozens of miles of walking and biking trails, with signs marking difficulty levels.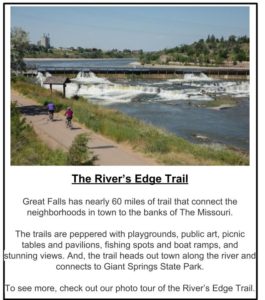 The several sections of waterfalls, once the apparent barrier to the western expansion of the United States, now make electricity at the half-dozen dams along the way, and provide a scenic backdrop.
Then, there's the Giant Spring itself, one of the many features on the long Missouri trip that the Corps of Discovery noticed. It kicks out about 150 million gallons of water every day, at a steady 55 degrees, squeezed from snowmelt in the Little Belt Mountains, 60 miles away, an underground journey that takes about half a century.
The spring creates a clear, round pool, formed by some late 19th century dam work. A footbridge, across a series of small arches, was built by the Civilian Conservation Corps in the 1930s and is just decayed enough now to look ancient.
Stand near the spring, and that cool, moving water makes the space around it just a bit cooler, even on the hot days of summer.
There are shady glades for picnicking, and odd nooks among the small cliffs near the spring.
Explore the meadows (watch out for snakes!) for remains of ancient smelters, leftover from the area's time as a mining hub.
And where else in Montana can you so conveniently find a record-breaking river? The Roe River is the name of a short (200-foot) stretch connecting the spring to the Missouri. Once upon a time, it was in the Guinness Book of Work Records as the world' shortest named river, until the Guinness people scrapped that category.
It's a lot of space, a lot of activities and a lot of visitors — Giant Springs is the most visited state park in Montana, thanks mostly to Great Falls residents who can bike to the trails right from town. But a couple of turns atop the cliffs and the sights and sounds of Montana's third-largest city are gone.
That's a lot of work for one manager and a small seasonal staff, charged with doing everything from cleaning bathrooms to shoveling snow to letting folks know at the end of a spectacular sunset that the park is closing.
Carlson-Thompson and crew also maintain large areas of land owned by Northwestern Energy, the owner of the massive old dam. The park also works closely with the city of Great Falls and with the Interpretive Center, run by the U.S. Forest Service.
Giant Springs is open daily year-round at 8 a.m. and closes at sunset. The park also offers evening programs including, in 2018, a dog-friendly day in August 25 and a family fall fun-fest October 13, There's more information about the park here.
 Written by Sanjay Talwani. Photographs by August Schield.
Got something to say to Prairie Populist? Send news tips, story ideas and comments to [email protected]. If you have something to submit, or an idea for a story you'd like to write for us, check out our Submission Guidelines here.