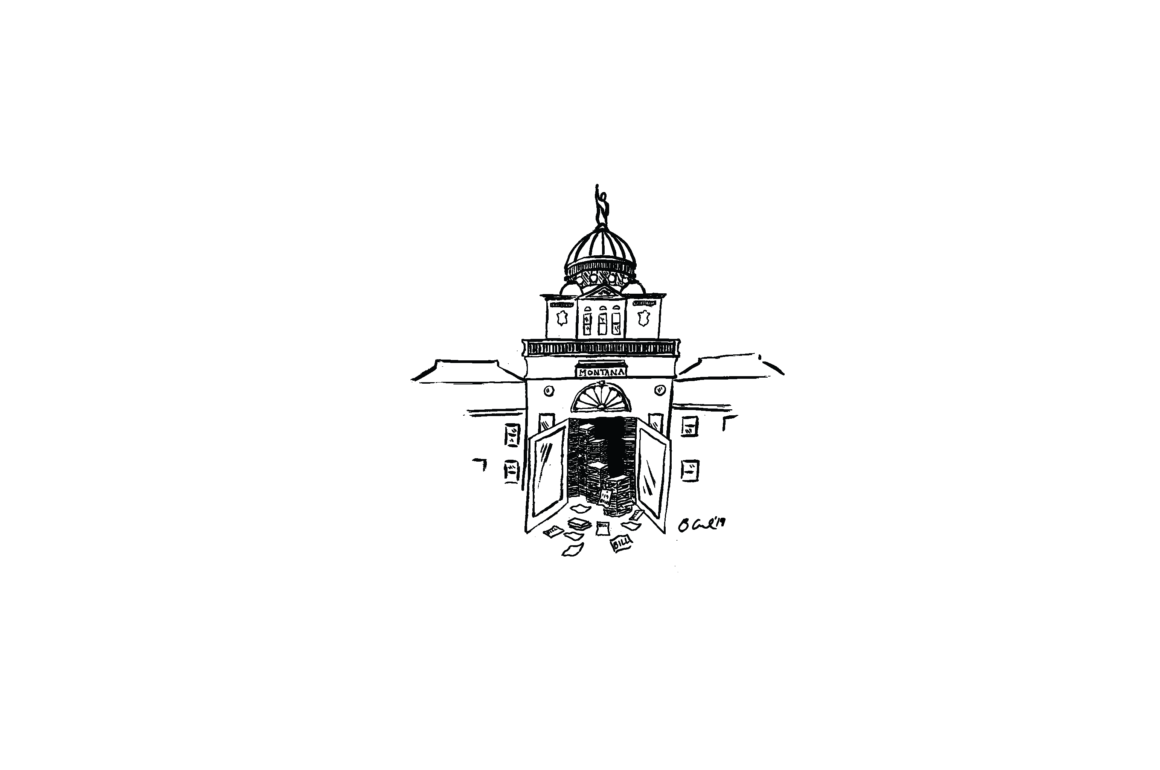 Cartoon by Bridget Creel
As session winds down, watch for pet bills attached to state budget
Every two years, Montana's 100-member House of Representatives and 50-member Senate gather in Helena for 90 days of budget negotiations, lawmaking and shenanigans. During the Legislative Session, Prairie Populist will share updates on the issues that matter most to you and the bills that impact your daily lives. See all our coverage here.
It's been a long, winding road to Day 82 of the 66th Montana Legislature. There remain eight more legislative days as the House and Senate break for the long Easter weekend. They'll come back Tuesday to finish underlying issues related to the state budget and finalize any last-minute deals that legislators cut in the back rooms, nooks and crannies of the Capitol. Such end-of-session dealmaking can be frustrating, especially when bills considered dead come back to life after being crammed into another bill. In lieu of a straightforward, transparent title on the new attached bill, it may simply, cryptically read "generally revise."

The latter is an old parliamentary trick skilled legislators employ when they can't take no for an answer. Right now, the big bill likely to resurrect is Senate Bill 331, which would allow Northwestern Energy to purchase a larger part of the Colstrip power plant and pass on the up-to $75 million cost to ratepayers — to the tune of about $750 per person. The House recently killed SB331 on third reading, but crafty legislators could potentially cram it into several still-live bills.

After weeks of heated debates and amendments, Medicaid Expansion, House Bill 658, has passed the Legislature. The bill now heads to Gov. Steve Bullock's desk, where Prairie Populist expects him to sign it into law. If the sunset on Medicaid Expansion had not been lifted, rural hospitals would have lost massive funding necessary to keep their doors open — plus nearly 100,000 Montanans would have lost their healthcare. Now we can breathe a huge sigh of relief.

In other good news, the State Parks Funding bill, Senate Bill 24, passed the Legislature this week, as well. The new law will help fund our state parks, deal with the $22 million backlog in maintenance needs, increase trail dollars, fund Virginia City and Nevada City, and help maintain fishing access sites. Despite a rocky start, the bill garnered broad support after it blasted out of the Senate Fish and Game Committee to the Senate floor.

The Public Access to Lands Act, Senate Bill 341, passed, too, much to our delight. A broad group of hunting, fishing, agriculture and land trust groups wrote the bill, which will create a new access program designed to open up the 1.5 million acres of landlocked public lands. The new law will create term agreements with landowners who lease public lands and who currently lack open access routes. Sen. Mark Blasdel, a Kalispell Republican, worked to bring people together and find some common ground.

But perhaps the most gratifying bill that passed, at least for us here at the Prairie Populist, is Senate Bill 160, the Firefighter Health and Safety Act. The governor signed it into law on Thursday, April 18. An unlikely controversial issue that took a few sessions to pass, it likely cost a couple of legislators their seats last session after they fought hard to kill the bill. Our firefighters and first responders deserve proper care if they receive a life-threatening on-the-job disease while protecting us. We expect our men and women firefighters to run into burning buildings and save our families, our possessions and our homes. They stay on guard for us, so it should never be this difficult for us to return the favor. We are extremely pleased legislators worked together to secure SB160 into law, even if some later amendments weakened it compared to the original version. The firefighters striding the halls of the Capitol every day never gave up — and never quit fighting for their brothers and sisters.

Next week, as the session furiously winds down, the key budget and its companion bills will attract most of the attention. As so-called companion bills hit their respective committees, it's important to keep a keen eye out for seemingly innocuous pet bills attached to the budget. They could potentially greatly impact Montana taxpayers and citizens. Stay tuned.
— Prairie Populist
Got something to say to Prairie Populist? Send news tips, story ideas and comments to [email protected]. If you have something to submit, or an idea for a story you'd like to write for us, check out our Submission Guidelines here.
To read more on the aforementioned bills, check out our previous coverage…