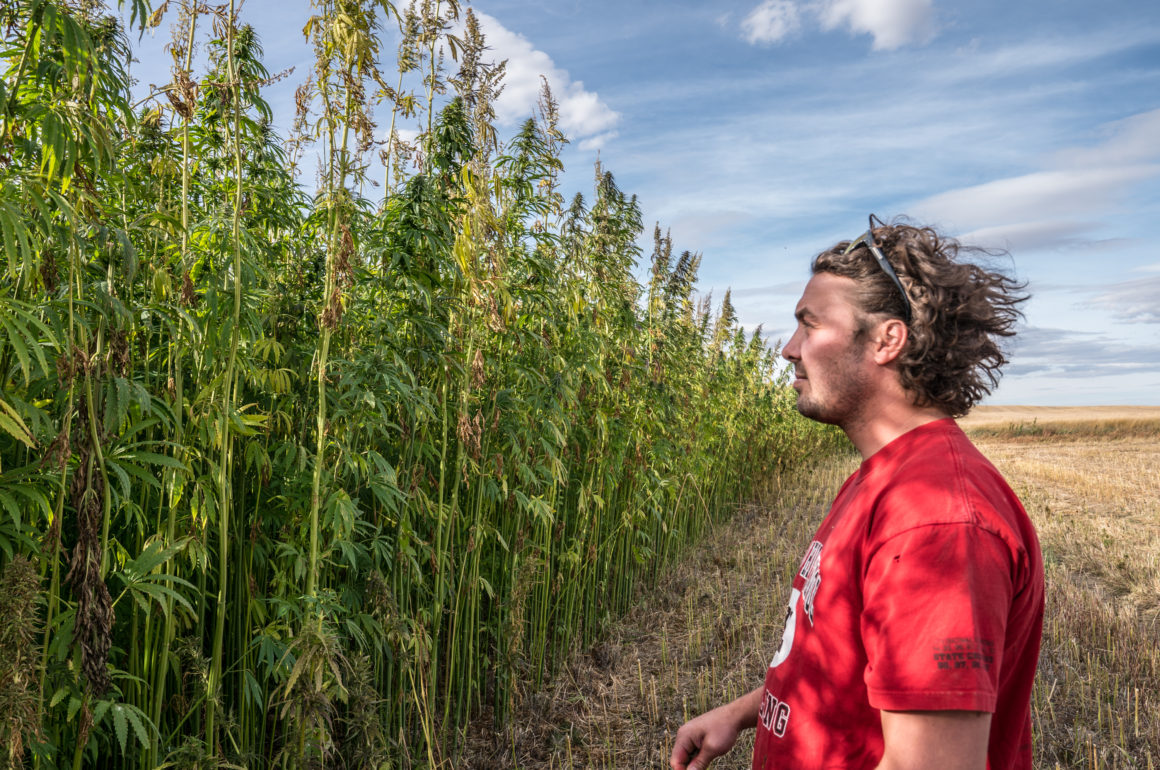 Crop Potential has Montana Farmers Seeing Green
By guest contributor Alexis Bonogofsky

It's not every day that Montana farmers have an opportunity to grow a new crop that provides the raw material for more than 25,000 products found in homes across the country.
Now that President Trump has signed the 2018 Farm Bill, Montana farmers can grow industrial hemp—the oldest cultivated crop in the world and one that our founding fathers grew with pride—without having to ask permission from the Drug Enforcement Agency (DEA). This extremely valuable crop could mobilize the biggest change Montana farmers have seen in the agricultural landscape in decades.
A provision in the bipartisan 2018 Farm Bill radically alters U.S. federal policy toward the plant by removing it from the 1970s Controlled Substances Act. The new legislation kicks the door wide open for U.S. farmers to compete in a market that only shows signs of accelerating growth. Hemp sales topped $820 million in 2017 and are expected to reach $1 billion this year.
Due to decades of restrictions, almost 90 percent of hemp products in the United States come from Canada. However, in the new regulatory environment, farmers are hoping to see significant market shares coming from Montana farms in the near future.
Montana farmers are ready to take the lead
"Have you talked to Colby Johnson?"
If you talk to anyone who knows anything about growing hemp in Montana, you will likely hear those six words. Johnson, 29, is a fourth-generation family farmer from Conrad, Montana. He was one of the first to see the potential in growing and processing industrial hemp.
"When I found out that it was an option, I knew immediately I wanted to add it into our rotation. It's such an amazing plant. With commodity prices in the tank, farmers need options," said Johnson. As he got set to bale in early October, his beautiful, bright green hemp stands stood 10 to 12 feet high.
Johnson and his family started growing industrial hemp two years ago, under a pilot program through the Montana Department of Agriculture after some federal restrictions on the plant were eased in the 2014 Farm Bill.
Farmer Colby Johnson drives to his hemp fields near Conrad Montana (top left). Johnson removes some of the hemp seeds, one of the most lucrative byproducts of the crop (top right). Colby Johnson's hemp fields stood 10 to 12 feet high in October (bottom). Photos by Alexis Bonogofsky.
The pilot program started with 14 Montana farmers growing small plots of hemp totaling about 500 total acres. Within a year, the program had grown to 100 Montana farmers growing about 22,000 acres, the most hemp acreage in the entire United States.

Johnson is one of the most outspoken advocates for the crop in the state. He often travels to speak to other farmers about the benefits of hemp, his experiences growing it, and what he sees as potential markets.
"Montana farmers have a couple years of experience growing and we have a supportive ag department with a well-run hemp program," explained Johnson. "With the 2018 Farm Bill passing, we have an opportunity that we need to take advantage of."
The day after the Farm Bill finally made its way through Congress, the Montana Farmer's Union sponsored a meeting in Great Falls to discuss the future of hemp. More than 125 current and potential hemp growers from throughout the state joined the conversation.

Kirby Hancock, an architect and builder from Bozeman, kicked off the meeting by taking participants on a tour of the many uses of hemp, including in building materials. He passed around a hempcrete block—a bio-composite made of the inner woody core of the hemp plant mixed with a lime-based binder.
"Hemp grows incredibly fast," Hancock told the crowd. "And one acre of hemp captures four times as much carbon as an acre of timber. You can use the seed, fiber, hurd and even the root—and it doesn't need as much water as other crops. One acre of hemp can produce four times as much paper as one acre of trees, you can make plastic out of it. I could go on." And he did.
The 2018 Farm Bill includes significant changes from the pilot program. Hopefully, this will help Montana farmers find the markets they need to make hemp profitable. The new legislation, once fully implemented, permits the transfer of hemp-derived products across state lines for commercial or other purposes. It also removes restrictions on the sale, transport, or possession of hemp-derived products, so long as those items are produced in a manner consistent with the regulations in the new law. Additionally, it provides coverage for hemp under federal crop insurance programs.
But the biggest question in the room from farmers was, "Where do we sell it?"
"There are still a lot of issues we need to work out. There are some bad actors operating in the state," Johnson told the gathered growers. "What farmers need most is a safe and reliable market to sell their crop. Right now, there is a lot of uncertainty around that."
Johnson isn't waiting around for the market to come to him. He, his brother, and a few other investors are building their own hemp processing facility in Conrad, which should be up and running sometime this winter. Their new business is called Big Sky Hemp and will initially process bulk cannabidiol (CBD)—a non-intoxicating compound found in cannabis that can be used for medical purposes. After the CBD is extracted, they'll still have almost all of the biomass of the plant that can be marketed for other uses.
He says there is going to be a lot of experimenting in the state as people explore different seeds and markets. A 2017 study by the Congressional Research Service estimated the gross value of hemp, after processing, is about $21,000 per acre for seeds and $12,500 for stalks.
Johnson is hoping farmers will not always leave the processing— and resulting profits—up to others.
"Our rural communities are hurting and every business matters," said Johnson. "If there are ways we can keep the value-added processing in our state, in our communities, then I want to do that."
One grower, Jackee Beck, 30, came to the Farmer's Union meeting from Deer Lodge, Montana. Her family has a cow-calf operation and she began growing hemp this year on 20 acres of her family's cropland.
"I want to try to help out my family's ranch, but I also see this as a way to link arms with farmers, help people out, and bring back Montana agriculture," Beck explained. "There aren't a lot of people my age staying in agriculture, I mean you can barely make ends meet so you have to love it. I think hemp can help rural Montana."
-Alexis Bonogofsky is a fourth-generation Montanan, freelance writer and photographer, and goat and sheep rancher, who lives and works along the Yellowstone River south of Billings. She started her blog East of Billings in 2013 to bring attention to issues facing eastern and rural Montana.
Feature photo of Colby Johnson, a fourth generation family farmer from Conrad, Montana.
Got something to say to Prairie Populist? Send news tips, story ideas and comments to [email protected]. If you have something to submit, or an idea for a story you'd like to write for us, check out our Submission Guidelines here.