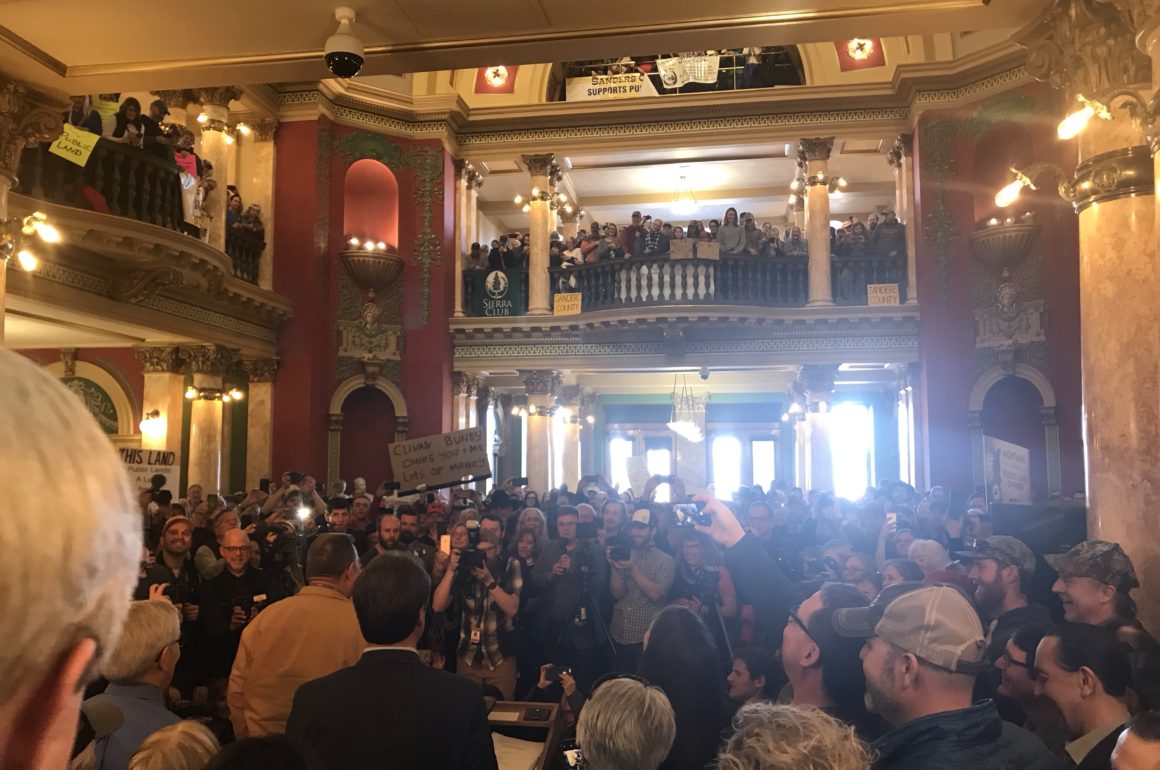 Capitol Corner: Week one at the Legislature
Every two years, Montana's 100-member House of Representatives and 50-member Senate gather in Helena for 90 days of budget negotiations, lawmaking and shenanigans. During the Legislative Session, Prairie Populist will share updates on the issues that matter most to you and the bills that impact your daily lives. See all our coverage here.
As week one of the 66th Montana Legislature comes to a close, things are rolling along as expected. Old friends have had a chance to catch up on the events of the past two years. Old rivalries have been resurrected. And everyone is talking about today's public lands rally, Medicaid expansion, and, of course, the budget.
Each legislative session, a variety of public lands advocacy groups gather to celebrate recent victories and talk about upcoming challenges. The energy in the air is palpable as hundreds of Montanans (at the last session the number topped 1,000) converge upon the Capitol Building, all chanting, "Keep it public." This year's event was scheduled to kick off at noon today.
As expected, a discussion around Medicaid expansion is taking center court, as democrats and republicans start to unveil competing visions of how to protect Montana's most vulnerable citizens, while providing taxpayers the best bang for their buck. Over the next 85 days, there will be considerable drama on all sides of this debate, but the basic fact remains: if the legislature doesn't reauthorize the HELP Act, many Montanans will lose their health care coverage, putting them at risk of disease and increased debt.
But at the end of the week, it's all about the Benjamins. Legislators are starting the long and arduous process of cutting the draft budget into thousands of tiny pieces and then gluing them back together. Anyone with an ounce of sanity glazes over when the budget talk starts. It is a dry, droll issue that is fraught with complexities and incongruities. But the budget is what makes our state function. It's what funds our schools, roads, ag economy, and wildlife management. Without the budget, the state of Montana would be a 19-year-old college student with a new Discover Card and a desire for some wicked cool Che Guevara posters. Fortunately, our constitutional framers decided that we needed a balanced budget. And they made that budget the only constitutionally required outcome of the 90-day legislative session that happens every other year.
As this session continues moving forward, heated discussions will undoubtedly become the norm. When you comment on the issues that matter most to you—and you should make your voice known—it is important to remember that the 150 men and women of the 66th Montana Legislature are your neighbors and friends. They put their professional and personal lives on hold to help steer the ship of state. So, as you make your opinions known, don't forget the golden rule: be kind, be polite, and treat people the way you want to be treated. Respect for people you disagree with goes a long way toward finding that middle ground that works for all of us.
-The Prairie Populist
Feature photo of this year's Public Lands Rally
Got something to say to Prairie Populist? Send news tips, story ideas and comments to [email protected] If you have something to submit, or an idea for a story you'd like to write for us, check out our Submission Guidelines here.