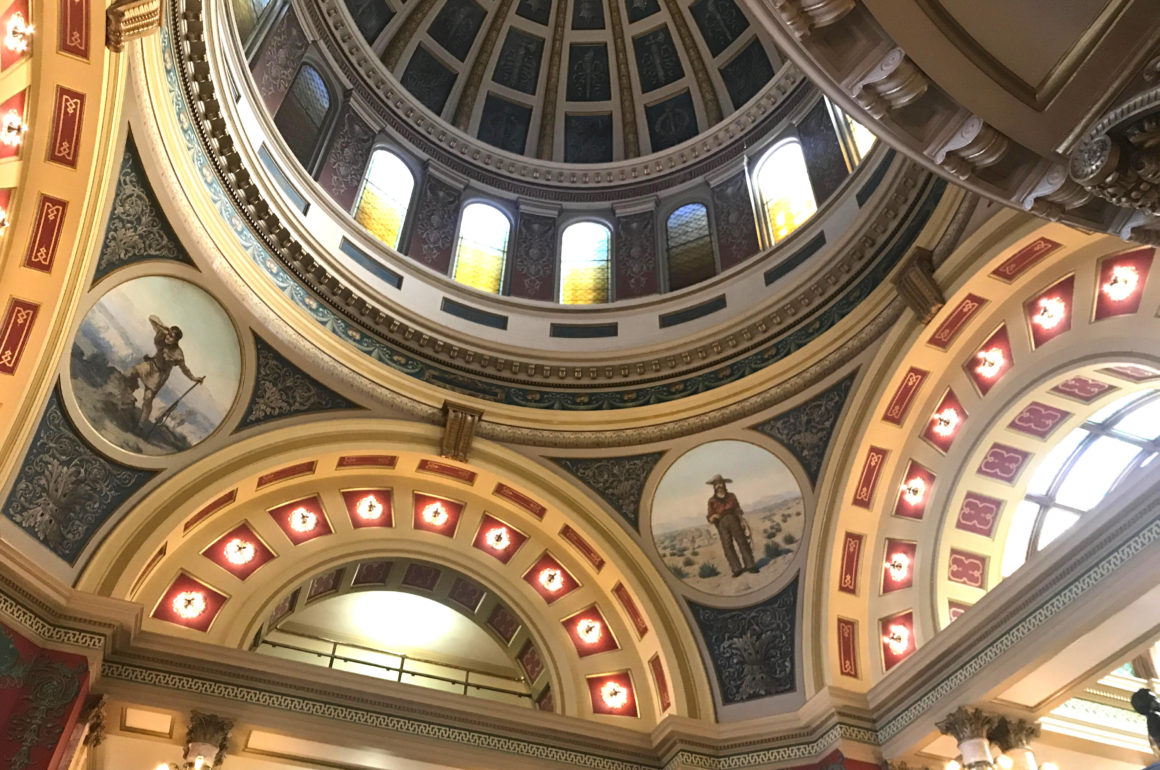 In 1996, Nancy Winstead was living a full life in Dillon, Montana — a ski and swimming instructor, avid hunter and mother of four, operating a day care and active in her local church.
One morning, she woke up with numbness below one knee.
"And within three months, I was confined to a wheelchair and a bed," she told Prairie Populist.
Now, the 63-year-old is a quadriplegic, suffering from a disease akin to multiple sclerosis. She lives in the Bitterroot Valley and is almost wholly dependent on Medicaid-funded caregivers, seven days a week. They dress her, prepare her food, move her from her bed to her wheelchair, and drive her to Missoula for medical care, shopping, social visits and specialized exercise sessions.
So when the Montana Legislature meets for a special session Monday to hammer out its budget problems, Nancy hopes lawmakers will remember people like her.
"They have no idea what they're doing when they just slash these benefits to services. My only recourse is to go to a rest home. And that's not cheaper to the state," she said. "Unless you have experienced, or know someone who's in these circumstances … they have no idea what they're proposing."
She adds: "I'm not going to a rest home."
It's not just people receiving care who are stressed out about the budget. The uncertainty also takes its toll on those who take care of them.
Stephani Barrett has taken care of Nancy for about four years, eight hours a day for five days a week. Caregiving is in her blood, she says.
Paid by Medicaid dollars through a private operator, she got surprise news earlier this year.
"I go to pick up my paycheck on a Friday, and there's this letter there saying that as of January 1st, I won't have health insurance any more — at least for the time being until they figure out what's happening in Helena," she said.
Then both she and Nancy each received another letter, saying the hours of care for Nancy would be cut.
"So it put us in a big-time frenzy," Stephani said.
Earlier this year, the Republican-led Legislature and Democratic Gov. Steve Bullock  compromised on a budget that included cuts to most every department.
Along the way, lawmakers debated how much money the state had to work with. Overall, Republican lawmakers said the state was bringing in enough revenue so that Democrats could scrap their proposals for raising taxes on alcohol, or tobacco, or people making enormous annual incomes, among others.
In April, the Republican majority on a key committee passed a revenue estimate — the guide for lawmakers on how much money they had to spend.
Rep. Tom Jacobson (D-Great Falls) called the estimate "reckless" and "rushed," the Bozeman Daily Chronicle reported.
Rep. Greg Hertz (R-Polson) disagreed: "I think we do have some very good numbers here," he said, according to the Chronicle.
In the end, those revenue numbers didn't pan out, the fires burned longer than expected, and Gov. Steve Bullock was forced by triggers in a late-session compromise to make more cuts to state services.
People with serious needs have since trudged back to Helena again in force, a couple of times, to speak against further cuts.
Last Monday, facing a shortfall of $227 million, Bullock called legislators back to Helena to figure it all out.
There are a lot of competing proposals in the works, and no one's sure just how it will all play out.
Nancy isn't blaming one side or the other. She's written the governor and her local representatives, and each blame the other for the shortfall, she said. Her message to all of them: Don't forget the people in her situation.
For many caregivers around the state, the uncertainty could mean looking for a different job entirely So even without severe cuts, clients could be left behind and lose the people with whom they've spent years building trust — a "trickle down" effect into the community, Nancy and Stephani say.
In some ways, Nancy's situation is better than that of many. She's in control of her mental faculties. She has family nearby — a sister puts her to bed each night — and that reduces the amount of professional care she needs.
But those family members have their own lives and jobs and would have a tough time filling in if Nancy's care disappeared altogether.
And not everyone has a supportive family, or the mental ability to understand just what's happening.
"Nancy's just one person, and there are so many people like her and maybe even in worse shape than her," said Stephani. "And if they lose anything they are so screwed."
Stephani and Nancy will get by one way or another, they say. You don't get into the caregiving line of work without forming bonds with the people you care for, said Stephani.
"I told her, straight up, I'm not going anywhere," she said. "I'll get a second job. I'm not leaving her, I don't want her to be worried about that. But there's people right now that are literally shaking in their boots."
-Sanjay Talwani
Got something to say to Prairie Populist? Send news tips, story ideas and comments to [email protected]. If you have something to submit, or an idea for a story you'd like to write for us, check out our Submission Guidelines here.