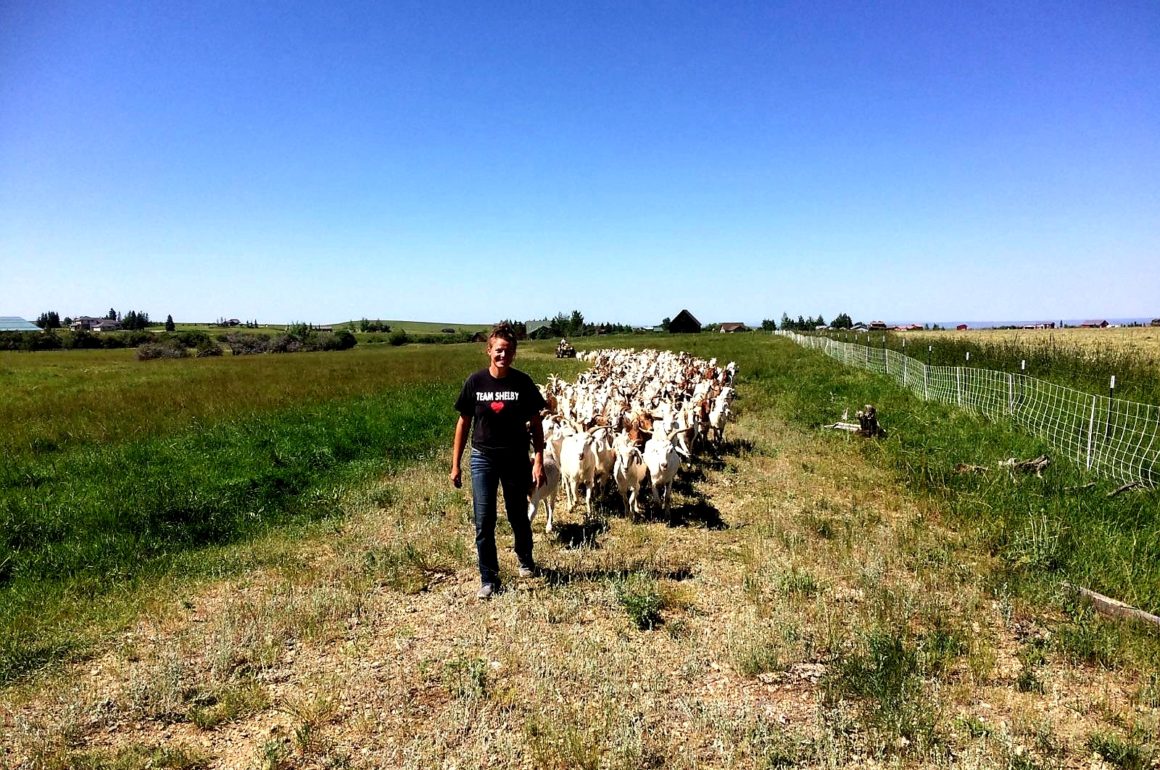 Feature photo: Kasydi Lucas, a rangeland intern with the Montana Department of Natural Resource Conservation leads approximately 400 head of goats to a new property to graze near Red Lodge. Photo courtesy of Kasydi Lucas.
Summer internship expands to more ranches across Montana
By Jessianne Castle
Billings native Mason Nussbaum found herself horseback, face-to-face with a herd of bison this summer. Her first experience with livestock, she was tasked with sorting and moving individuals within the herd. At first the animals were difficult, resistant to moving where she wanted them to go. But Nussbaum said with guidance from her mentor, Aaron Paulson of the Snowcrest Ranch in Alder, and with the help of a good horse, they got the job done.
Nussbaum's time with Paulson — and her introduction to handling bison — is part of the Montana Department of Natural Resources and Conservation's rangeland internship, now in its second year. Nussbaum and another intern, Kasydi Lucas, worked with six ranchers from May 20 to Aug. 9. They worked hard, irrigating, fencing, handling cattle and more during a 12-week span.
Both interns, students in the Department of Animal and Range Sciences at Montana State University in Bozeman, aim to become ranchers or state land managers. Both are passionate about the land and agriculture, which drive much of the state economy. Both were attracted to the internship as a way to gain experience.
"I was really excited to hear about this internship," Lucas said. "It's surprisingly hard to gain experience without having grown up ranching."
Lucas' mother grew up on a ranch in White Sulphur Springs, but by the time Lucas was born, her family had moved to Helena.
"I think there's a decrease in interest — ranching won't make you rich," she added. "I think you have to be passionate about saving the lands and doing the work. I always had that passion. I always wanted a horse as a little girl. It wasn't just a phase; I never grew out of it."
Lucas and Nussbaum described the rangeland internship as a once-in-a-lifetime opportunity, after meeting ranchers and land managers who cared about helping them succeed.
"All of the families have been super welcoming," Nussbaum said. Each of her six ranch hosts provided a unique experience.
Following the internship's inaugural year in 2018, nine more ranchers from across the state volunteered to host an intern for a two-week stint; three from last year wanted to do it again. The increased rancher interest allowed interns to travel the state separately and gain exposure to cattle, bison, goats, hay and grain operations.
Stacey Barta, Rangeland Resources Program Coordinator for the Montana Department of Natural Resources and Conservation, oversees the internship program. Feedback, she said, remains overwhelmingly positive.
"I'm super proud of this program," said Barta, adding that ranchers "are intrigued with the program largely because it's hard to find individuals out of college with much experience. They learn in college, but it's a whole other experience seeing what it's like to move cows when a storm's brewing and the flies are biting or what it's like to herd goats around an electric fence."
Barta said the internship provides valuable knowledge for future land managers: interns learn what ranchers do every day, what they care about and how they work together.
Barta wants to expand the internship and offer it to three students next year, depending on ranch host interest and funding. Currently, the local Conservation Districts and USDA Natural Resources Conservation Services fund the program, financing a stipend to the interns. Hosts volunteer their time and mentorship.
Beyond learning the ins-and-outs of the ranching way of life, the rangeland internship's value lies in connecting students with legacy ranchers who have worked the land for generations and who contribute to their community school boards, fire districts and other working groups.
"They see how ranchers act as leaders in their local communities," said Barta. "Community is such a part of Montana."
Such an empowering sense of community encouraged ranch host Laura Nowlin, whose family lives and works on the Brady Ranch north of Winnett, to return to the family cow-calf operation and participate in the rangeland internship.
"We have kids and wanted to raise them on the ranch in a small community with a good school," Nowlin said. She is a member of the local group Winnett Agricultural Community Enhancement and Sustainability. She takes part in its mentoring program, opening ranching operations to the public as learning opportunities. For the first time this year, she and her family hosted an intern.
"The general public doesn't know what we do," Nowlin said. "I think if they had a little bit more exposure, they would better understand. We care about the land and we care about our livestock and there are a million things that go into managing both of those things."
The internship is a perfect fit for the curious public. Overall, Nowlin said the rangeland internship bolsters the future of ranching. She added that she would certainly host again in the future.
"There's a lot of doom and gloom related to rural small towns," Nowlin added. "I'm seeing a resurgence of people coming back home and an increased interest—a getting-back-to-our-roots kind of thing. I see the future as bright."
-Jessianne Castle
Jessianne Castle is a freelance writer and editor based in the Shields Valley near Livingston. Born and raised in Montana, she is passionate about sharing the stories of communities in Big Sky Country.
To read more of Prairie Populist's coverage of the rangeland internship, check out our stories from the internship's inaugural year: