Feature photo of the 2018 flooding in Augusta, Montana. Aerial view taken by Lisa Warfield. Photo courtesy of National Weather Service.
Augusta's 82nd Rodeo Scheduled for This Weekend, July 21 and 22
This upcoming weekend is the 82nd Augusta American Legion Rodeo. That's 82 years of bronc riding, bulldogging, and team roping on the Rocky Mountain Front.
They've been doing this for a while, explained Ben Arps, who was born and raised in Augusta and has been the Rodeo Chairman for over 30 years.
"We try to put on a good rodeo and have good bucking horses and lots of contestants," Arps said. "Here, you get more rodeo for your money than other rodeos."
For you avid Montana rodeo fans out there, you may be checking your calendars right now to make sure you haven't time-traveled a month into the future.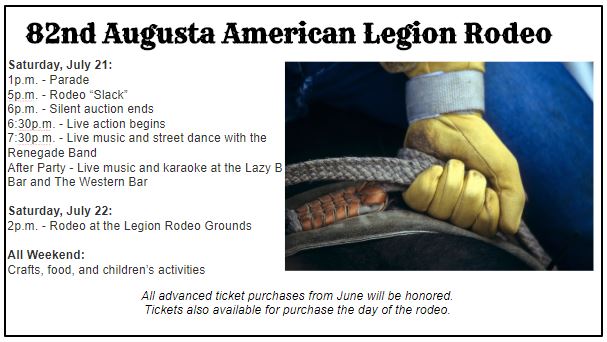 The Augusta Rodeo is always the last weekend in June. But with this year's late floods, it had to be pushed back to late July. This summer, Augusta experienced some of the worst flooding it's had in decades. The rodeo grounds were underwater. Main Street was a river. Bridges were out. The neighboring lands were in disarray. There was no choice but to delay the festivities.
"We've had flooding in the past but they've always been earlier in the month like the first week of June," Arps said. "This year, the flood happened about four or five days prior to the rodeo."
This was the only time in Arps' memory that the Augusta Rodeo has been delayed like this.
"It's kind of up in the air," said Arps when asked about attendance this year. "It's a whole new experience for us. We sure hope people will come… Hopefully we have fans that come back each year."
Folks in and around Augusta can attest that this year's flood event was particularly unusual. Whether they are raising cattle, growing barley, or guiding trips in the Bob Marshall Wilderness Area, folks on the Rocky Mountain Front live closely with the land. Like a lot of Montanans, many of them have been doing so for generations. They know the seasons and weather patterns like the back of their hands, and they can tell when things are acting funny.
"The flooding came on so quickly and it just left." said Susan Good Geise, who was once the chairman of the Montana Republican Party and is now a Lewis and Clark County Commissioner. "It looks like I had dreamed there had been a flood."
They talk of the 2018 flooding like they talk about the ones in '64 and '75. It was the perfect storm of events, so to speak.
First, the Alice Creek Fire last year wiped the land clean of vegetation, which caused erosion and heavy runoff in the Dearborn drainage. The heavy snowpack from the strong winter melted slowly throughout the spring, completely saturating the ground. So when 4 to 12 inches of rain fell during one weekend in June, the water rushed to the creeks and rivers, raising water levels quickly and leaving wreckage in its path.
Some landowners suffered thousands of dollars of damage to their fences and property. Bridges built after the '75 flood were swept away. Drinking wells were contaminated. Culverts, headgates, and pivots were destroyed, which is now a big problem since temperatures are in the high 80s and folks can't water their crops. The bridge on Highway 21 connecting Augusta to Great Falls is still out of commission. And that's saying a lot, considering that bridge spans an overflow channel which rarely gets water.
But folks acted quickly, and came together to help their neighbors and do their jobs. The area's world-class outfitters managed to get their clients to safety. Ranchers and farmers protected their livestock. And people in town came together to sandbag buildings and homes.  
"One thing that is so interesting about these folks in Augusta is how resilient they are," said Geise. "They inspire me every day."
Folks in and around Augusta are still assessing the damage from the flood. And there's a fair bit to assess.
The county will do what it can to fix roads and public bridges. But a lot of the damage was on private land, where the county can't really do much.
Luckily, there's a fair bit of help available for producers and landowners. Although, some fixes are easier than others and there's not as much help available as there used to be.
There were a handful of bridges damaged on Elk Creek that were already slated to be fixed with grant money from the Treasure State Endowment Program. Those will be fixed, but other things will have to wait.
The last couple of times our state legislature came together, they made cuts that impact Montanans. Among the cuts to rural schools and rural infrastructure, there's less money available than there used to be for the DNRC programs that our Conservation Districts get grant money from.  After floods, droughts, and fires, it is often our local Conservation Districts that are the first to step in, listen to producers, and find ways to help with the damages.
"We're stretched a little thin these days," said Chris Evans of the Lewis and Clark Conservation District. "We are trying to assist people in getting in contact with appropriate information to help address the issues they are experiencing, but there really isn't much available for funding—at least not yet.  I hold out some hope that we may be able to get something for them at some point."
Evans was born and raised in Choteau, and has worked for the Conservation District for 19 years. Like a lot of folks working for Conservation Districts across the state, she has an ag background and understands the needs of producers. She's working to gather stats and data on the damages so she can present them to the Montana Department of Natural Resources and Conservation and find money for folks. But that's proving especially hard since many of the potential damages are still underwater.
"This will be ongoing for people for weeks," Evans said.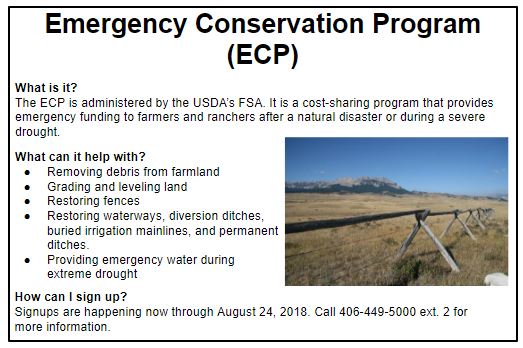 The Farm Service Agency is also available to help producers fix their ag-related damages. With its Emergency Conservation Program, the FSA can help bear the burden of paying for debris removal, grading the land, restoring fences, and fixing ditches. 
"The tough thing about it is if they had fences that were in the creek or the channel or headgates on the channel, [the FSA] considers those to be subject to frequent damage and we can't help there." said Nina Fonk, the County Executive Director of the Farm Service Agency, about the ECP funds. 
The Conservation Districts, if they can find the money, can fix things like bridges, culverts, and streams. Also, Fonk is optimistic that the FSA will be able to set up an emergency loan program to help folks in and around with their bridges, culverts, and streams. 
It will be a long recovery process for folks. After last summer's fires and then an extremely cold and icy winter, this flooding could've been the straw that broke the camel's back. But this community has a strong back, and this upcoming rodeo proves that these folks aren't going anywhere.
"We got it pretty good to go," Ben Arps said after he laid fresh sand down on the rodeo ground a week ago. "We're ready."
-Amanda Garant
Feature Photo by Lisa Warfield, courtesy of the National Weather Service. Photo is an aerial shot of the flooded rodeo grounds and surrounding area in Augusta.
Got something to say to Prairie Populist? Send news tips, story ideas and comments to [email protected] If you have something to submit, or an idea for a story you'd like to write for us, check out our Submission Guidelines here.