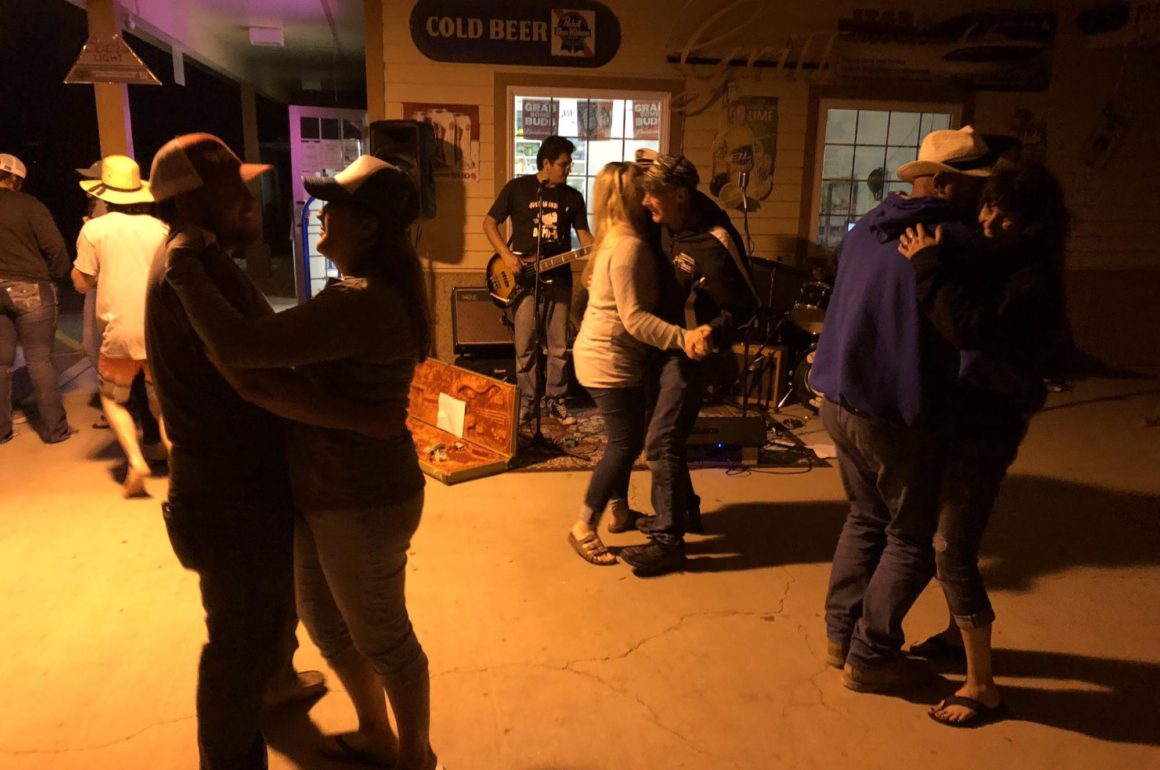 The Marina at Tongue River Reservoir keeps all kinds of spirits up
Summer means exploring our state, and at Prairie Populist we're joining the thousands of Montanans visiting the amazing lands, lakes, and historical sites that make up Montana's state parks. We hope you'll check back all summer and join us as we explore what these parks mean for the people of our state and how they help make Montana a place unlike any other.
South-East Mont. - It seemed like Erik was sitting next to us before we had even taken our own seats. We thought we'd sit back and take in the scene, but Erik decided he'd just lay it all out for us, right away.
Half the people dancing, chatting, and hanging out around the Marina that night were a part of his family, all gathered at Tongue River Reservoir to boat, fish, and share a couple beers together.
They'd all come over from Hardin and we were impressed by the crowd! However, he made it clear that this was a poor showing, and usually, there were twice as many people who'd make it down for the weekend.
The live band was still playing, thanks to some dedicated chants of 'encore, encore', which were cause for Erik to break conversation with us in order to join in. And if there's music there's dancing! Couples and cousins and uncles who had a couple beers were on the dance floor, continuing to move to the music.
Every Saturday you can count on this scene at Tongue River. There will be a live band playing, and with a band comes dancing, chatting, and beer.
Erik started grabbing people around us and doing introductions for cousins, aunts, and relatives he knew he was related to but wasn't quite sure how.
"And that's our family friend Wade," he finished off pointing to a very happy man milling around with everyone else. "He owns the Marina."
"Let's just make everyone happy," was how Wade described his business model when we asked him about his take on owning the Marina on Parks property. Since he took over ownership of the Marina four years ago Wade has turned the place into a family-friendly establishment. He sells candies for kids and anyone with a sweet tooth, as well as carrying items that some campers might forget, like boating accessories and live bait. He even went as far as to host live music and serve hot food.
The Tongue River Marina and the parks management staff have a very positive relationship.
"The parks deserve help, you know?" Wade said. "We are a team."
The park's facilities provide him his customers while Wade's establishment provides campers with an elevated sense of comfort and community. The marina sells licenses, rentals, and beer, allowing the park to be a destination for many people in the area.
As any good business owner knows, maintaining positive relationships with business partners creates a win-win for everyone involved.
Raymond Schell, the park manager, echoed Wade's words.
"It is a great relationship for us," Raymond said.
-Andie Creel 
Photos by August Schield
Got something to say to Prairie Populist? Send news tips, story ideas and comments to [email protected] If you have something to submit, or an idea for a story you'd like to write for us, check out our Submission Guidelines here.