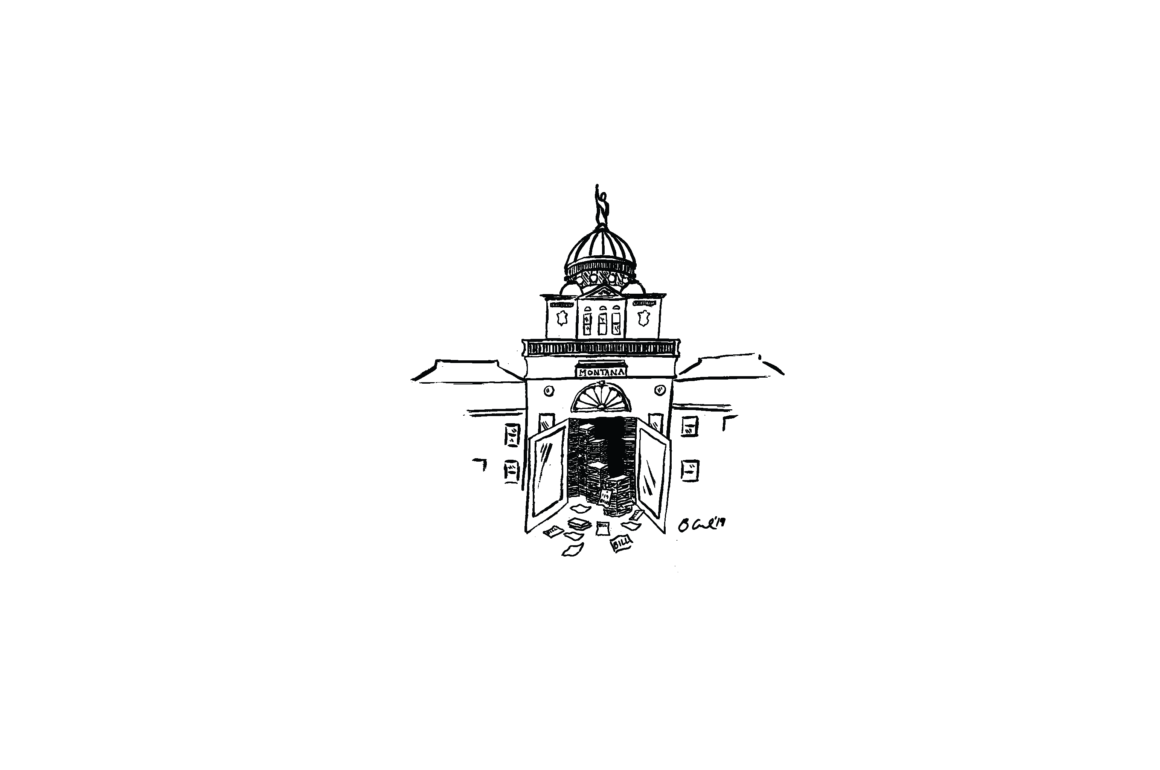 MedEx, infrastructure, budget: it's your move, legislators
Bridget Creel feature cartoon.
Capitol Corner: New at the Legislature
Every two years, Montana's 100-member House of Representatives and 50-member Senate gather in Helena for 90 days of budget negotiations, lawmaking and shenanigans. During the Legislative Session, Prairie Populist will share updates on the issues that matter most to you and the bills that impact your daily lives. See all our coverage here.
As we move into the last part of the legislative session, there's still a lot going on. Medicaid expansion is on the knife's edge and the infrastructure bills look like they're going to have a tough time yet again. The budget is mostly done, as the Senate voted x-x April 4. Once the conference committee agrees and the House and Senate approve, the budget then goes to Governor Steve Bullock for his approval, potential amendments or rejection. The Montana Legislature is like three-dimensional chess. It takes a lot of thought, planning, timing and luck to get what you want out of the intense 90-day session. Above all else, it takes patience and a cool temperament. WIthout those two attributes, you'll lose the chess game and Montanans can be worse off because of it.

This time of the session tries the patience and temperament of legislators, lobbyists, staff and others, to be sure. Bills that were sailing through get tabled or amended without much forewarning elsewhere. Deals that held up throughout the session start to unravel, and the tenor in the building starts to resemble the old movie Death Race 2000 more than it does a Ken Burns documentary on the power of the democratic republic form of government.

Tempers flared over the last couple of weeks on issues like Central Political Committees and a bill designed to save Northwestern Energy's bottom line by allowing NWE to buy the Colstrip power plant and pass the costs on to rate-payers. Ultimately, both bills passed the Senate, but the floor debate was acrimonious and caustic. At the heart of the issue was opposition to the bill that would provide more oversight of central political committees, which are quasi-governmental organizations of elected people who work for their select political party. Some committees had a rough run over the last few years, as corruption charges were leveled and high school-ish squabbles ate up headlines.

In one of the most controversial bills, Medicaid Expansion has moved through the House, after a marathon hearing and multiple amendments in attempts to find consensus. The House floor debate proved lengthy, with legislators ultimately turning away many amendments. The "solutions caucus," comprised of Republicans and Democrats, now supports the compromise bill. Nobody got everything they wanted from the bill, but it does appear to be a workable compromise that will help ensure the future of rural hospitals and give Montana's most vulnerable the health care they need to survive. The Senate will provide its own feedback and challenges, especially if the Legislature wants to remain on track to adjourn around Easter, at least according to the rumor swirling around the Rotunda.

Publicly funding Pre-Kindergarten, Gov. Bullock's priority, ran into a mine field as unions and teachers objected to a portion of the bill that funded private pre-K schools. There's still some life left in that issue, and folks work on a path forward . Pre-kindergarten schooling is a good tool for kids, giving them a leg up when it comes to learning and preparing for their scholastic career. We are hopeful they work out differences of opinion so our kids get the vital early tools they need to be successful in grade school and life.

As we edge closer to Sine Die — the unscheduled final adjournment of the session — issues no doubt will amp up. Legislators still need to vote on Infrastructure bills. Meanwhile, the House and Senate make power plays to either kill bills or hold them in order to secure other priorities in either house.
We are near the end game, the final part of the strategy that makes or breaks a session. Deals are cut, votes are twice counted for confirmation and tempers wear thin. However, Prairie Populist expects the budget to pass fairly easily. Legislators' opening chess moves made nearly three months ago bear fruit and bills with pass or die. Smart legislators and lobbyists kept this end game in mind all along. Others will be left wondering what happened when the metaphorical train runs over them.
— Prairie Populist
Got something to say to Prairie Populist? Send news tips, story ideas and comments to [email protected]. If you have something to submit, or an idea for a story you'd like to write for us, check out our Submission Guidelines here.