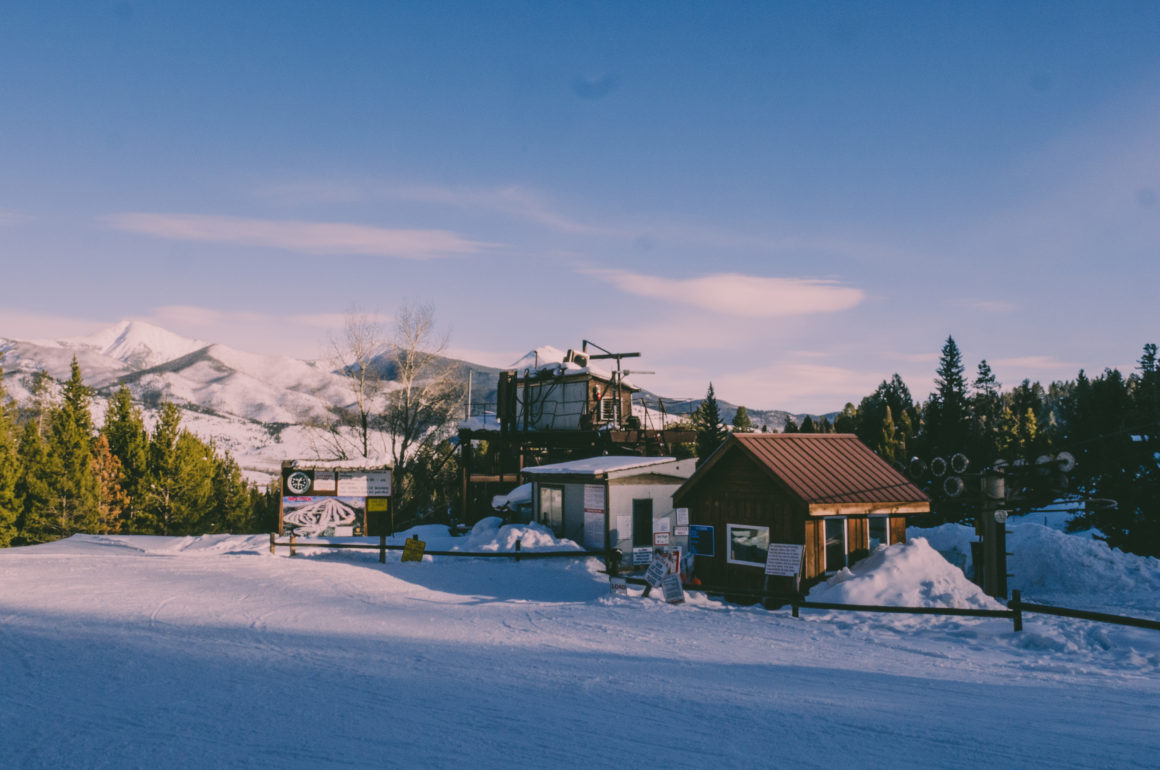 Bottom of Maverick Mountain's only lift. Photo by Chris Goodhue
Maverick Mountain, Recreational and Future Attract Money and Challenges
Candice Kerr, who now manages Elkhorn Hot Springs, was 23 when she moved to Polaris, 40 miles west of Dillon and set at the foot of Maverick Mountain.

Candice, who is about to turn 29, was the only person her age in Polaris when she arrived. However, recently demographics have started to shift.

Erik Borge first heard the small, one-lift Maverick ski area was for sale in 2015. He had lived in Bozeman for 12 years and worked in real estate after graduating from Montana State University. Erik had never skied Maverick Mountain. However, he hiked up to the top that spring and decided that despite its lack of lifts, it was "not a mountain that (he) would get bored at."

That night, Erik asked his now-wife Kristi if she'd rather have the house they'd recently bought in Bozeman or a mountain. In particular, Maverick Mountain. Erik and Kristi Borge, then in their late twenties, bought that mountain over four years ago, for cheap. But if they were to install a new, modern-age chairlift at Maverick, it would cost more than what Erik, Kristi and their two college-buddy investors paid for the entire resort.

The Borges live in a cabin at Elkhorn Hot Springs, which is just a couple minutes north up the road from Maverick. They recently purchased the hot springs as well. Erik jokingly told us that he doesn't really remember how he and Kristi came to acquire the hot springs. He recounted telling the previous owner that they couldn't afford to buy it. Then poof! Suddenly they had become the owners of Elkhorn.

He also told us he hasn't yet received a paycheck while pumping money back into the ski hill. The fact that Erik and Kristi aren't making millions is not surprising. For $110, a couple can get a room at Elkhorn, access to the hot springs and a hearty breakfast, which may include orange-vanilla pancakes, plus two lift-tickets to Maverick.

To put that in perspective, one adult lift-ticket at Big Sky now costs over $150 for a single day.

Since Erik and Kristi took over Maverick, it has gained in popularity. Candice said when she first got to Polaris, Elkhorn mainly serviced snowmobilers. Now, skiers are the more familiar face at the hot springs.

"I think it's because people are chasing what Bozeman used to be," Candice acknowledged.

Since Bozeman is ballooning with housing and growing like mad, it makes sense that residents are starting to expand out of Gallatin Valley in an attempt to find fewer people, lower prices and no lift lines.

Bridger Bowl is the not-for-profit ski area near Bozeman. Bridger management has worked hard to maintain its local-ski-hill feel, despite its continual upswing in popularity. In many ways, Bridger's management has succeeded in preserving the soul of Bridger. At the end of the day, skiers in their early 20s mingle with retirees and share a pitcher of beer at the family-run Grizzly Ridger Bar. They linger after the lifts stop running because they want to drink in the Bridger Bowl atmosphere a bit longer. However, the last three years have been the busiest Bridger's ever seen and long Saturday lift lines convince some Bozemanites to fly the coop to less-crowded ski hills.

Whereas Bridger management tries to maintain a local-hill feel, Big Sky Resort is home to some of the tallest buildings — high-end hotels and condos — in Gallatin County. Daily Big Sky lift tickets cost $150 — and season passes cost more than $1,000. Such prices can discount many weekend skiers who simply need a break from college or work.

Meanwhile, Gallatin County's average job salary in 2016 was $40,000. The county has experienced abundant economic growth, but the average paycheck doesn't reconcile with Big Sky's resort-exorbitant prices. It's safe to postulate that with prices like that, locals are no longer the targeted skiers at Big Sky. Instead, many of the skiers hail seasonally from out of state while staying in the area condos and spending money at local restaurants and other area amenities.

Bridger Bowl and Big Sky Resort have experienced a lot of change over the past two decades. Whether or not that change is good is constantly up for debate among people living in Gallatin County. However, the two ski areas are some of Gallatin County's best assets. They're attractive to tourists during the winter months and to well-paid professionals who move to the Bozeman area rather than an urban center with higher pay. Both ski areas are a part of the recreation portfolio that has made Gallatin County the fastest growing county of its size.

Unfortunately, that growth has contributed to the vicious housing crisis in the Bozeman area. Housing prices in Gallatin County have increased 20 percent in the last year. The median home price in the county is now $475,000.

Bozeman's population and economy have boomed and have yet to buckle. However, the more expensive price of living outstrips the growing incomes and job opportunities in the area. As a result, folks who once called Gallatin Valley home are spilling outward. In some cases, like Erik and Kristi Borge, they have moved over 100 miles west to the Grasshopper Valley.

"Recreation is replacing agriculture," grumbled Robert Marchesseau, repeating a sentiment that many residents in the valley have begun to share.

Candice told us if we really wanted to try to understand how Polaris and the Grasshopper Valley are changing, we needed to head down the road to the Grasshopper Inn, where we could find Robert Marchesseau and his "Coffee Club" group.

Coffee Club consisted of five older gentlemen, talking shop over a pot of brew the waitress had left on the table for them. When a car alarm sounded from the parking lot, Robert noted the vehicle couldn't be his because his keys were still in his truck ignition. In Polaris, that small-town-trust that many Montanans take for granted is still alive and well.

Robert is in his 80s and ranched in the valley his entire life.

"When I grew up, the hill existed but (there was) no ski resort on it," Robert told us. Maverick is a small hill, but growing. Robert, Larry Taylor and the other three white-haired members of Coffee Club were quick to explain to us that nowadays there are times when they can't find a place to park up at Maverick when they want to eat lunch there due to its growing popularity.

We later found out Robert is the famed rancher who has been grandfathered in for $2 lift rides at Maverick. Teton Gravity Research, a popular website and production company for skiers, wrote about meeting Robert in the Maverick parking lot in 2017, while Robert traded his ski boots for cowboy boots. When we met Robert, he told us that increasing crowds at Maverick recently drove him out of skiing.

However, there are two sides to every coin. Larry Taylor, another member of Coffee Club and a realtor, emphasized that growth is necessary. "You gotta have growth to stimulate the economy," he said.

In Beaverhead County, you can't talk about growth without talking about recreation.
Larry explained to us that he could sell Robert's property for 3-to-4 times more if he marketed it as a recreational property instead of an agricultural operation. It's all in the marketing approach.

The county remains a popular playground for outdoor lovers. Maverick and its new owners are the talk of the town, but the area is no stranger to recreationalists. The Pioneer Mountains have world-class hunting, backpackers consistently hike through diverting from the Continental Divide Trail, and peddle bikers make their way through the Pioneer Mountains Scenic Byway.

Of course, there's also the world-class fly fishing. Not only does the blue-ribbon sport snag visitors, but it also creates its own industry. When driving through Dillon, visitors spy a town of just over 4,000 people and spot fly-fishing shops popping up on nearly every corner.

Despite having a ski hill to monitor in the summers — a surprising amount of maintenance is required during the off-season — Erik seriously considered guiding for a fly-fishing shop in the summers.

"I almost did it because it would have been good money," Erik said. He decided against a guiding job, but he explained that in Dillon guiding can provide a livable wage.

In 2017, guiding accounted for 11 percent of non-resident spending in Montana, according to the Institute for Tourism and Recreation Research. Guiding has become a viable off-season solution for job-hunters and self-driven job-creators.

Places liked Beaverhead County are growing in popularity as tourists and relocators discover its natural recreation.
However, there may be more demands on the area in the future.

Cory Birkenbuel, 41, has lived in Dillon his entire life. He's an avid skier, and is quite the ambassador for the area. He seems to know all 9,000 residents of Beaverhead County.

Over a couple beers at Beaverhead Brewing Company, Cory got talking to Dr. Spruce Schoenermann, an environmental scientist at University of Montana Western in Dillon. Cory noticed how snowpacks had dwindled in the area since he was a kid. Spruce explained the science behind a lot of the changes, such as how Montana's snowpack has been declining since the 1930s and that decline has gotten more pronounced since the 1980s.

After a couple more conversations on the chairlift at Maverick, Cory and Spruce teamed up to put on the inaugural Save the Snow Summit on March 14-15. During the summit, held on UM Western's gem of a campus, we learned how Beaverhead County is going to start experiencing even more pressure for its most valuable asset:

Water.

Agriculture and recreational tourism — the county's two primary industries — are dependent on water. Many economic drivers rely on access to water: cows, wheat, streams and snow.

Dr. Brian Chaffin, a professor at the University of Montana and water policy expert, warned that Montana will see new demands for water.

Chaffin expanded on his cautionary tale, citing the Montana Climate Assessment. The climate assessment is packed to the gills with information, but one of its most important findings that Montanans can bet on is warmer temperatures, which have the potential to extend growing seasons. Warmer temperatures also trigger precipitation shifts and more extreme events — like fire and drought.
That is, rising temperatures will reduce snowpack that can greatly impact Montana's water supply, especially in the summer and early fall. Whether or not precipitation rates will increase remains to be seen. However, any increases in precipitation are likely to be outstripped by temperature increases.
For communities like Dillon and Polaris — where most of the economy is tied to either agriculture or recreation — any information about changing water supplies is extremely alarming. In many ways, it is threatening to the current livelihoods many in the area enjoy. Farmers could experience less reliable irrigation, especially in the late summer. Cattle may suffer more distress in the greater heat, leading to less weight gain. Fly-fishing guides' seasons may shorten due to low stream flows. Ultimately, Maverick may not be able to get the lift running in December if there is not enough early snow.
Warmer temperatures are not the only threat to Montana's current way of life.
Places south of us have it worse. California, Utah and Colorado already experience warmer temperatures and drier landscapes. Now, recreationalists who skied or fished in the Sierra Nevadas, Wassach or Front Range 30 years ago search for places where the climate feels more like what they remember as a kid.
Dr. Kelsey Jensco, Montana's state climatologist, was one of the speakers at the Save the Snow Summit. He said because Montana snowpack is going to fair better than our neighbors,' we must learn how it will affect our tourism economy.
Big Sky recently installed an 8-person ski lift to accommodate more resort visitors. It's only reasonable to speculate that savvy skiers who originally come to Montana for Big Sky could get sick of long lift lines. They may look for other ski areas that continue to produce semi-reliable snowpack. Maverick Mountain, with its base area located at 6,500 feet, may start to look pretty appealing.
While more tourists and residents could stimulate the economy in Grasshopper Valley, there needs to be a balance.
Alex Dunn has lived in Dillon for 12 years. Before that, he spent time all over the West. We talked to him while riding on the Maverick chairlift about how a recreation economy creates growth. He said having outdoor recreation nearby can be a great recruitment tool to draw talented individuals into a community. However, it comes with a caveat.
"At what point do you lose the qualities and fundamentally change the culture of the place?," Alex pondered with us.

It makes sense why residents in Beaverhead County are resistant to the idea of major growth. They don't want a higher cost of living, new subdivisions going in, or long lift lines, for starters. In other words, what they've already got going is pretty good.

When we showed up at Maverick Mountain, we could feel the difference from a high-end, expensive resort hill. As Cory put it, it's what skiing should be: There are no condos or properties for sale right at the base of the mountain. There is no decaf coffee. There are no corporations slapping cookie-cutter ads on the back of every bathroom stall.

Instead, when we asked where the bathrooms were, Cory told us to follow the humble shag carpet all the way around the corner. The carpet adorns the walls and ceiling — to give you a sense of the unassuming but welcoming atmosphere.

"It sucks to see stuff change," Candice said frankly. "But change is the only constant in this life."

As changing climate affects Montana and our neighbors, it seems some of our communities may see expedited changes. Many folks may want to put up a gate and throw a lock on it to keep out any newcomers. However, gates can only hold for so long — both literally and metaphorically.

Montana needs tangible actions to maximize the economic benefit of new visitors and residents. Coincidentally, we need to figure out how to avoid choking to death on our own growth and manage it in a way to preserve open spaces and small-town culture that make our state so attractive.

From the Author
I've lived in Bozeman my entire life. My parents moved to Bozeman in 1997 and bought a house that sits on the Mainstreet to Mountains trail system. When my mom and dad decided to move to Montana — they had spent the previous decade in Tanzania — my dad accepted a job at Montana State University as an ecology professor. My dad's starting salary was $42,000, half of what the University of Chicago offered him.

My parents decided to take the much-lower salary and move to Bozeman because of where it is. My sister and I grew up walking across beaver dams and playing in muddy cattails, all only a 10-minute stroll from our backyard. We found old horseshoes in the field directly behind our house. My mom boarded her horse at the foot of Mt. Ellis, a 20-minute drive from our front door. My dad made the United States Track and Field Team and the U.S. Biathlon Team training on the numerous trails only a couple of miles away from our home.

I grew up riding red chairs at Bridger Bowl and skiing Moonlight Basin before it was bought by Big Sky.

After growing up here, I chose to stay in Bozeman for college and graduated from Montana State University in May, 2018.

Reporting on recreation economies this past winter has been extremely personal for me. When folks tout how recreation can be used as a recruitment tool for professionals, I tell them about my dad. When people tell me about how recreation economies create jobs, I tell them about how I've spent the past winter working as a ski coach up at Big Sky.

That last sentence is an important disclaimer: I work up in Big Sky. I also work at Prairie Populist. I also work as a research assistant for a professor at the University of Chicago.

I currently work three jobs in order to make living in Bozeman possible. So when Candice in Polaris and Jim in Philipsburg told me about climbing housing prices in the area, I told them about the time my landlord raised my rent $250 per month in one fell swoop. I tell people about how, during college, I paid $450 per month to live in a hallway and my roommate paid $400 to live in a closet.

My parents aren't sure they'll be able to stay in our home when they retire because their property taxes will be so high. The value of our house has doubled, if not tripled since my parents bought it.

However, when folks in Anaconda told me about shrinking school enrollment, I thought about how grateful I am for the property taxes that my parents and other residents of Bozeman pay. While at MSU, I told my friends that Bozeman High School is one of the best public schools in the country. When I was telling people this, I had absolutely no idea if it was true; I just felt like it had to be because my education was so good. I checked while writing this article and it turns out I was not lying all these years; Bozeman High School is ranked in the top 100 public high school in the U.S.

I've literally watched fields plowed under in order to make way for a subdivision on my bike ride home from school. I've also received some of the best education available in the country because I was privileged enough to grow up in an affluent community.

All this goes to say that there is two sides to every coin. The state is starting to promote itself as a recreation destination. Recreation is one of our best assets, and we absolutely should capitalize on it. However, community leaders need to start critically thinking about how to plan for increasing growth and demands on our natural resources when promoting them for non-consumptive use.

-Andie Creel
Photos by Chris Goodhue
Got something to say to Prairie Populist? Send news tips, story ideas and comments to [email protected] If you have something to submit, or an idea for a story you'd like to write for us, check out our Submission Guide lineshere.