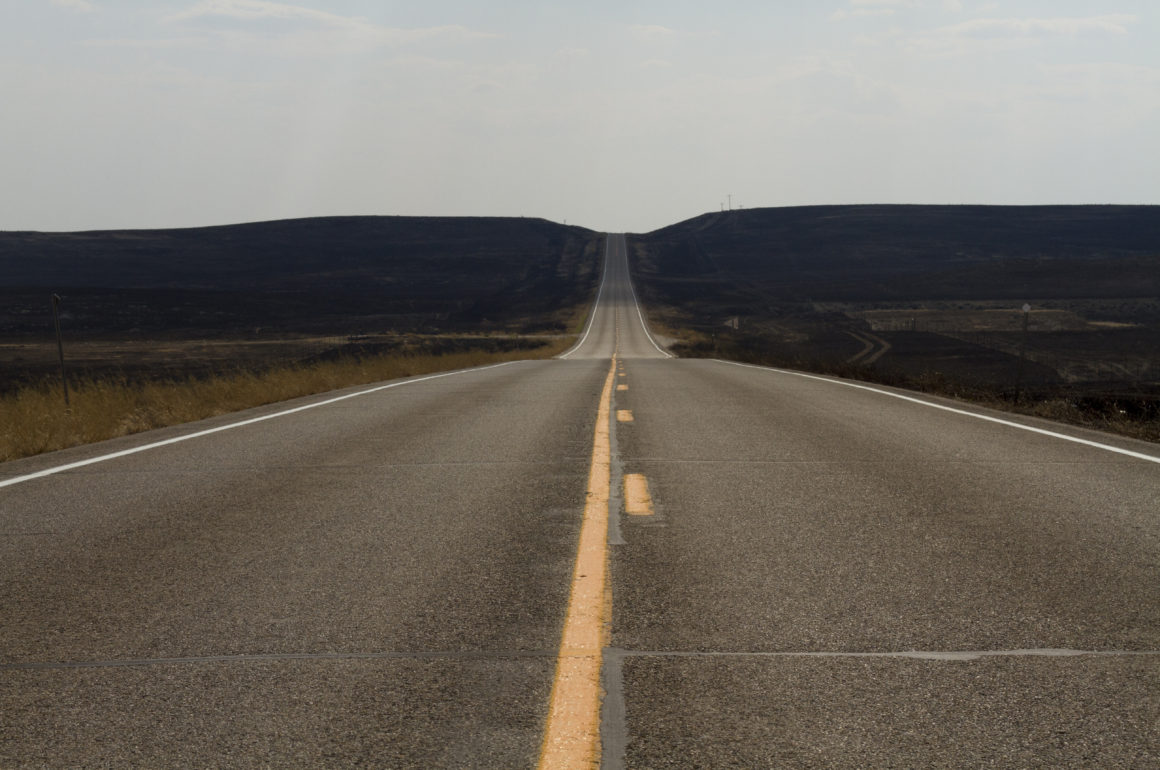 The stories of a strong ranching community in Eastern Montana after the Lodgepole Fires
Photographs and Writing by August Schield
Just above the 47th parallel, directly east of the Musselshell River, the wide open prairie landscape of Garfield County has only received two inches of rain since January.
Life here is hard. Yet since the late 1800s, ranching families have worked this land to raise enough grass to raise enough livestock to make a living.
On July 19, 2017, at 3:17 pm, wildfire broke out just south of the UL Bend of the Missouri River near the Charles M. Russell Wildlife Refuge. Dry gusts sent the flames southeast at up to 30 mph, heading far across Highway 200.
By Monday, July 31, local and regional fire crews had contained 93 percent of the fire, working around the clock. By this time, the fire had destroyed 270,723 acres of land (60 percent of it private land) and engulfed 16 structures, numerous haystacks, and miles upon miles of fencing. A lifetime of hand-worked land now lay charred across the earth, the carbon remnants of its precious grass waving thinly in the air.
The lives of the families who live off this land just got much harder here in Garfield County.
There have been fires here before. But not like this.
Dean Rogge, a local rancher, says the area has seen just under a half inch of rain since April. He had just spent more than 67 hours in a tractor plowing fire lines to keep the flames from destroying his ranch.
"This drought is worse than what we saw in '88," he says.
Lucky for Rogge and others, help is coming from well beyond the local frontier towns. Some 47 state fire crews worked on the Lodgepole Complex.
From New York to Washington, from Alaska and Canada all the way to Sedona, Arizona, crews battle the fire alongside local ranchers and farmers day and night to control the blaze. This was the largest fire in the nation, and unfortunately the first of many this fire season.
July 29, 6 a.m. It's another early Saturday morning for Matt Bliss and his father, K.L. Bliss, who stand silently listening to the fire briefing at the makeshift fire camp . Matt quietly says something to his wife, Jeanna, who again expectantly glances over her shoulder to the west down Highway 200.
The crews have reached 88 percent containment but the hard work is yet to come. The Bliss family now has to figure out how to feed their cattle and fix their destroyed fencing. The question of how they are going to financially deal with the repercussions hasn't quite hit their minds yet. The couple luckily only lost three cattle to the fire, but 80 percent of their ranch was consumed in flames.
The loud reverberations of an 18-wheeler's air brakes cut through the quiet conversations amongst the firemen. The truck turns off the highway and into the Sand Springs gas station.
Jeanna Bliss runs over to meet the driver. "This is our hay truck!" she says. I follow her over to further inquire about where the hay was coming from. Within minutes two more semi trucks showed up along with seven more smaller trucks trailering more hay and fencing supplies.
Climbing out of a black one-ton pickup is Dustin Maier of Helena, along with friends Nick Thomas, and Carl Christianson, and Zach Raymond. The Helena bunch took to Facebook when they heard about the Lodgepole Fires and requests for donations to bring to Garfield County. Nick, a local radio host for Cherry Creek Radio, announced the donation effort on "The Bull" 99.5 to the whole city. Soon donations were coming in from all over Helena, as well as from the local Home Depot and Murdoch's. "It was getting so hectic, we didn't want to turn any donations away," says Maier.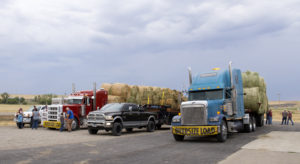 Matt Bliss, now cheery from the generous hay donations, approaches me before the convoy takes off. "Have you been into the Black yet?" he asks.
"No" I sheepishly reply.
"Well, c'mon, you'd better follow these trucks to our ranch so you can see how much has been burned," he said. Without any hesitation I follow them in a truck dwarfed by even the smallest in the convoy.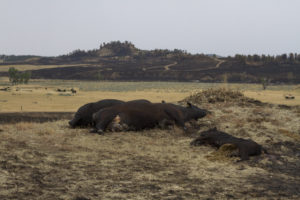 (left) The Bliss family only lost three cattle to the burn. They likely died from exhaustion or suffocation from dense smoke. (right) A lone cow scavenging for unburnt grass.
Knowing many other families in the area are in need, Jeana Bliss directs two trucks further west down an unnamed road for drop off. Matt directs another three further north to the 7W Ranch, knowing it would be a good distribution center for the remaining hay and water. The Blisses expect to be receiving calls from many families in the next few weeks for hay to feed cattle. Generally ranchers have enough grazing land to rotate their cattle on until the fall. However, many will have to start feeding hay very soon as a substitute.
Erwin and Christine Weder are two of the many ranchers who lost a devastating portion of their grazing lands. They graze cattle and bison and outfit guided hunts on their property, the 7W Ranch, where Erwin grew up. The fire consumed 70 percent of their ranch, burning within just 100 yards of their home.
Erwin considers how long it might take for the grass to come back.
"It would take a year… two years until we can go back in," he says. "So you're losing 70 percent of your income for two years."
For the Weders, like many others in this county, grass is their livelihood.
Damage on both the Bliss and 7W Ranches stretches comprehension. Yet the positive and grateful attitudes hang thicker than the settling smoke.
"If you don't stay positive the negative will eat you alive," says Jeanna Bliss — figuratively, I hoped.
This county is rugged, dry, and wide open. Creating one's livelihood here would seem nearly impossible to the common passerby on Highway 200. Yet these people here persist, and persist successfully. The loss of land does not mean these families will move away, though some may have to sell off some cattle.
"But this mostly means a lot of rotational grazing, and a new challenge in land stewardship," says Christine Weder.
What holds these families up through hard times is a sense of community.
"In this county, you either make it or break it by your neighbors," says Bryan Connelly, a member of the Western Rockies Incident Management Team.
Just 50 miles southeast of the the Bliss and 7W Ranches lies the small town of Jordan, Mont. Usually it's a quiet place with a few farm vehicles passing through, but this weekend truckloads of food and supplies arrive by the dozens to unload at the town VFW. A few women here are taking charge of organizing and distributing food and donations to the local ranchers and firefighters who are in need. Volunteering around the clock is Sherlie Hains, a local to the Jordan area, busily working to organize a shipment donated all the way from Sheridan, Wyoming.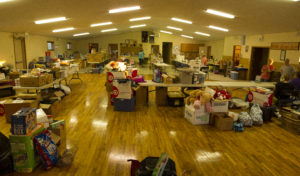 "Jordan is considered a frontier town," says Sherlie.
Jordan doesn't have the budget for a large-scale urgent care, or ambulance drivers. Life Flights are common from here to Billings when someone needs serious medical attention.
"Everything is volunteer here, and people aren't paid for that," Sherlie says. "Maybe they will be handed a sandwich at the end of a long drive to the hospital."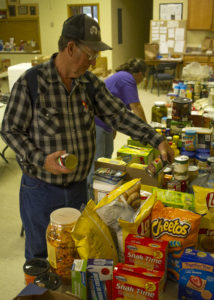 Another volunteer at the VFW is Brinda Pluhar. She works some land just north of Miles City. This year she harvested only nine bales of hay. In a usual year they harvest over 600 bales.
"All needs are met at this moment, but long term, it's a lot more serious," she says. "This is people's livelihoods, and they're gone. Without their grass and hay they lose a large portion of their income."
"And who knows if the grass is going to come back substantially next year?" she says. "So we're talking feedlots or buying hay, or paying pastures somewhere else for those cows. So that's a huge financial burden. And we've already had low cattle prices last year. So farmers and ranchers weren't prosperous last year. And then you have the drought, and now the fire. This is devastating in terms of finances. And with that comes depression, discouragement, you know, frustration."
Generally speaking, people will not be moving away. Even the established town banker has Jordan's back, Brinda says.
"They know us personally, and they know our struggles, and they know we've paid our bills before. They become our friends and they care about us. It's not about the money," she says. "Everyone is really just dedicated to this life, and they rely on family and neighbors to get by."
Friday, July 28, around 3 p.m. Local ranchers and regional firemen alike eagerly await the arrival of Governor Steve Bullock at the local community church in Sand Springs. By this point the fires sit around 88 percent containment, a comfortable enough point for many fighting the fire to leave the field for a bit and listen in to what the governor has to say. Many are anxious to see if FEMA granted the State of Montana the F.M.A.G. (Fire Management Assistance Grant) through which the federal government will pay 75 percent of the state's cost of fighting this fire.
The grant was finally approved after an original rejection by Brock Long, FEMA's head administrator, met the wrath of Montana officials such as Bullock, Sens. Jon Tester and Steve Daines, and Rep. Greg Gianforte. It is unclear as to why the grant was rejected in the first place, considering this was the largest fire in the nation.
"To have a handle on a fire of this size first of all with no serious injuries is something we can all be pleased with," Steve says to the crowd. "And I recognize that this is devastating for so many members of your community. The F.M.A.G., which we finally got yesterday, will help with cost, but it also doesn't help with recovery efforts. Right now our burn rate, if you will, is 1.6 million dollars per day statewide. And thanks for the help with helping FEMA folks understand."
Dean Rogge steps up to respectfully interrupt the Governor.
"We just did a rough draft of the loss of fence yesterday, and they're figuring somewhere around 16.5 million dollars," he says.
"There are some state dollars, but not 16.5 million," Steve replies. "And I know that's frustrating, but that's where the environment contingency fund will help some."
Yet, government funding or not, Montana knows how to take care of itself. Even during this meeting, conversation was now and again interrupted by loud air brakes and rumbling wheels over cattle guards as trucks bring in load after load of donated hay, food, and even miles upon miles of fencing.
Taylor Brown speaks up from the crowd just before the meeting is adjourned.
"I might just say something on behalf of the ranchers," he says. "Dean and I grew up here in the community. We've been here 57 years and his family has been here longer. We've been through this many times, I think five different times I've seen the BLM out here to help us. …I don't think I've ever seen a relationship better than it was this time.
"The only thing I'm disappointed in was at 6 o'clock on Tuesday morning," he says "You (he gestures toward Rick Connell, the Incident Commander), stood out there in front of hundreds of your people and said, 'Respect those ranchers who stopped this fire. You'll see crazy road graders, and tractors and sprayers, but those are the guys that stopped this fire.' I wish the ranchers could have heard you say that. But that meant a lot to me, and I think the leadership of you and you team was phenomenal."
Luckily this time there are a few local ranchers in the crowd. The comment sends smiles across many faces.
Eastern Montana is not a desolate place, but a bright and fruitful landscape. The people here whom live and work in this land play a large role in maintaining this land, and without them, perhaps even more families would have lost land to the fire. The people here in Garfield County will struggle to make ends meet for the next year or so. But they will get by all with the help of their neighbors either right next door, or even hundreds of miles away. People here are Montana Strong.
Got something to say to Prairie Populist? Send news tips, story ideas and comments to [email protected]. If you have something to submit, or an idea for a story you'd like to write for us, check out our Submission Guidelines here.