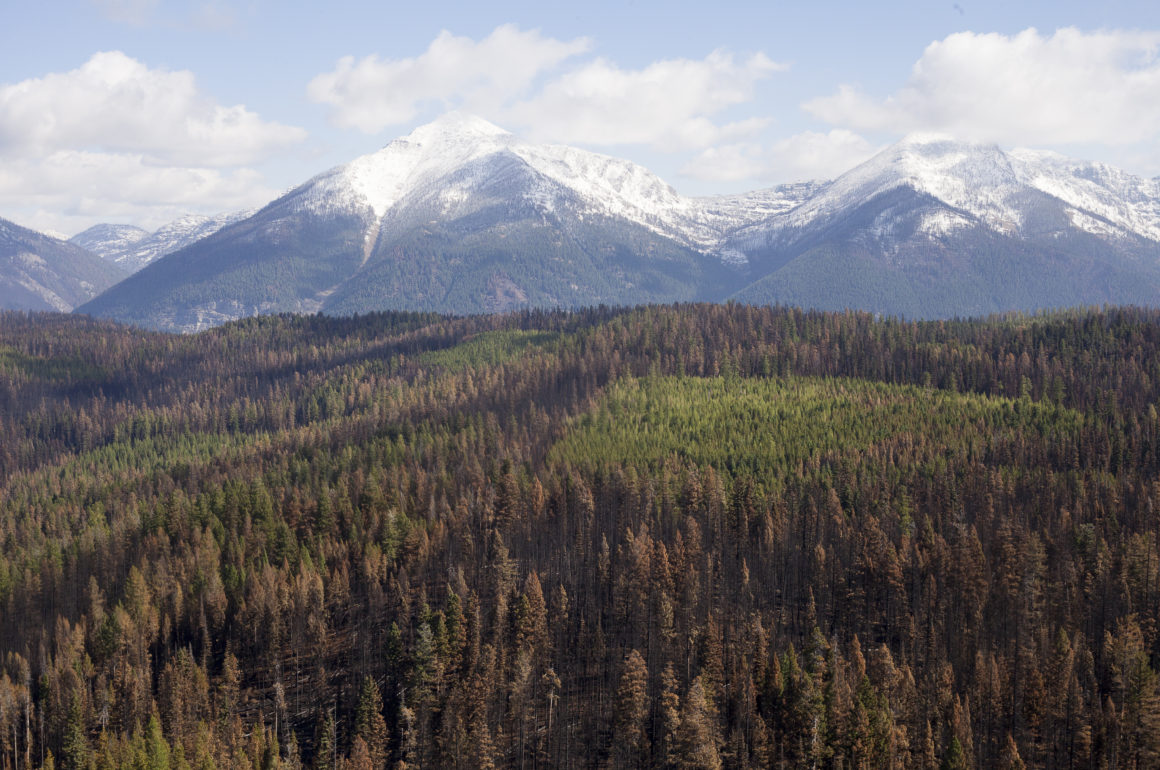 Photographs and writing by August Schield
On September 4, a strong easterly wind event helped the Rice Ridge Fire, just east of Montana's Seeley-Swan Valley, consume 48,000 acres of timber in a single run. Nearly doubling in size, the fire surpassed 100,000 acres, closing in about a mile-and-a-half from a neighborhood just outside of Seeley Lake proper.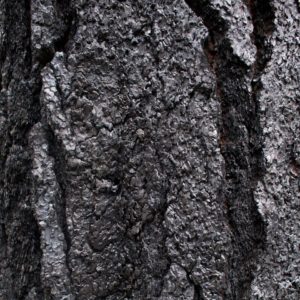 Earlier in the week, as the fire crept towards Seeley, the Missoula County sheriff ordered evacuation on all urban fronts. The town itself was put on an evacuation warning, allowing the businesses the choice to stay open, or flee.
Fire crews aggressively worked around the clock to maintain a sustainable perimeter line that would keep the fire from encroaching any further onto the structures of Seeley.
They were successful. Yet hearing about a 48,000-acre run was a shock to everyone.
The fire continued to expand at a steady rate over the next month, joining two other fires to the southeast. Today the fire's burned area rests at 160,187 acres.
Seeley Lake is a resilient community determined to recover. After dealing with fire and smoke for nearly two months, folks in Seeley are starting to breathe again. Snow has fallen, the lake has re-opened, and the fire crews are in "mop up stages." The tranquil pace of Western mountain living is finally returning. The resiliency of the forest, however, operates within a slower regime.
When a wildfire sweeps through a healthy forest, that forest regenerates. It comes back stronger. When a wildfire impacts a healthy community, that community can also regenerate. It, too, will come back stronger.
Seeley Lake sits within a special region within the Montana territory. The town rests in an ancient glacial corridor. The Swan Range and the Bob Marshall Wilderness Area sit to the east and the Mission Mountains tower to the west. The people who live within this landscape have created a strong economy and a lifestyle around recreation and forestry opportunities that are granted to them.
It is a destination that is on the "must-see list" as one travels to or from Glacier National Park. Highway 83 allows access to camping in the Lolo and Flathead National Forests. Summer invites recreation on its pristine chain of glacial lakes, and Seeley Lake has all the amenities.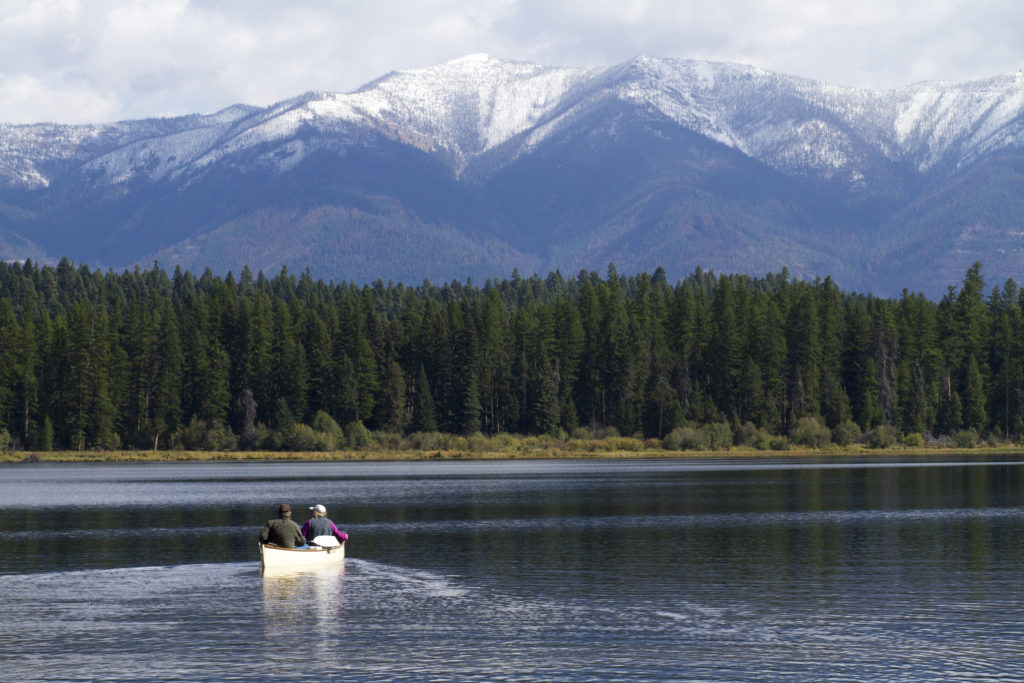 The traveler in the pursuit of pleasure from any destination can enjoy a burger at Bay Burgers, seated on shore, a cone at the Ice Cream Place and for dinner, a family gathering at Lindey's Steak House. When it's time to do it all again Jitterbug Java's has the espresso you need.
In the winter, Seeley Lake is blessed with amazing snow. The town averages 114 inches per year — although locals may say it's closer to 200. This makes Seeley Lake a mecca for snowmobilers and nordic skiers. Lee Boman, a Seeley Lake resident, told us how in Seeley Lake, outdoor recreation is the economic driver. He spoke proudly of the 20,000 snowmobilers and the 12,000 nordic skiers that visit each winter. And he spoke confidently that their economy is growing each year.
"The future is bright," Lee said.
The more time we at the Prairie Populist spent talking to folks in Seeley Lake, the more we saw their feelings of optimism and resilience standing out.
Make no mistake, this was a rough summer for the town of Seeley Lake. The way the Seeley folks spoke of it, the Rice Ridge Fire was unlike anything that had come before.
"I've lived here for many years," said Susan Baker, owner of Grizzly Claw Trading Company and Jitterbug Java. "And I've seen the weather patterns, and they're always crazy but this summer was really crazy. I've never seen it so hot." She and her husband Dee operated one of the few stores to stay open throughout the entirety of the fire.
"The fire came within a mile of our home, we were evacuated for a little over a week, it was a bit scary," said Susan. "We were able to have a camper here and keep the store open, because you know, when you have an emergency situation people need coffee."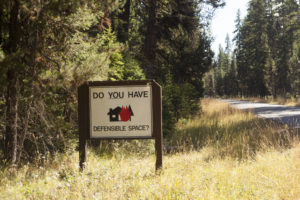 We Montanans saw this far too often these past few months: the perfect storm of drought, fuel, lightning, and wind. It makes for one hell of a fire.
"This has been such an abnormal fire season," said Leigh Golden, the fire's public information officer. This was particularly unexpected after such a wet winter and spring.
The folks in Seeley Lake felt the full weight of the fire season. Their livelihood depends on the money they can make during this time of year. Depending on who you talked to, businesses lost from one-third to half their profits. And the hazardous smoke inversions posed major health concerns to any who wanted to enjoy the outdoors. How do those firefighters do it?
Jenny and Mike Lindemer own a popular dinner spot called Lindey's — The Place for Steak — and Bay Burgers, a burger joint on the lake you can practically drive your boat up to. Along with many others, their business was greatly impacted by the fire.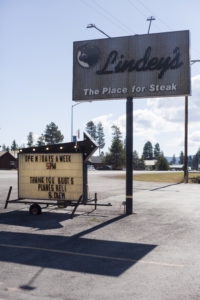 "Around the 31st is when it got pretty bad. They shut the lake down on August 1st," said Jenny Lindemer. "Historically our busy times are the last two weeks of July and the first two weeks of August."
"In revenue we were down about 60 percent," Mike said. "We use the lake. We play on the lake. That is our outlet."
Although the lake was closed and business was slow, they enjoyed the airshow flying over their house as planes dipped down to skim the lake. "It was like a ballet," said Jenny, who was listening into the air chatter on Mike's radio.
Normally, Kerry Birch — who owns The Lodges, a resort on the south side of the lake — is fully booked throughout the summer.
"It started to affect us on August 5th," she said. "From then on we were empty. Half of our summer was lost to the fire."
Tourist traffic was down, but there was plenty of work to do to keep this community up and running. Like the folks in Jordan who came together during the Lodgepole Fires, so too did the people in Seeley Lake. At the end of the day, Montanans are the most resilient beings within their very ecosystems.
Help came from around the state. Fire trucks came in from Idaho and police came from Missoula. Camp Paxson, a Boy Scout Camp on the lake that was built up in the 1930s by the Civilian Conservation Corps, opened up for evacuees. The Resort at Paws Up, a high-end, luxury resort, generously opened up its doors for the local high school and fed the students lunch every day. Montanans came from nearby towns to do their business in Seeley, and donations poured in from across the state.
It's never easy to see communities and businesses hurt by these kinds of events. But the folks here in Seeley Lake have dealt with natural fire disasters before. They understand that this is part of the landscape. Fires are a natural disturbance pattern within healthy forests. And Montanans are prepared to live within that reality.
If Montanans had to choose between the risk of wildfire or L.A. traffic, they'd probably pick wildfire any day.
"It's definitely a setback, but we had the Jocko Fire about ten years ago so we have to put that into our financial game plan that we're going to be dealing with fires every decade," Birch said.
Lee Boman echoed that sentiment, that it's about being ready for the next big fire.
"There will be more preventative measures, more thinking ahead to the next fire," Lee told us.
The Seeley experience shows that now is not the time to point fingers, but a time to learn lessons on land stewardship, put nose to the grindstone, and prepare for next spring.
It's not going to be easy. Folks in Seeley Lake are prepping for the possibility of landslides and erosion until the underbrush begins to take hold. It turns out glacial soil isn't quite as resilient as the town itself. And it's going to be a hard winter. Mike Lindemer thought back to the last big fire and how hard it was to groom their 350 miles of snowmobile trails.
"When we had the Jocko Fire, the trees were dead and still standing," he said. "Then we'd get the wind storms and the trees fell over the trails. And you can't efficiently go out there and cut trees and groom. So that puts a big stress on our winter snowmobile club due to having to go out and maintain the trails."
This winter will be tough, but in the Mountain West, when is it not? The challenge to gain their lost revenue from the summer lies ahead for Seeley residence. But it's a challenge they are ready to take on.
Mike, on top of all his other investments into his community, is also a local pilot. His generosity took one of our photographers up in his single-propeller plane for a first-time look into how this landscape has changed.
Businesses and individuals are planning to make this winter tourist season stronger than ever. And folks are gearing up for spring, when mushroom hunters will come in waves to look for the life that fire brings (perhaps Morrell Creek Road may be a good place to start that search). Next summer, folks will return to stop along scenic Highway 83, and the devastated burned forest landscape, will mystify them.
No doubt, the future is bright for Seeley Lake.
Got something to say to Prairie Populist? Send news tips, story ideas and comments to [email protected]. If you have something to submit, or an idea for a story you'd like to write for us, check out our Submission Guidelines here.