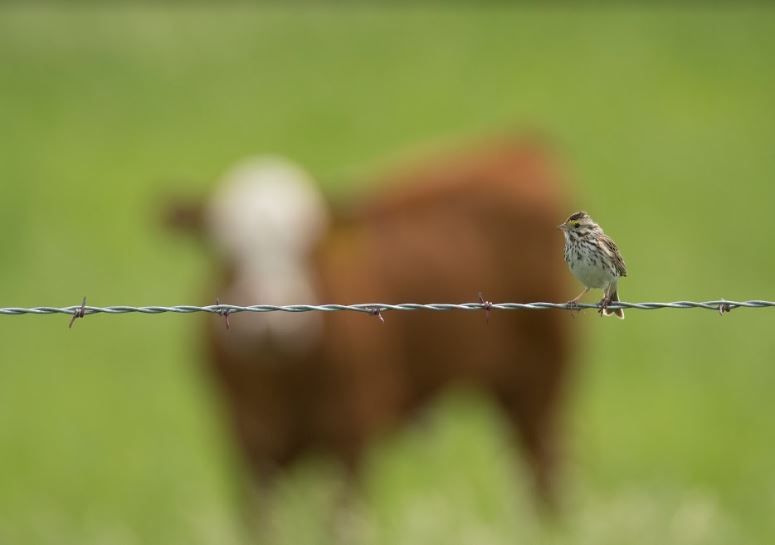 Feature photo of Savannah Sparrow and cow is World Wildlife Fund-US/Clay Bolt.
Beef and Birds: Grazing Cattle Benefits Grassland Birds
By Laura Nowlin
Some of the highest densities of grassland birds make the Northern Great Plains (NGP) their home.
"You all are stewards of some of the best of the best," Bob Ford, coordinator for the Partners in Flight program told a group of Winnett area ranchers during a recent Winnett ACES meeting. Ford was referring to habitat ranchers and private lands provide. Nearly 80 percent of intact rangeland in the NGP belongs to private landowners, who play a key role in conserving habitat for species.
In particular, stewards are conserving habitat for "the little four," as Partners for Fish and Wildlife (PFW) biologist Marisa Sather calls four grassland songbirds — Chestnut Collared Longspur, McCown's Longspur, Baird's Sparrow and Sprague's Pipit. These birds, whose ranges stretch from Mexico to Canada, rely on the Northern Great Plains for their spring, summer and fall habitat. Notably, populations for these birds have declined 75-to-90 percent since the North American Breeding Bird Survey began in the 1960s.
Sprague's Pipit. Kelsely Molloy of The Nature Conservancy Montana photo.

Baird's Sparrow nest from the Matador Ranch in Phillips County. Kelsey Molloy of The Nature Conservancy Montana photo.

Chestnut Collared Longspur. Dan Casey, Northern Great Plains Joint Venture photo.

McCown's Lonspur. Photo courtesy of Birds of Nebraska.
The Grazing Landscape Offers Hope
This alarming statistic comes with hope, however. At the core of their breeding distributions, in eastern Montana and southern Saskatchewan and Alberta, these particular bird populations have been buffered from the impacts of land use change by a high-quality, intact "grazing landscape" that multi-generational family livestock ranches manage. Within the "grazing landscape," birds thrive alongside ranching communities. Outside this landscape, they are in big trouble.
Ranching plays a critical role in keeping grassland habitat healthy and intact for birds and other native species and preventing them from being used for less-compatible uses. Our native grasslands evolved with large herbivores, such as bison. Through managed grazing, cattle can mimic the historic role that bison played on the plains. Cattle must graze on the grass for the grasses to thrive. Grazing leaves a mosaic of grass heights, which benefits multiple grassland bird because different species prefer different heights of grass. Some, like McCown's Longspur, prefer bare ground and short grass, while Baird's Sparrow prefers short grass to tall grass, plus mixed grasses and shrubs in sagebrush country. Some songbirds are sensitive to shrub cover, but others like Brewer's sparrow and sage thrasher require large amounts of sagebrush cover, which is plentiful in Petroleum County.
Rancher Groups Offer Conservation Support
Ranchers are helping others understand grassland birds and their responses to habitat changes. Marisa Sather organizes a partnership of agencies, non-profit and landowners who monitor the effects of land management — including ranching — on the imperiled songbirds' habitat. Starting in 2017, ranchers on the south side of the Missouri River participated in a bird monitoring study already underway on the north side. The results confirm the benefit of the "grazing landscape" – that working ranches are key to maintaining the large, intact grasslands critical for these species' survival.
Two rancher-led groups are doing more than bird survey; they help private landowners improve their grazing systems. With National Fish and Wildlife Foundation (NFWF) funding, the Ranchers Stewardship Alliance (RSA) began a program in 2017 that maintains and reclaims ranchland in Phillips County and surrounding counties.
For example, in central Montana, north of the Missouri River, the rancher-led groups help restore marginal cropland to native grassland and help landowners avoid their land from expiring as Conservation Reserve Program (CRP) grazing land. The CRP program provides a payment to landowners to keep the land out of crop production. Often, when this land expires from the program, landowners turn it back into cropland. Why does this matter?
Because the conversion of rangeland to cropland is considered the biggest threat to grassland birds, so RSA devised a program to help ranchers keep the land in rangeland — which benefits both the birds and ranch operations. Since the program's inception in 2017, RSA has restored over 8,000 acres of cropland to native grassland and helped convert over 10,000 acres of expiring CRP parcels into managed grazing systems in their three-county area.
Following RSA's lead, the rancher-led conservation collaborative, Winnett ACES, will start a similar program in 2019 that will fund projects such as water improvements and wildlife-friendly fencing. Also, the program will feed a growing movement to reseed cropland to rangeland in Petroleum and surrounding counties. Notably, in the past five years,Petroleum County landowners have restored over 12,000 acres of cropland to rangeland.
Partnerships Offer Resources
A National Fish and Wildlife Foundation grant makes such programs possible. Other partnership support hails from the Natural Resources Conservation Service, PFW, Northern Great Plains Joint Venture, Ducks Unlimited, Pheasants Forever, The Nature Conservancy and others.
Regional groups, like the Northern Great Plains Joint Venture, support these local rancher-led groups. The Joint Venture focuses, "on 'working lands', using voluntary and incentive-based programs to help land managers (primarily ranchers) meet their economic and production objectives while working to keep declining bird species from being listed as threatened or endangered."
"The Northern Great Plains is the last stronghold for some of the grassland birds," says Dan Casey, Northern Great Plains Joint Venture coordinator. "That's because of the ranching community."
Furthermore, the World Wildlife Fund's Sustainable Ranching Initiative mission is "driven by the goal of maintaining grasslands by ensuring that ranching stays viable and sustainable." The Nature Conservancy Montana owns and operates the Matador Ranch as a grass bank in Phillips County. The grassbank model extends conservation efforts through lease arrangements. Ranchers lease grass at the Matador from TNC at a reduced fee in exchange for conservation practices on their own private land.
Such organizations see collaboration with landowners as essential to large-scale conservation that will make a difference in preserving at-risk bird populations, as well.
A Western Meadowlark sings his morning song on the Nowlin Ranch. Laura Nowlin photo.

Long-billed curlew. Dan Casey, Northern Great Plains Joint Venture photo.

Short-eared owl

Western Kingbird
-Laura Nowlin
Laura Nowlin is a wife and mother of two, working, living, and playing on a little piece of paradise in central Montana, north of the town of Winnett. She and her husband ranch. She is also a part-time coordinator for the Musselshell Watershed Coalition. Between the two of them, they serve in seven community groups. Laura is a board member of the Winnett ACES (Agricultural Community Enhancement and Sustainability).
Got something to say to Prairie Populist? Send news tips, story ideas and comments to [email protected]. If you have something to submit, or an idea for a story you'd like to write for us, check out our Submission Guidelines here.