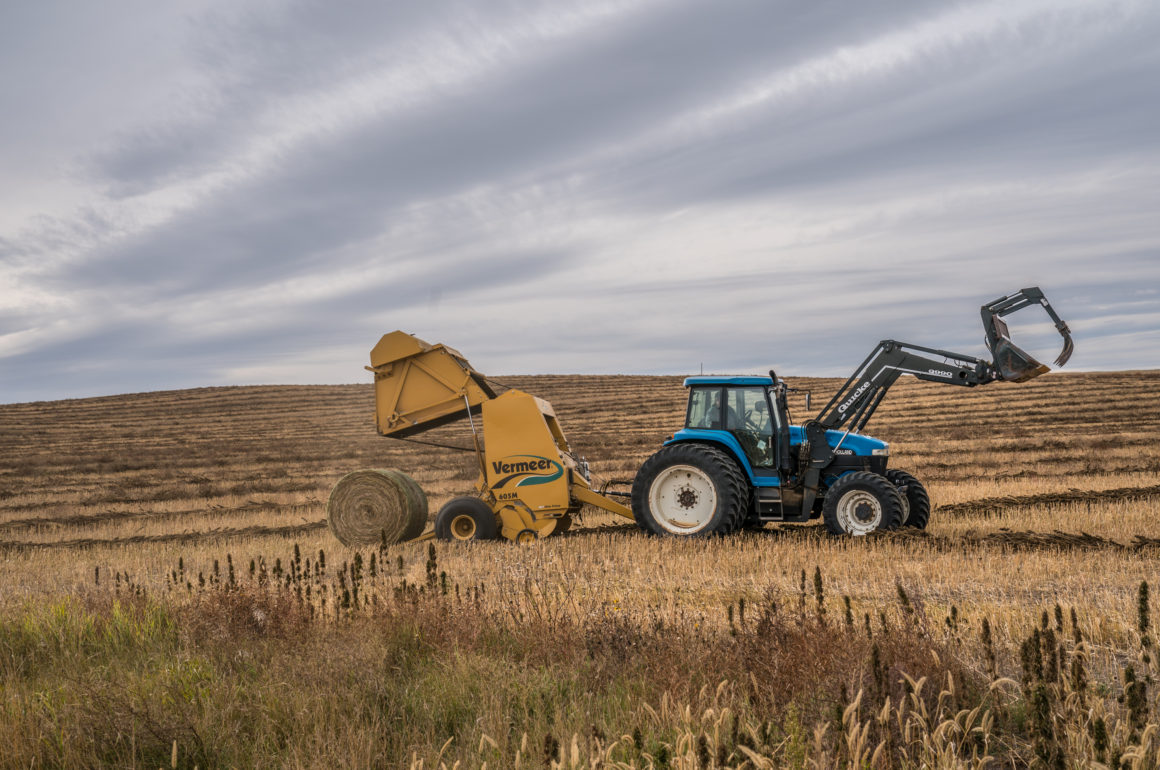 Feature Photo by Alexis Bonogofsky of a hemp farmer in Northeast Montana. Article written by Amanda Garant.
Update on May 6, 2019
On May 3, 2019, Governor Steve Bullock signed all three of Senator Tom Jacobson's hemp bills. SB 176 (establishing a certified hemp plan), SB 177 (revising Montana hemp laws) and SB 178 (exempting hemp processing equipment from taxation) are now laws here in the state of Montana.
Tom Jacobson's Three Hemp Bills Continue to Soar through Montana Legislature
In 2017, Sam Armstrong grew 100 acres of hemp on his family farm in Teton County. The next year, he grew 1,600 acres. Armstrong was one of many farmers who made Montana the nation's top producer of hemp in 2018.

"Yes we can grow this. And we can outgrow this," Armstrong said at a House Taxation Committee meeting on March 21, 2019 at the state Legislature. "But we have nowhere to take it."

Every week, Armstrong fields several phone calls from prospective buyers. But the conversations always end as soon as folks realize he can only offer the raw material.

"The main problem is processing at this point," Armstrong said. "I supposedly sold my crop from last year, but there's nobody that can process it here in the state yet to do anything with it, so it's still sitting in my bin."

We at Prairie Populist have covered this hemp saga from the early days of Montana's pilot program. Time and time again, we've heard stories from folks like Armstrong. Farmers can grow this crop and grow it well, yet many still sit on the majority of their harvest because there aren't enough processors in the state to handle the hottest commodity since peas and lentils.

If the number of processing facilities doesn't increase, farmers won't be able to make the money they deserve from this promising crop and other states like Colorado and Kentucky could start to outperform us.

The Hemp Race

"There is a race happening nationally to get production into place, and to get growing into place. We are now competing with some other producers, " said Senator Tom Jacobson of Great Falls.

This year, Jacobson proposed three bills at the state level to support Montana's growing hemp industry. We at Prairie Populist have covered these bills in detail, and we're happy to report that they are moving forward.

Jacobson's bill that gives the Department of Agriculture the power to set up a statewide hemp program passed unanimously through the Senate Ag Committee, the Senate floor and the House Ag Committee. His other bill that deregulates the industry and cuts unnecessary, clunky rules — such as background checks for growers — passed nearly unanimously. Senators Jason Ellsworth from Hamilton, David Howard from Park City and Doug Kary from Billings were the only folks to vote against this proposal so far.

Both of these bills are now in the House, where we suspect they'll pass and move to the governor's desk.

Jacobson's final bill, which is perhaps the most consequential for processors, is also moving forward, albeit more slowly than the others. This bill encourages processors to develop facilities here in Montana by offering a tax exemption for hemp processing equipment.

The state already offers this same exemption for canola, malted barley and industrial dairy equipment. The state will not lose any money if it supports the tax exemption, according to Governor Steve Bullock's office.

The machinery needed to process hemp seeds, hurd and fiber is pricey. And, it's best to have a range of processing options throughout the state because each hemp product can require different equipment.

In his testimony to the House Taxation Committee, Sam Armstrong noted that the town of Choteau hopes to put in a processing facility, but it will likely cost $2 million. Kim Phillips, another hemp farmer and a leading advocate for the industry, noted that her dream equipment costs $1.8 million for the machine itself, and about $3.2 million for set-up costs. Colby Johnson, going into his third season of growing hemp, is working with some out-of-staters to open a facility in Conrad.

"It's a lot of money. It's a lot of equipment that we don't really know how to use, so we have to bring in people to show us how to use it," Johnson said. "And we're also very limited in how much material we can run through. That's why we need more and more processors across the state, not just in central Montana but from east to west."

This bill gives Montana businesses a leg up. In turn, those businesses, by providing jobs to workers and money for farmers, will give our rural communities an opportunity to prosper. Without this bill or similar incentives, other states may pull ahead in this industry, leaving Montana and its hard-working farmers in the dust.
Is something better than nothing? Or can we do more?
Now that hemp is legal on the federal level, states are rushing to reap the benefits of this new market. They're nipping at our heels.
Earlier this month, a Colorado company unveiled an extraction facility that, once installed on a farm, can process 50 acres of hemp per day into CBD oil.
In Kentucky, it seems that processing facilities are popping up left and right. In 2018, 210 Kentucky farmers grew 6700 acres, compared to our 22,000 acres. And yet even with those low numbers, processors spent $23.4 million on capital improvements last year, employed 459 people and paid farmers $17.75 million for harvested hemp. Next year, over 1,000 farmers are approved to grow more than 50,000 acres in Kentucky.
Payments made to Montana's farmers and our state's investments back into the hemp industry weren't even a "drop in the bucket" compared to Kentucky's numbers, according to Sam Belanger, the CEO of Pure Glacier CBD.
In a recent committee hearing at the Legislature, Representative Dave Fern of Whitefish asked if there is anything more that the state can do. Kory Hofland, who works at the property assessment division of the Department of Revenue, said the state could also decide to give tax exemptions for the processing facility's building and land.
Senator Jacobson also told the committee that he would be willing to allow more businesses to qualify for the tax exemption. Earlier this session, the folks on the Senate Ag committee amended this bill so that only businesses with 15 or more full-time employees could receive the tax benefit. Jacobson, who said that he is happy to see this bill moving forward, shared his concern about that amendment.
"I hate to give the advantage only to the large producer. I think there are small producers that are going to make significant investments and that can create some niche markets and could probably use that break as much if not more than some of the big guys," Jacobson said.
What's next?
We at Prairie Populist know that hemp isn't a miracle crop that will single handedly save our family farms. But it is another tool in the farmer's tool belt. A healthy hemp industry could help diversify our family farms, keep our rural communities afloat and keep our state competitive. Jacobson's bills offer a way for the State Legislature to support the hard work that our farmers and Department of Agriculture have already done to propel Montana to the top of this promising industry. Farmers shouldn't have to carry the success of this industry alone.
We will continue to track these bills closely as they move through the Legislature. We remain optimistic that these three bills will pass, and encourage folks to share their opinions with the House Taxation Committee.
-Amanda Garant
Got something to say to Prairie Populist? Send news tips, story ideas and comments to [email protected]. If you have something to submit, or an idea for a story you'd like to write for us, check out our Submission Guidelines here.
To learn more about hemp in Montana, check out these articles: