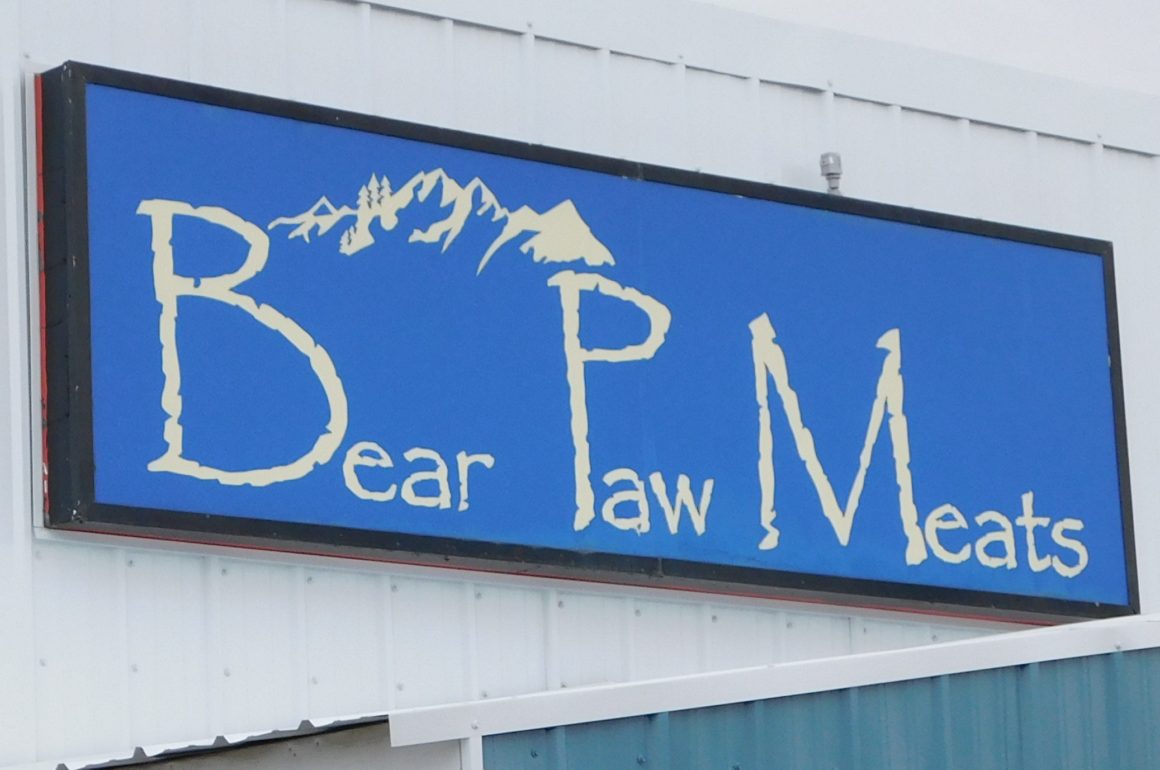 Montana Bred, Montana Fed
Decades ago, Dexter and Karla Buck asked themselves the same questions that farmers and ranchers across Montana are asking themselves today: How do we take the products grown and raised here and add value to them right here at home?
Now, their family company, Bear Paw Meats, is doing just that. They buy cattle at auction from ranches across northern and central Montana, and bring them to Chinook. There the cattle feed freely on a balanced diet of Montana-grown grains and roughage, most of which is grown on the family's own farm. Slowly, over the course of six months, the cattle pack on the pounds before they're hand-selected for harvest.
The meat is harvested, cured, processed, and packaged at Bear Paw Meats' facility in Chinook, which they bought in 2006. It harvests 12 to 15 animals each week and also processes local custom orders for folks in the area. From there, the meat is distributed to restaurants and schools across the region or sold at their retail store in Havre, which they opened in 2007.
"My parents' goal was always to finish Montana beef," said the Bucks' daughter, Ashley Callahan, who helps with the retail store and now runs the processing plant.
The family has their hands on the cattle throughout every step of the process, from the time the cattle leave the pasture to the time it hits your plate, which means they can control the quality of what they produce.
They know what to feed the cattle in order to get the best marbling possible, and they've developed a dry-age curing process that best brings out the meat's flavor. And with the recipes they share with their Wine Club, on their Facebook page, or with their Instagram followers, they're practically right there with you in your kitchen as you cook up a brisket or grill a steak.
How to beef up a business
Unfortunately, there isn't some scientific, replicable formula behind the success and growth of Bear Paw Meats. It's some combination of work ethic, business know-how, community support, and a quality product.
Once they began processing their own meat, the Bucks realized how tough it was to get their high-quality, but lower-quantity products into some of the bigger grocery stores. But that wasn't about to stop them.
"We weren't having luck getting into retail stores, so we made our own," Callahan said.
They bought their own storefront in Havre, and Bear Paw Meats, named after the nearby mountain range, is now a staple of the community.
Expanding a small business is always a risk, but the state of Montana and the U.S. Department of Agriculture offer grants to help farmers, ranchers, and small businesses expand. Havre is fortunate to have one of Montana's four Food and Ag Development Centers, housed at Bear Paw Development Corp. It supports farmers and ranchers and helps them write those time-consuming grant applications.
With their help, Bear Paw Meats was awarded two Growth Through Agriculture grants over the past five years.
"Montana agriculture must continue to innovate and we can't be satisfied with just being a 'raw commodity' state," said Lars Hanson, who sits on the committee that awards the Growth Through Agriculture grants. "These grants and loans add value to Montana's agriculture industry, while also supporting our rural communities and encouraging young people to come back to the operation."
In 2013, Bear Paw Meats received $10,000 for sausage-making equipment so they could get Montana-grown meat into local schools. Then in 2017, they received a $50,000 grant to buy a smoker so they could make specialty products that they could sell in schools, restaurants, and stores around the state.
Growin' Strong
Bear Paw Meats isn't the only one celebrating. Other local producers and rural communities across the Hi-Line have benefited as Bear Paw Meats continues to grow.
"We want to give the Hi-Line what Montana beef tastes like," said Callahan. "The goal has always been to showcase what Montana beef is."
Their efforts have made high-quality, Montana-raised beef more available throughout Montana.
Karla Buck works closely with local schools in Hinsdale, Havre, Malta, and Turner, where Bear Paw Meats are now served to kids.
"My mom wants kids to be able to eat the best quality products available to them while they're growing and learning," said Callahan. "They're developing minds." They need good meat and good nutrition.
Local restaurants like Andy's Supper Club in Havre and Chef Michael's Beef N Bone in Ulm also use Bear Paw Meats on their menu. In fact, the Beef N Bone was recognized as having the best steak in the Great Falls area, steak that came from Bear Paw Meats.
Callahan seeks out and features other products from across the state in their retail store. Havre's store sells Max Hofeltdt's lamb from Chinook, Marty Barger's Garlic from Havre, Timeless Seeds' chickpeas and lentils, Western Trails' purple barley, Cream of the West from Harlowton, Honey from Fort Shaw and from Zurich. And that's just the start.
About once a month, when Callahan makes a trip down to Great Falls, she picks up Kalispell Kreamery milk and offers it at the store, where it flies off the shelf. One of her personal goals is to get Montana milk on the Hi-Line. It's not a money-maker, she says, but it's good for folks and it should be available to them.
For Montana dairy products to be available more regularly, Callahan has to convince the larger food distributing companies that Havre's worth the trip. She's got to prove to them what folks in Havre have been saying all along — that Havre has it. 
Thanks to the success of Bear Paw Meats and the opening of new restaurants like the Streatery Food Truck, some smaller distributors have been receptive to the idea of hitting the Hi-Line. In a state as large as Montana, food distribution is one of the bigger challenges for local producers.
The more that producers and distributors can work together, the more likely it is that delicious, Montana-grown products will be available to rural communities across our state. And the more that folks can support these local farmers and ranchers, the more we'll be able to keep our money where our beef's raised.
-Amanda Garant
Got something to say to Prairie Populist? Send news tips, story ideas and comments to [email protected]. If you have something to submit, or an idea for a story you'd like to write for us, check out our Submission Guidelines here.