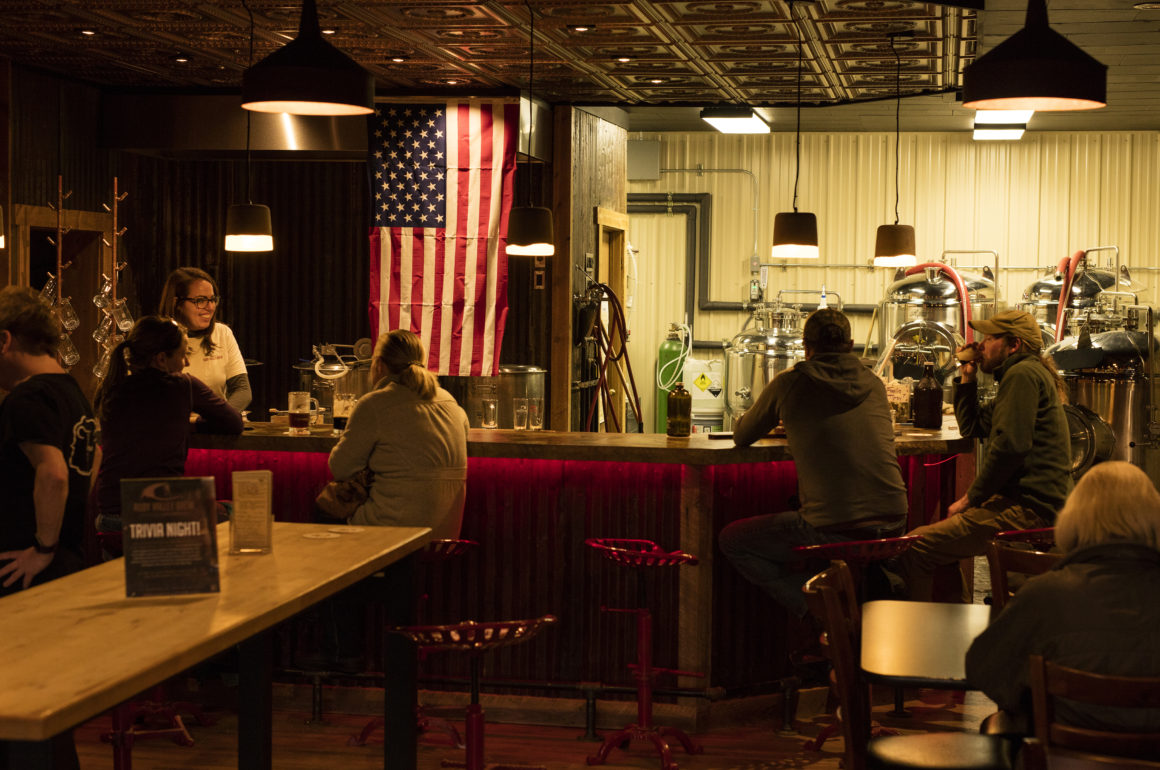 Ruby Valley: good beef, good beer, good people
"We were waiting and waiting for this place to open," said Kali,  serving up a pint of pale ale at Ruby Valley Brew.
Born and raised in Montana, Kali moved to the Ruby Valley eight months ago to work at a fly fishing lodge. When that seasonal job ended, she stayed in Sheridan and got a job at the brand-new local brewery.
"There wasn't really a social center before this," Kali said.
Opening a brewery in Sheridan, Montana, may seem like a risky venture. The town's population is just shy of 700, and the surrounding Ruby Valley has more cattle than people. All across the country, rural communities are drying up as the younger generation moves to larger towns with more amenities and opportunities.
But that didn't stop Amanda LaYacona, the owner and founder of Ruby Valley Brew. She moved to Sheridan with her husband and family over three years ago. Like many folks who spend time in the Ruby, LaYacona saw something special in this community. 
Ranchers and conservation groups in the Ruby are working together to protect their open landscapes, clean waters, and access to public lands. Meanwhile, folks in Sheridan are seeing to it that their town doesn't follow the trend of the dying, rural West. Main Street is lined with locally owned businesses, including some great restaurants (Try the cinnamon buns at The Shovel and Spoon. They're phenomenal.)
When LaYacona moved to Sheridan and decided to start a business, "All signs pointed to opening a brewery." People throughout the town were coming up to her and her husband saying, "We need a brewery, we want a brewery."
Although LaYacona had never operated a brewery before, she jumped in and went for it. It took over a year to turn those early brainstorming sessions into a reality. Ruby Valley Brew opened its doors in the summer of 2017, and it's been a whirlwind ever since.
LaYacona doesn't want to count her kegs before they're tapped, so to speak.
"We're still in the growing stages of the brewery." she said. "To be frank, I didn't think that we would be as steady as we are now. But we haven't hit our true winter months yet. This whole process has kind of been a wait and see. There are so many unknowns and we're so new. It's hard to tell what's going to happen in the future."
Well, if the last six months are any indication, Ruby Valley Brew is here to stay.
The brewery has become a social center of this rural community. All types of folks go there to catch up on what's happening around town or to relax with their friends and family. It is the place to be, especially on trivia night on Wednesdays.
"People truly enjoy having the social atmosphere that the brewery offers," LaYacona said. "It offers people in this community something to go out and be a part of and interact with other folks. They like that social offering."
But a brewery needs more than just a comfortable atmosphere to be successful. There has to be a product that keeps folks coming back again and again. There are some discerning customers around these parts. Folks in the Ruby put their sweat and tears into producing high-quality beef; no doubt they should hold their beer to the same standards.
That's why LaYacona brought in Zachary Shaw, a professional brewmaster who has worked in breweries across the country. Originally, Shaw was hired as a consultant during the early planning days, but he stayed on after Ruby Valley Brew opened even though he had other job offers, including one in North Dakota. He, too, saw something special in Sheridan.
"In North Dakota, you can stand on a six foot ladder and see the Gulf of Mexico and the Arctic Circle," Shaw joked with us over a pint. Here in Montana, the Rockies tend to get in the way.
It's not that far from the truth. The Ruby is a special place.
Shaw brews with the highest quality ingredients and he's interested in offering an entirely made-in-Montana product. He's especially excited about the Craft Malt House set to open right up the road in Butte. He'll work directly with the maltsters to custom order specialty grown-in-Montana malts.
Ruby Valley Brew's beer speaks to this close-knit community and this area's history. For a true Montana taste, some varieties are finished in barrels from Willie's Distillery in Ennis. Their Boot Bandit Brown is named after the time that a neighbor accidentally walked off with someone else's boots after a party. Maverick Mary's Mosaic IPA gets its name from the fiery madame from Butte. And coming shortly will be Shaw's much anticipated Barley Wine (so stay posted).
Ruby Valley Brew gives people something to be excited about.
"People are drinking it faster than I can brew it," Shaw said.
There are plans in the works to expand the brewery so they can bottle beer and distribute kegs into bars. Shaw would like to see Montana change its laws to allow this industry to operate at its full potential. When that day comes, he hopes to brew cider and make wine as well.
"We create jobs. We create destinations for small towns," Shaw said.
"In time, it should add quite a few jobs to the valley," LaYacona echoed. "You know we're going to need a lot of hands on deck."
This talk of expansion is great news for Sheridan. Any business venture is risky. But what Ruby Valley Brew shows is that this risk can pay off. That narrative of the dying rural town doesn't speak to folks in Sheridan, just like it doesn't speak to many rural Montanans who have a stake in their small communities.
These local business are worth the investment, and rural Montana is worth the risk. These towns aren't drying up anytime soon, not if folks in Sheridan have anything to say about it.
-Amanda Garant
Got something to say to Prairie Populist? Send news tips, story ideas and comments to [email protected]. If you have something to submit, or an idea for a story you'd like to write for us, check out our Submission Guidelines here.
Correction: Article was updated on December 6, 2017 to correct a quote by head brewmaster Zachary Shaw.