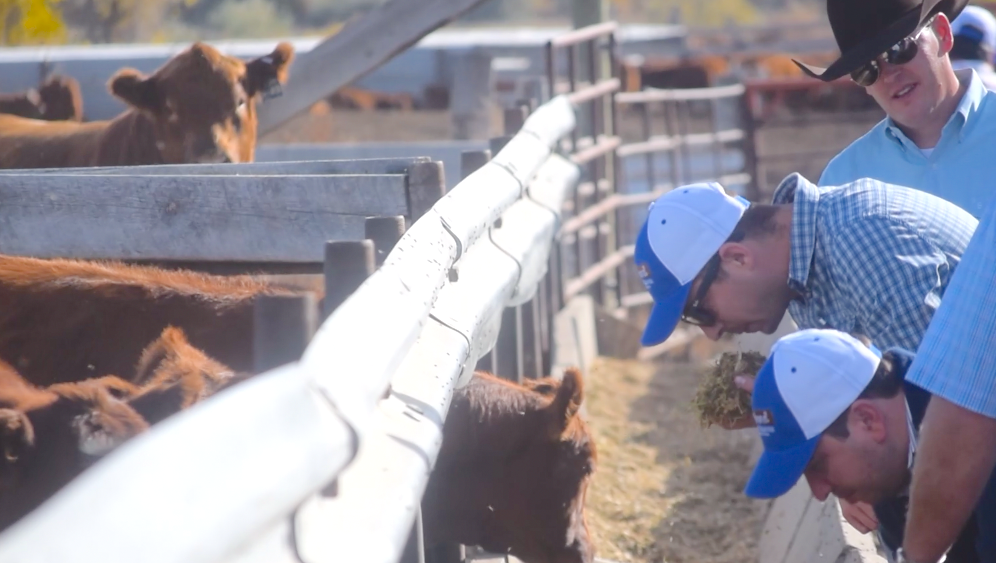 Nicaraguan delegation just the latest seeking Montana genes for herd improvement
Story and Video by Sanjay Talwani
HUNTLEY, MONT. — For generations, Montana cattlemen have improved their herds, breeding cattle that are bigger, better marbled, easier to manage and more disease-resistant.

And their handiwork — the genetic makeup of Montana herds — is getting attention from around the world.
This fall, a group of cattlemen from Nicaragua took a close look at Montana livestock
"Here in Montana, you are really advanced on genetics," said Alvaro Vargas, president of the Nicaragua Livestock Federation, on the trade mission in October.
"We saw Charolais, and Red Angus and Black Angus and Montana has done a great job on producing quality genetics," he told Prairie Populist. "It's unbelievable."
Vargas and the Nicaraguan trade delegation — including ranchers and feedlot and slaughterhouse owners — are working to improve their herd, the largest in Central America with about 5.4 million head, using Montana genetics. 
They visited several ranches as well as ORIgen Beef, a genetics producer in the Huntley area, and they hope to incorporate some of those Montana genetics in their herd in the near future.
International trade agreements are under increased criticism in Washington and in politics, but cattlemen in Montana and around the world are continuing to build relationships across boundaries.
The Nicaraguan delegation's visit to Eastern Montana is just one example. The Montana Department of Agriculture Market Development Division has fostered such ties — not just with Nicaragua but also Chile, Russia. Costa Rica, and elsewhere.
"So we're here to help the Montana producers of all kinds get to these markets, and create more markets for them to market their cattle and export their cattle to countries that aren't aware of what we have to offer," said Treston Vermandel, business development specialist with the Market Development Division.
And that means more dollars for Montana producers, helping ranchers stay on their land and strengthening communities that have faced tough economic realities for decades.
Vermandel, along with Montana ranchers and others, visited Nicaragua in March, checking out that nation's cattle infrastructure.
"We were very surprised about the opportunities that Nicaragua can create for Montana producers," he said.
Last month, the delegation of Nicaraguan cattlemen returned the favor.
The Nicaraguan herd is primarily Brahma, which Vargas said has the traits to flourish in Nicaragua's hot, humid environment. 
"So we had this group come up and just learn about Montana and learn about our Red Angus and our Charolais cattle to incorporate into their herd and get better quality, better genetics for the country itself down there for meat quality," Vermandel said.
Vargas said improving his nation's herd means finding the best genetics available. And he's been looking.
"We've been traveling all around the states … looking what is available on the market and definitely the best thing we've seen is, it's been here in Montana," Vargas said.
The genetics — more specifically, bull semen — is produced, processed, assessed, frozen, stored and shipped from ORIgen Beef, located in wide-open country near Huntley, Mont., about 20 miles from Billings.
The facility itself grew from the labor and vision of Montana ranchers.
In 2001, the semen industry was controlled directly or indirectly by large daily cooperatives ot multinational agricultural companies. Dick Beck and a group of other producers from Montana and elsewhere decided to enter the market and created ORIgen.
"We felt there was a need for the beef semen industry to be controlled and operated by beef cattlemen who had skin in the game, who invested their time and their money and their talent in these cattle," Beck, the company's vice president of sales and marketing, told Prairie Populist. "We want people who own these genetics who've created the genetics, whose life and blood, sweat and tears are involved in creating genetics, to get the largest possible return for their genetics and also to control those genetics so we can improve the beef industry."
Most genetics facilities are designed for dairy bulls and keep the animals very confined, Beck said. At ORIgen, the goal is a more natural environment, where the beef bulls get more exercise and are treated more like they would be on a farm or ranch.
ORIgen now ships semen to about a dozen nations in a given year, and semen for export requires unique health standards for each specific destination.
The operation combines some of the hands-on cowboy skills you'd see on ranches all over Montana, along with some high-tech equipment and methods.
There's science and timing in producing semen so it carries the optimal number of viable sperm to give the highest probability of conception.  A single collection of semen from a bull can yield several hundred frozen units of semen two or three times each week, with one unit good for the artificial insemination of one cow.
There are four levels of biosecurity at ORIgen to make sure that no reproductive or contagious disease is transmitted from human visitors or from new arriving bulls to resident bulls, or to the semen products produced from them.  
The company has also ventured into the relatively new field of in vitro fertilization of cows, recently completing a state-of-the-art lab that it says meets the standards required for human in vitro fertilization.
ORIgen has produced some of the most productive genetics in the country. And while it brings in cattle from all over the nation and sells semen all over the world, it is especially helpful for Montana ranchers who don't have to travel very far to take part in the market, whether buying or selling.
For all those involved, agriculture is not just a job. It's a way of life, Beck said.
"And our people care, the people who own these bulls care about the impact that their genetics are going to have on the world," he said. "For many of them, it won't be in their obituary, but their legacy will be the cattle they've produced and the people they've been able to share those cattle with and what it's done for those people. So we see it … as more than just a business. We certainly run it aggressively as a business, but we see this as a 'improve the industry, which ultimately eventually improves the world' kind of thing."
Got something to say to Prairie Populist? Send news tips, story ideas and comments to [email protected]. If you have something to submit, or an idea for a story you'd like to write for us, check out our Submission Guidelines here.