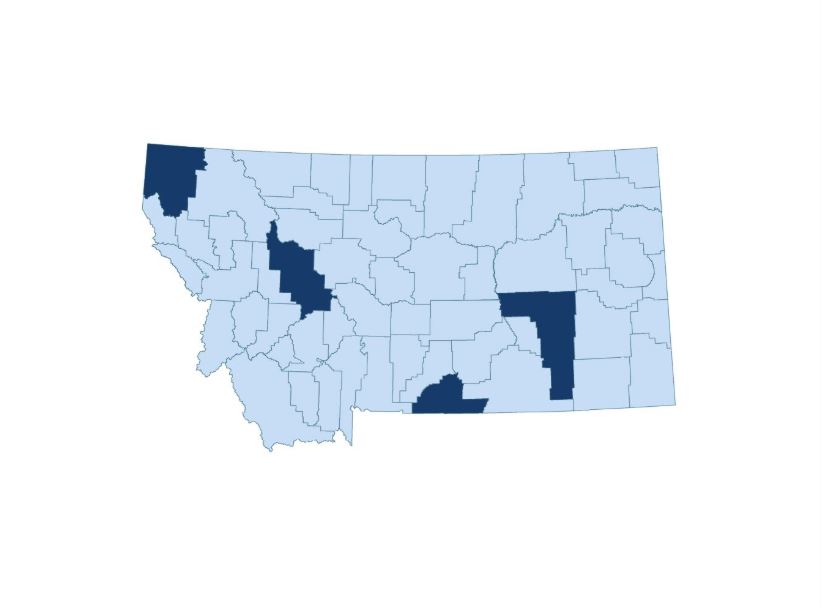 Lewis and Clark, Rosebud, Lincoln, Carbon Share Their Projects
Across the state, Montana's 58 Conservation Districts support farmers, ranchers and landowners in local, voluntary, on-the-ground conservation efforts in protecting our soil, water and natural resources.

Check back each month as we highlight our Conservation Districts' good work keeping Montana a place unlike any other.
Lewis and Clark Conservation District
Lewis & Clark CD is working with state, federal and county agencies to organize an Augusta Flood Work Group. The district seeks landowners to lead the group. We are planning some sort of an assessment on Elk Creek — and possibly Smith Creek and Ford Creek — to help determine our direction.
We are working with the East Helena School District on its new Career Technical Education program, which will include Ag Education.
Last but not least, recently we were successful in getting three Montana Department of Natural Resources and Conservation (DNRC) grants: one for the Sevenmile Creek project with the Prickly Pear Land Trust, one for a stream demo on Spokane Creek, and one for maintenance for the Rolling Rivers Trailers, mobile self-contained stream demonstration trailers that provide water education to Montanans.
For more information on the Lewis and Clark CD, contact:
Chris Evans
District Administrator
Helena, MT
406.449.5000 x5
[email protected] 
www.lccd.mtnacdnet.org 
---
Rosebud Conservation District
The Rosebud Conservation District is partnering with the Treasure County Conservation District and preparing for our booth at the Rosebud Treasure County Fair July 17-20. We will have information on aquatic invasive species (AIS), soil health, presentations and hands-on education with our newest grant project, an augmented reality sandbox, an interactive tool that teaches topography, geography, natural sciences, watershed basics and computer science. For more information check out our website at www.rosebudcd.com or our Facebook page.
For more information on the Rosebud CD, contact: 
Bobbi L Vannattan
RCD Administrator
Forsyth, MT
406.346.7333 ext.8012 or 406.351.8012
[email protected] 
www.rosebudcd.com
---
Lincoln Conservation District
The Lincoln Conservation District has received a DNRC Reclamation and Development Grant and the DEQ 319 Nonpoint Source 319 Interim grant to complete construction of Phase II of the Tobacco River Restoration Project. Construction is scheduled to begin July 15. Upon completion, the project will restore one mile of the Tobacco River near Eureka in northwest Montana. Phase I of the project was completed in November, 2018.
For more information on the Lincoln CD, contact: 
Becky Lihme
District Administrator
Eureka, MT


[email protected]


https://lincolncd.org/ 
---
Carbon Conservation District
The Carbon Conservation District has employed Warren Kellogg to produce an assessment of the Clarks Fork of the Yellowstone.
The assessment will be completed by the end of June. Kellogg laid the groundwork for a "bank stabilization" guideline for Carbon County. These projects were made possible with a 223 grant from the Montana Department of Natural Resources and Conservation.
A Montana Department of Environmental Quality grant has made possible a water study on the Clarks Fork. For six months, Carbon Conservation District will visit eight sites and take water samples to send to energy labs for testing. We will look for total persulfate nitrogen (TPN0), total phosphorus (TP), nitrate/nitrites (NO2+3) and total suspended solids (TSS) in the water to see how much fertilizer may be washing into the river from the farms and the nearby feedlots.
For more information on Carbon CD, contact:
Mabel Schwend
NRCS-CS
Joliet, MT


[email protected]


https://www.carbonconservationdistrict.com/ 
Got something to say to Prairie Populist? Send news tips, story ideas and comments to [email protected]. If you have something to submit, or an idea for a story you'd like to write for us, check out our Submission Guidelines here.