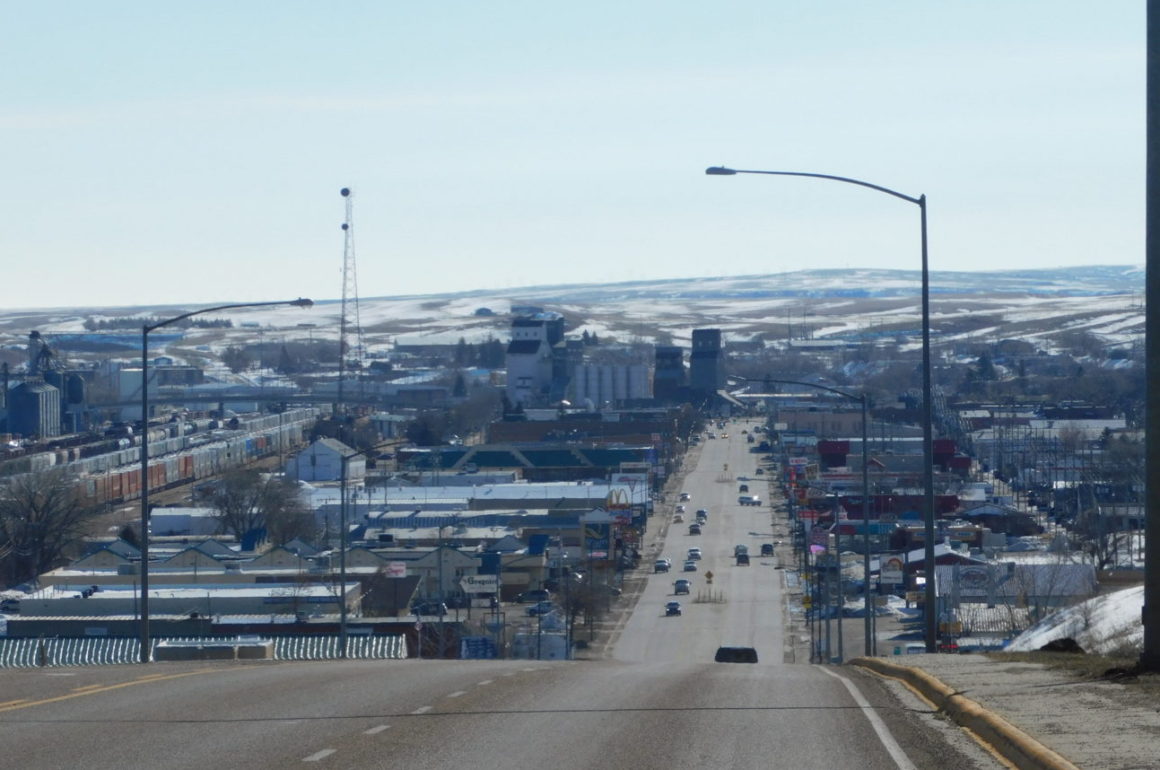 Havre May Blow You Away (in a good way)
Havre's an ag hub, a center of cross-border trade and a stop along the way to Glacier. But it's more than that, as any one of its many taglines will tell you.

But what is the it? What exactly does Havre have?
We at Prairie Populist headed to the Hi-Line a few weeks ago to talk with some people who are doing creative things in ag and food processing.
We met with Bear Paw Meats, a family business that's supporting local producers while bringing Montana-bred, Montana-fed beef to the Hi-Line. We also caught wind of some of the many new businesses that have opened or are soon to open around town, including a new food truck, Streatery, as well as a distillery and two new breweries.
It didn't take long before we decided to extend our trip, partly for business and partly for pleasure. There was just so much going on.
The BullDazzle Rodeo packed the stands for two nights at the Great Northern Fairgrounds, where some of the best bull riders in the West tested their skills in front of cheering families and wide-eyed kids. The Montana Actors' Theatre put on their final performance of Sister Act, which was one of their biggest productions of the year. And across town at the ice dome, brewers from around Montana gathered for the Hi-Line Brewfest, where hundreds of folks came together to enjoy some music and sample some delicious beer.
There was a statewide 3-on-3 basketball tournament, a pancake breakfast at the Eagles, and a comedy show — all during one random weekend in late-winter. If it were summer, there would be free concerts on the town square on Wednesday nights and a Farmers' Market each Saturday.
For those who'd rather spend their days fishing, hiking, camping, and hunting, Havre has that too. Beaver Creek Park, a 10,000-acre area south of town, is the largest county park in the country. It's got it all — rolling grasslands, pine forests, aspen groves, streams and ponds. Beyond Beaver Creek are the Bear Paw Mountains (or Bears Paw if you want to start up a lively debate around town).
Last winter, for the first time in three years, Bear Paw Ski Bowl opened its lift for the season. Located on the Rocky Boy Reservation, Bear Paw is run almost entirely by a dedicated, lively bunch of volunteers, many of whom have been skiing there for decades. In fact, the Hi-Line Brewfest was a fundraiser to help keep this community ski hill up and running. Bear Paw — with its Hermie Burger, Yellowsnow Club, and of course Tommy the Patrol Dog — is one of the many jewels of the Hi-Line that make Havre so special.
It's easy to get caught up in the excitement around town. There's just something in the air, something that no amount of wind can dampen. HavreAreaEvents.com, a new website in partnership with the Chamber of Commerce and KNMC Radio, has an up-to-date calendar of local events. And the Chamber — along with a handful of local businesses, museums, and hotels — is implementing a larger tourism initiative to spread the word across the state and the country.
This year, Havre is set to receive money from the state's hotel tax that can be put towards promoting the town to tourists, businesses, and conventions. We spoke with Jody Olson, who became the Executive Director of the Chamber of Commerce last summer, about these efforts.
Jody has a clear love for her town.
"It's the people. It's the feeling of community. It's that there's always something going on," she said. "We want to make sure everyone knows what a cool town it is."
But out of all the great things going on in Havre, what is the single, most unique thing that can be used to market and promote this town?
That's not an easy question.
For Olson and her partners, that single, most unique thing is Havre's history. For thousands of years, folks have been making their way to this area for one reason or another, and the hope is that that trend continues for the next thousand years.
The Wahkpa Chu'gn Buffalo Jump, on the west side of town, is one of the largest, oldest buffalo kill sites in the United States. There's now an interpretive center and archeological site that folks can visit. Fort Assiniboine, southwest of town, was once the largest military post in Montana and is now opened for tours. Havre, itself, is peppered with historic houses, stores, and railroad features. And underneath those streets and buildings, Havre hides one of the most and unexpected secrets: Havre Beneath the Streets.
When Havre was first built, folks designed the buildings and blocks so that all the basements were connected by tunnels and underground walkways. For a number of decades, there was a bustling, underground town with businesses, bars, and offices. Today, folks can take guided tours to see what life would've been like in Havre in the early twentieth century.
"It's something unique that no one else has," Olson said. "And while they're here, they'll stay for all these other things."
It seems like no tagline, no matter how clever and well-marketed, can really capture all that Havre has to offer. You'll just have to go see for yourself. And chances are, you may end up staying longer than you planned.
-Amanda Garant
Got something to say to Prairie Populist? Send news tips, story ideas and comments to [email protected]. If you have something to submit, or an idea for a story you'd like to write for us, check out our Submission Guidelines here.