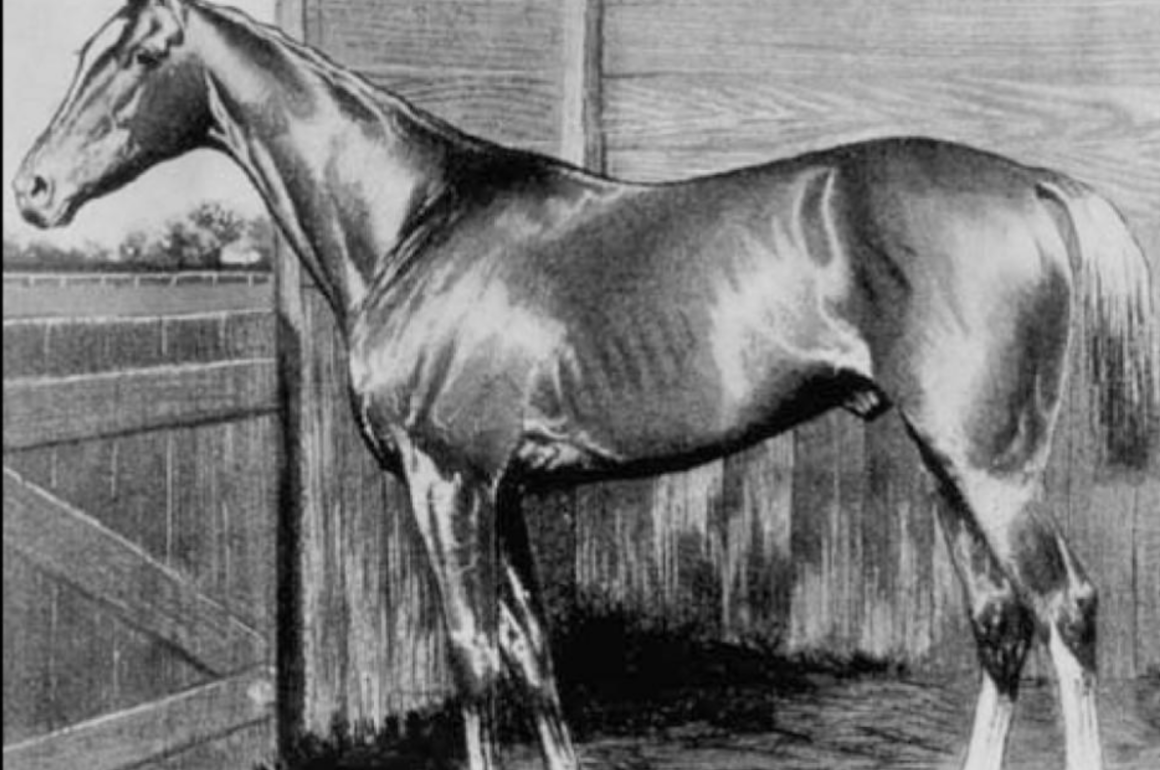 Ruby Valley Produced Upset Winner; Bets Taken Now on Bolt D'Oro
Before tractors, hydraulic combines, dirt bikes, and trucks, we Montanans relied on horses for every aspect of life: combining wheat in the fall, tilling the land in the spring, pulling wagons, herding cattle and going to town.  
And one other thing… racing.  
Like our love to race or rip around on bikes while out separating to brand, the same fun was had with humanity's first all-terrain vehicle: the horse.
It was in the Ruby Valley, between the Rubies and the Tobacco Roots, that one of Montana's earliest claims to fame was born, started, and broke.  His name was Spokane.
The copper-colored colt was the first, and is the only horse from our great state to win the Kentucky Derby.  
Montana's horse-racing history runs deep — our high elevation prairie, soaring peaks, and mountain-bred waters are the perfect recipe for brawny, hoof pounding lungs.  A recipe that over the years owner and trainers — out east, and scattered in the West — picked up on.
During the late 19th century, stables and tracks were popping up everywhere in Montana: Bitterroot Valley, Deer Lodge Valley, Helena, and the outskirts of the Ruby Valley.
Spokane was born in the barn of the prosperous and successful miner, Noah Armstrong.  Armstrong made his fortune in the Glendale Mining District, in the Pioneer Mountains south of Butte.  Once wealthy, Armstrong built himself a unique, three-story barn- the Doncaster Round Barn- equipped with a quarter-mile indoor racing track on the bottom floor in Twin Bridges, right at the base of the Tobacco Roots.  
Everyday for the first two years of his life, Spokane was trained on the Armstrong ranch grounds.  He drank the Ruby's waters, ate our nutritious bunch-grass, and breathed in the fresh Montana air.
It proved to do him well.  
When Spokane was two, Armstrong sent him to Tennessee to finish his training before entering big, high-stakes races.
In 1889, when Montana was yet still six months away from statehood, Armstrong entered Spokane in the Kentucky Derby.  Odds were against him six-to-one. He was green, and considered a long shot.
When the flag was dropped at Churchill Downs, the horses shot off in a mess of dirt and hooves and Spokane filed into the rhythm last.  But, as the pack turned the first corner he started picking off his competitors one by one. By the last turn it was Proctor Knott, the favored horse to win, and Spokane.
Spokane blew past Proctor Knott in the last stretch, and won the Kentucky Derby in a time of two-minutes, thirty-four-and-a-half seconds!  That time still remains the record for that particular course- shortly after, the distance of the Derby was reduced.
And Montana, the land of silver and gold, the land of mountains and prairies, proved to be a place that grows big lungs, and speedy colts.  
The Doncaster Round Barn is on the National Register for Historic Places and still stands today; you can see it on your right while driving north on Montana Route 41 towards Whitehall.  Only two years ago it was renovated into an event space, but from the outside, and from your car, it still looks the same as when Spokane ran inside.
Since we don't have a national sports team, winning a nationally acclaimed sporting event is a pretty big deal…even if it was over a hundred years ago, and it was by a horse.  It doesn't happen very often.
No, many of us Montanans do not keep up with horse racing.  Sometimes it can seem a little too over the top, a little too flashy, and it does not always align with our values, and practical uses of horses.  
Yet, we know horses like the back of our hand, and we have damn good horses.
This year, Montana has another horse racing in the Kentucky Derby, Bolt d'Oro, who was started and broke in Columbia Falls.  The racing industry thinks that Mick Ruis, the colt's owner and Columbia Falls revitalization guru, is crazy for raising his horses in Montana.  It's cold. It has wildlife. It's harsh.
Sounds like Bolt d'Oro is just another tough Montana colt, but with hell of a sixth gear and a level of fearlessness that is not often seen with the Kentucky-raised boys and girls.  
Bolt d'Oro is tied for second-favorite to win the Kentucky Derby at 8-1 odds.   
The Derby flag falls May 5.  Hopefully Montana stands with a blanket of roses draped around her shoulders once again, and the cowboy hat stands out among the fascinators.  It'll give us a chance to show that we know how to raise a horse, and we have the land to raise a mighty quick one. Because as I said, we are a horse state, and we make damn good horses.  
-Brooke Reynolds
Feature image (drawing of Spokane) courtesy Montana Historical Society. Other images courtesy Ellen Baumler.
Got something to say to Prairie Populist? Send news tips, story ideas and comments to [email protected]. If you have something to submit, or an idea for a story you'd like to write for us, check out our Submission Guidelines here.