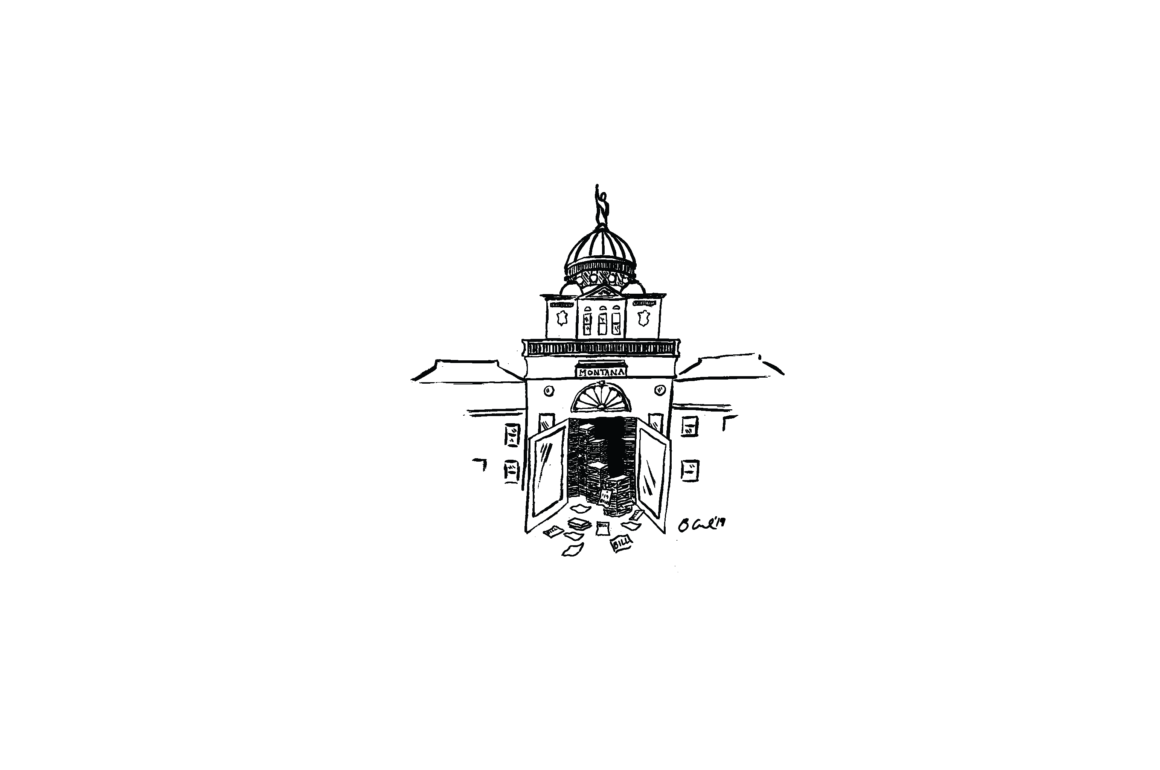 Montana's 66th Legislature starts January 7
Every two years, Montana's 100-member House of Representatives and 50-member Senate gather in Helena for 90 days of budget negotiations, lawmaking and shenanigans. During the Legislative Session, Prairie Populist will share updates on the issues that matter most to you and the bills that impact your daily lives. See all our coverage here.
As Montana's 66th Legislature gets set to gavel in on Monday, there are already more than 3,000 draft bills circulating. More than 200 of these bills were pre-introduced (meaning they're already set for committee assignments and hearings). A majority of these bills will not make it through the full legislative process. They will die in committee or be killed on the House or Senate floor.

On average, the Montana State Legislature considers more than 1,700 bills per session. Measures that make it to the hearing phase cover a variety of issues — from pet foxes to power points, drones to drug prices. And then there's the rules package.

The rules package sets tone for the session while establishing an orderly method of teasing crazy apart from critical. A first order of business for the new legislature will be deciding whether or not to change the current rule that says you have to have 60 votes out of 100 to blast a bill out of committee and on to the House floor. Blasting a bill sounds like fun, but it's really not. It's an attempt to move a bill that's been tabled (killed) out of committee and on to the floor for action.

Some legislators fear the current rules could torpedo important bills before they have a chance to build up the head of steam they need to pass a floor vote. Medicaid expansion comes to mind as well as infrastructure bills that require bonding. Other legislators are staunch supporters of the rule. History offers some insight into that position. When it only took a simple majority (51 votes) to move bills to the floor, sessions in the House often lasted until midnight as the whole house had to debate every pet bill (really, how much time should the Legislature devote to legalizing foxes as pets?).
With only 90 days to get a budget passed, debate other critical issues of the day, and undoubtedly perform some political theater along the way, our state policymakers don't have a lot of time to get bogged down in the rules. We're hopeful that they move that piece quickly and use the bulk of their time to focus on the issues that Montanans sent their legislators to the Capitol to address.

There are a host of vital issues coming up for debate this session. Here's a few that Prairie Populist will be following and writing about as the session snakes its way through the 90 days allotted for it:

House Bill 2: This is the main budget that funds our state government. Governor Bullock has some lofty and laudable goals included with this budget including his long-standing push for publicly funded pre-kindergarten school and restoring the draconian cuts to the Department of Human Health & Services. However, Republican leadership — which is apt to view the budget as the best way to eliminate programs and reduce government spending — is not likely to give him much.
Medicaid Expansion: With the HELP Act expiring in 2019, more than 100,000 Montanans could lose their healthcare if the legislature doesn't pass a new Medicaid expansion bill. The wrangling over how to pay for it, as well as who should qualify, has already started.
Firefighter Health and Safety: As we've covered in the past, firefighters are routinely exposed to cancer-causing chemicals. Ensuring cancer is classified as a workplace illness, and therefore qualifies for coverage, is a critical issue for Montana's first responders. A bill on this issue died in the last session, but will surely be back for more consideration.

Access & Conservation Easements: Over the past year, conservation easements that create access for hunters became a flashpoint once again. Several draft bills are already in play to restrict how those easements are put in place. We also expect to see bills attempting to undermine the rights of surface owners.

Infrastructure: Although past legislatures have taken a Band-Aid approach to Montana's infrastructure needs, the reasonable people in the room will once again try to pass a bill that funds new roads, bridges, and schools while covering the cost of impacts brought on by oil and gas development in eastern Montana. Hopefully, it passes this time.

Missing Women: On Reservations across Montana and the nation, women are going missing at alarming rates. Four bills are expected to be introduced to give law enforcement more tools to help find missing persons, and bring their abductors to justice swiftly. So far, these bills have strong bipartisan support.
In addition to these important issues, there will always be bills that fit into the category of, "just because you can, doesn't mean you should." Take the legislator who already has 139 draft bill requests pending. Or the measure requesting the Federal Government to nationalize the exportation of coal. We'll cover those issues and much more as the session gets underway. With this being Governor Bullock's last legislature, we expect no shortage of shenanigans. Whether it gets to 2011 levels, when then-Governor Brian Schweitzer famously branded his veto in a capitol-steps ceremony, is anyone's guess.

What's for sure is this: Nobody remembers which bills he vetoed. Everyone remembers the branding iron. Stay tuned.
-The Prairie Populist
Got something to say to Prairie Populist? Send news tips, story ideas and comments to [email protected]. If you have something to submit, or an idea for a story you'd like to write for us, check out our Submission Guidelines here.